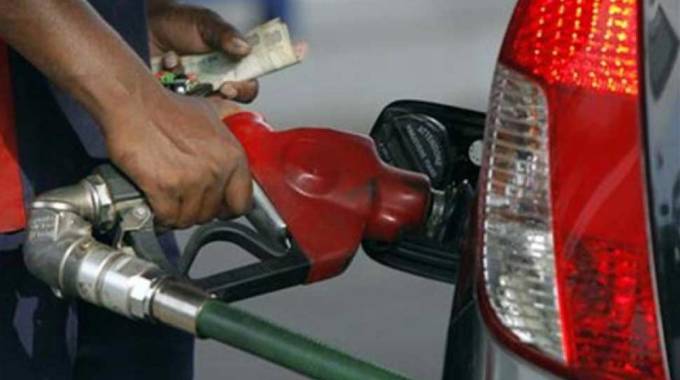 The ManicaPost
Post Reporters
THE mushrooming of illegal service stations in Manicaland is posing serious public safety concerns as diesel, petrol and paraffin were now being sold in places without proper storage and dispensing facilities, thereby exposing members of the public to danger.
Motorists were frequenting these sites to access cheaper fuel which was being sold at an average price of US$1 per litre against conventional pump prices of about US$1,40 at registered and licensed service stations.
It is understood that the bulk of this cheap fuel is siphoned from tankers by cross-border haulage truck drivers who sell it on the black market at give-away prices.
Some of the players running the illegal service stations are reportedly smuggling the fuel from Mozambique into the country using various illegal entry points along the porous border.
These backyard establishments, which are not only flouting public safety regulations, are also bleeding the economy through tax evasion.
Interestingly, while the sites harbouring these fuel hide-outs are well-known, their operations are persisting in broad daylight.
When sporadic police raids are executed, the service stations are temporarily closed, before they reopen as soon as the dust settles.
Investigations conducted by The Manica Post at several sites dotted across the province revealed that while some of the fuel merchants have underneath storage tanks with fuel dispensers mounted above the ground, other unregistered service stations had overhead tanks that exposed the fuel to direct sunlight and the vagaries of weather.
At some of the sites visited, there is no requisite equipment.
Fuel is poured from plastic containers and measured manually when selling to members of the public.
Mutare has a fair share of these illegal garages along Glasgow and Park roads in the Nyakamete Industrial Area.
Three notorious spots are located at Murahwa Green Market in Sakubva. Four more illegal fuel selling points are found along Dublin Road near the Mutare Grain Marketing Board (GMB) depot.
Some of the operators at these sites have overhead tanks, while some store the fuel in broken down vehicles which have been turned into storage facilities.
The dealers at these sites are so cunning such that they send their runners to divert vehicles seeking fuel at a nearby service station to purchase their cheaper fuel.
In Rusape, the illegal outlet at Old Matambo Garage situated in the industrial area has an overhead 5 000-litre storage tank that is connected directly to a dispensing pump.
The pump, which has two nozzles, was not in good working order when the news crew recently visited the site.
The petrol attendants were struggling to fix it, and some of the fuel spilled on the ground, thereby creating a rivulet in the process.
The overhead tank at this site store diesel, while petrol is stored in underground tanks.
Further checks at this site showed that the congested area had no appropriate warning signage or a safe traffic movement system to enable free flow of vehicles to and from the pump.
The dispensing pump was connected to a nearby generator using naked cables, a situation which increased the risk of electric fires.
Available information suggests that the operators are working in cahoots with truck drivers to siphon the fuel from tankers that park at truck inns along the Harare-Mutare Highway.
The fuel is put in 200-litre drums and loaded into the storage tanks using horse-pipes.
This, unfortunately, increases chances of contamination.
There is also a high likelihood that the smuggled fuel has a lower flashpoint, thereby making it more susceptible to explosions.
It was established that the original owner of the premises used to be a bus operator in the early 1990s, and these tanks were used for in-house filling of his fleet.
Illegal fuel dealers have now taken over operations.
Other illegal dealers have established a base at the Patel Industrial Area where their operations pose a threat to adjacent timber and beverage firms.
In Chipinge, the National Railways of Zimbabwe building popularly known as Charter Box is a haven for illegal fuel dealers, while some residential houses along Mutare Road have been turned into illegal service stations where vehicles drive in to buy the cheap fuel under unsafe conditions.
Meikles Bus Stop along Tanganda-Ngundu Road and another bush filling station at Kondo Service Centre are some of the unlicensed set-ups in Chipinge District.
Although motorists are enjoying the cheap fuel, the pleasure is short-lived as most of it is contaminated due to a number of reasons, among them unsuitable storage facilities and poor handling.
Vehicle engines have been damaged as a result.
Acting Rusape town secretary, Mr Fanseni Shuwa said the council has since launched a blitz to wipe out the illegal establishments.
"They are operating illegally. They are not licensed, and our security and fire squads are investigating that matter. We cannot licence someone whose operations does not meet required standards.
"Their storage tanks are overhead instead of underground. It is a dangerous fire hazard. The Rusape complex houses people specialising in welding, a grinding mill, motor vehicle and tyre repairs, tailoring and a canteen, thereby making it a dangerous concoction. They do not meet fire, public health and environmental standards, and should be shut down," he said.
Service stations should be licenced by the local authority, the Environmental Management Agency (EMA) and the Zimbabwe Energy Regulating Authority (ZERA).
ZERA chief executive officer, Mr Edington Mazambani said the authority issues licences to retail service stations that meet petroleum industry standards in terms of the Petroleum Act Chapter 13:22.
"Individuals are not allowed to store or sell fuel at undesignated sites without relevant licences from the local authority of EMA. It is illegal and dangerous to siphon fuel from trucks in plastic containers and anyone found selling fuel at undesignated places and without a licence should be reported to the police for prosecution," said Mr Mazambani.
He, however, said it is very difficult to establish the extent of the problem due to the evasiveness of the illegal enterprises.
"Some of these dealers are very mobile. Buying fuel from illegal backyard service station poses a number of dangers that include explosions and ruining vehicle engines," he said.
Acting Manicaland provincial police spokesperson, Assistant Inspector Wiseman Chinyoka confirmed the illegal fuel deals that are happening across the province and said constant raids are done in conjunction with ZERA.
"ZERA usually leads these operations and engage the police for assistance. They are done regularly. ZERA tests the fuel that is sold at all service stations and those found on the wrong side of the law are dealt with accordingly.
"Operations to flush out all illegal fuel dealers are done constantly.
''The public should also assist us with information on the operations of these illegal service stations," said Asst Insp Chinyoka.