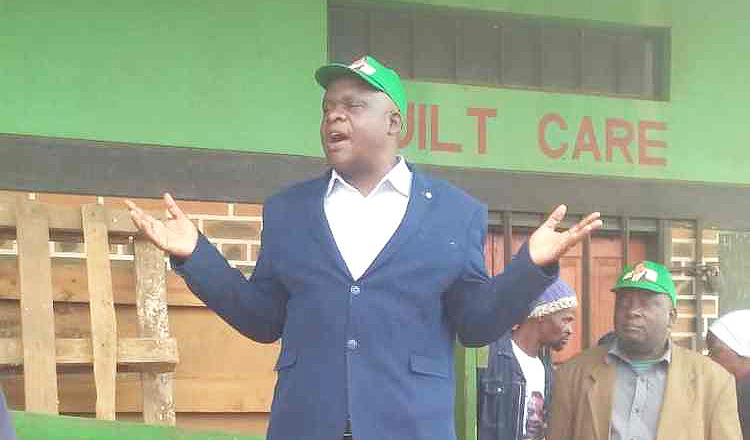 The ManicaPost
Ray Bande Senior Reporter—
WITH the 2018 harmonised plebiscite on the horizon, electioneering has reached fever pitch in Chipinge South with Zanu PF candidate Cde Enock Porusingazi pledging to indiscriminately foot all funeral bills in the constituency.
Cde Porusingazi, who is also a Zanu-PF Central Committee member, will battle it out for the Chipinge South ticket against MDC Alliance's Mr Clifford Hlatywayo, Mr Kudakwashe Khumbula (Zimbabwe Partnership for Prosperity), Mr Vula Muhamba of Coalition for Democrats, Mr Takawira Mupakati of National Constitutional Assembly and independent candidate Mr Jerry Moyana.
Cde Wilson Tarugarira Khumbula, who was twice defeated by Cde Porusingazi in the Zanu-PF primary elections is ZIPP candidate Mr Kudakwashe Khumbula's father.
Just like in all the other parts of the country, politicians in this arid region of the Lowveld, have been engaging the electorate in a bid to get their vote on July 30.
Cde Porusingazi is working overtime to be re-elected and apart from a multiplicity of developmental projects initiated since 2013, he has started a funeral assistance programme in which he will meet all funeral expenses across the constituency.
"As a leader, I will not look at one's political persuasion in order to help. It does not matter if  one is MDC, ZIPP, NCA  or Zanu-PF, if there is bereavement in the family and people are unable to meet the costs, I have taken it upon myself to intervene and help.
"There will be no more pauper burials in Chipinge South. I will meet the costs at each funeral in the constituency, especially for those villagers who cannot afford a decent burial for their loved ones. We have witnessed embarrassing situations where bodies were buried on reed mats. The people of Chipinge South do not deserve that in this era," said Cde Porusingazi.
When asked about benefits that the local community has derived from the Green Fuels ethanol project, Cde Porusingazi said development was a process and not an overnight event.
He said it was against that background that benefits from the Chisumbanje ethanol project will impact community with time.
"On the ethanol project, there is need for people to look at the bigger picture. There is need to look into the future. Yes, there are present needs that have already been addressed through that project and the evidence is there on the ground, and there is still room for improvement. That will also come with the improvement in the performance of the national economy. I recently engaged them on the repairs done on Chinyamukwakwa-Checheche-Mabeye road. We are pushing for the completion of tarring of the Tanganda Ngundu highway or at least Tanganda-Jack Quinton Bridge as a priority for now.
"I am happy that works will resume around July 24. We have a fully fledged football team that is competing in the Eastern Region Division One under the Green Fuels sponsorship. Employment creation is also something we have benefited and we will continue employing more locals.
"The people of Chipinge South will see that the ethanol project was the greatest investment of our time, but that cannot be realised overnight. It takes time," said Cde Porusingazi.
Cde Porusingazi has also implemented a number of projects in his area as he seeks to go for his third term as Chipinge South legislator.
He is sponsoring football competitions in wards around the constituency and giving winning teams grinding mills as part of effort to kick-start self-help projects for youths.
Vendors, mainly in the Checheche, benefit from free transport that is availed by the legislator when hoarding farm produce from Chipinge and Chimanimani.
Porusingazi is still fulfilling promises made in 2013 ahead of the July 30.
It has become a norm that politicians make tall and unrealistic promises during campaign with some pledging to construct bridges even where no river exists.
Voters, often times, turn against such elected officials for failing to walk their talk.
However, that is not that case with incumbent Chipinge South MP, Cde Enock Porusingazi, who is vying for his third term.
He said he believes in delivering all his promises before the election day and then fulfil some long term developmental projects after getting a fresh five-year mandate.
"I have made it a point to deliver tangible developmental projects in my constituency well before the day of the election. It is sad that we now have fly-by-night politicians who make empty promises to people and that is not fair for the communities we purport to serve.
"I have Chipinge South at heart, that is my home area. All I want is to develop my home area. I have done all I can to develop it and I will continue doing so without an election date in mind.
"Yes, I want to be re-elected on July 30 so that I complete some of the long term developmental projects I initiated over the years, but the underlining factor is that delivering service to the people has nothing to do with an election date," said Cde Porusingazi.
Cde Porusingazi prides himself in having managed to help Checheche High School to establish a thriving piggery project. He also assisted the school with the construction of a classroom block with two staff offices.
He has provided lighting and public ablution facilities at Checheche flee market.
The compassionate legislator is also taking care of the welfare of local child parliamentarian Marshal Gwenzi who passed his O Levels with flying colours at Checheche High School.
He is studying A Level Science at Mutare Boys High School.
Cde Porusingazi is also assisting Chibuwe High School upper six student Tinashe Makuyana.
"I have done my best to meet the people's expectations in Chipinge South. I have used personal resources to help in areas of need because as a leader I cannot wait for Government intervention where I could intervene as an individual. It is not the duty of the MP to fork out own money to develop an area, but I had to do it as a leader. A leader cannot just stand aloof when things get out of hand as people expect solutions to challenges.
"Government is overburdened and I had to intervene in areas of education, agriculture, public health and gender parity. I made sure that I provide transport to ferry supplementary feeds to different schools dotted around the constituency. One should note that these schools are located in areas distant from the Grain Marketing Board," he said.
He also assisted churches with transport to important gatherings just like the forthcoming July 17 Jekenisheni Church pilgrimage apart from the construction material and funding for different churches in his constituency.
Cde Porusingazi also assisted women in his constituency with inputs for self help projects such as the chicken rearing.
The MP has also been funding a funeral assistance policy for all traditional leaders in the constituency.