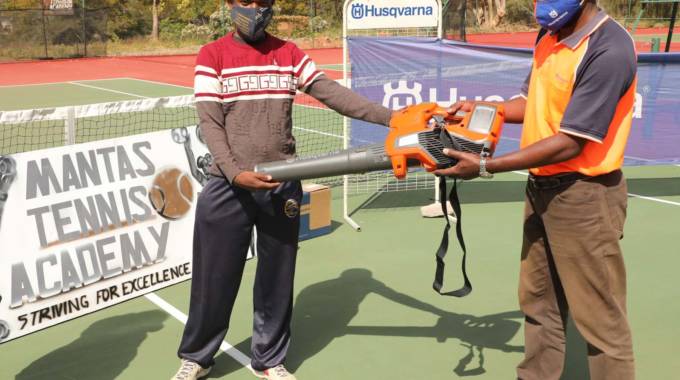 The ManicaPost
Ray Bande
Senior Reporter
REPUTABLE Mutare tennis talent nursery — Mantas Tennis Academy — continues earning the respect and support of the local corporate community after a local company, Husqvarna donated a heavy duty electric blower for the maintenance of the courts.
The blower is worth US$600.
Mantas Tennis Academy is the reason behind the production of numerous tennis players who have turned Manicaland into a powerhouse in most inter-provincial competitions.
The academy has also produced many players who were able to further their tennis and academic careers in the United States of America through scholarships.
Husqvarna manager, Herbert Macheka said the decision to help the academy stems from its professional approach to tennis development as well as an honour to the late Mantas Tennis Academy founder, Thomas Frank Martin.
Together with his wife, Ann Martin, they started the ambitious project that has since changed lives for the better for most tennis players.
"As Husqvarna, we were deeply moved by the professional approach to tennis development that Mantas Tennis Academy has always shown. They have helped numerous children from disadvantaged backgrounds to realise their dreams.
"Therefore, we saw it prudent to assist in making their job easier. The donation is also an honour to the founder of Mantas Tennis Academy, the late Thomas Frank Martins. He was our client and this is one way we can show our respect to him even though he is no longer with us," he said.
Mayzie Dorado, the Mantas Tennis Academy director for development, said: "We really appreciate this donation as it will go a long way in helping us maintain our eight courts.
"This is something that we fully appreciate as it will go a long way in making our players enjoy practice and competition on well maintained courts. We kindly implore the local corporate community to follow suit and help Mantas Tennis Academy in its quest to make youngsters realise their dreams through the game of tennis," she said.
Meanwhile, eight Mantas Tennis Academy players are set to partake in the ITF World Junior Tour 18 and under competition to be played in Harare at the end of this month.
Tashinga Mtisi, Tendai Chihowa, Kimberly Patterson, Tatenda Chiwenga, Tinotenda Chipfakacha, Thandiwe Nkala, Kudakwashe Ndiringepi and Strive Bosha make up the list of Mantas Tennis Academy players set to partake in the ITF World Junior Tour 18 and under competition.
A host of young tennis players who were hoping to partake in several competitions watched their hopes fade under the Covid-19 lockdown regulations.