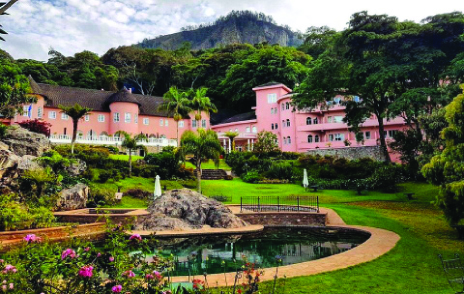 The ManicaPost
Ray Bande
Senior Reporter
Following the death of Queen Elizabeth ll, there has been a sudden increase in the number of visitors requesting to spend the night at Leopard Rock Hotel's Room Seven, where she stayed during her visit in 1953.
The British Royal Family visited the majestic Vumba years back, thereby underlining the prominence and eminence of the Eastern Highlands as a world class tourism destination where many global leaders and celebrities choose to visit and unwind.
The Queen, Britain's longest reigning monarch, died on September 8 at the Balmoral Castle, United Kingdom, and was buried on Monday alongside her late husband, Prince Philip, at the King George VI Memorial Chapel at Windsor Castle.
Huge crowds thronged the streets of London to witness the grand procession and ceremony.
And as the Queen was laid to rest, some visitors at Leopard Rock chose to remember her by spending a night in the room she once stayed in.
Leopard Rock proprietor, Mr Samir Shasha said the rooms where Queen Elizabeth and Princess Margaret stayed are made available at a premium rate as they are in the original section of the hotel.
An employee at the hotel confided in this newspaper that they have had countless requests from visitors who want to spend a night in the room that the Queen occupied during her stay.
"We are having many requests from people who want to spend a night in the room that the Queen stayed during her visit here. In fact, the room is booked until Friday," said the employee who declined to be named, citing protocol.
Apparently, the Royal Room is not the most expensive at the hotel as a visitor parts with US$180 if they occupy it during week days, and US$210 for Fridays and Saturdays.
A night during peak periods such as Christmas costs US$250.
The Presidential Suite costs US$300 during week days, US$350 on Fridays and Saturdays, and US$420 during peak periods.
Many global icons and celebrities have tasted the serenity and ambiance of the Eastern Highlands, particularly Vumba.
UEFA president, Mr Aleksander Ceferin, who was also at Leopard Rock for a holiday in January 2020 noted during his visit that the country's tourism sector is underrated.
Mr Caferin is among the high profile celebrities and leaders who have visited Zimbabwe during recent times.
In a brief interview with The Manica Post back then, Mr Caferin said: "The friendliness of the people of Zimbabwe and the beautiful flora and fauna is awesome. I think Zimbabwean tourism is underrated outside.
"Many people were asking me why l was coming to Zimbabwe. They were saying it is not developed but that is not true at all. The opposite is true. The country looks great, I like it very much.
"We started in Victoria Falls and finally we are down here. Every place or region is different. Every region has its own uniqueness and it is beautiful," he said.
Mr Ceferin, the second most powerful man in world football, said he had always longed to come into the country after reading a lot about Zimbabwe's rich history.
"To be honest, for me it was more of a plus not a minus coming here because I do not like going into areas that are crowded and everybody knows you during holiday," he said.
The UEFA boss, who is also FIFA vice president, was being hosted by the then COSAFA president, Mr Phillip Chiyangwa.
Botswana President, Dr Mokgweetsi Masisi and his wife, Mrs Neo Jane Masisi recently visited Nyanga and spoke glowingly about the beauty of the Eastern Highlands.