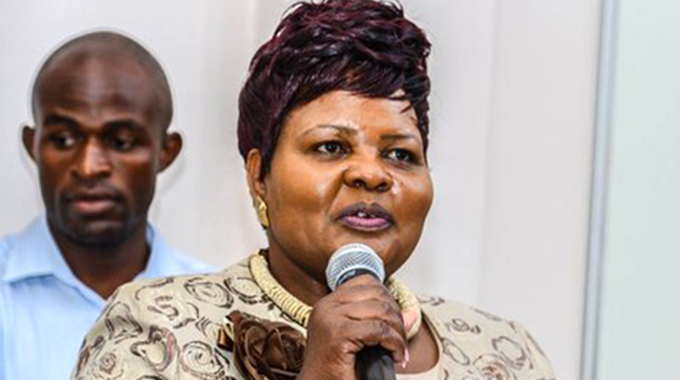 The ManicaPost
Cletus Mushanawani News Editor
THE welfare of surviving liberation war heroes should be catered for by the State as a reward for the supreme sacrifice they made in liberating the country, a Government official has said.
In an interview ahead of this year's Heroes' and Zimbabwe Defence Forces Days early next week, the Minister of State for Manicaland Provincial Affairs and Devolution, Dr Ellen Gwaradzimba said this is stipulated in the Constitution of Zimbabwe.
"The surviving heroes' needs should be catered for by the State and they should be paid pensions which can sustain them and their families as is norm the world-over. This is also stipulated in the new Constitution of Zimbabwe. Their health care is also the responsibility of the State."
"Living heroes should not be burdens to their families. Theirs was a national duty that brought about the independence we enjoy today."
Dr Gwaradzimba also spoke about honouring the fallen heroes. "Government has already begun exhuming and decently reburying our fallen heroes, it is important for this exercise to continue. Adequate resources should be allocated to the Ministry of Home Affairs and Cultural Heritage for this exercise.
"The families of those who paid the ultimate price for our liberation should be given the honour and recognition by the whole nation as is the tradition the world-over," she said.
Deputy Minister of Home Affairs and Cultural Heritage as well as Zanu PF Manicaland provincial chairman, Cde Mike Madiro said they are working on a new policy to help address some of the challenges being faced in maintaining some of the shrines, both at home and in neighbouring countries.
The new policy seeks to improve the management, preservation and protection of mass graves, enhance the documentation, exhumation and protection of mass graves. It also seeks to accord recognition, decent burial or reburial and closure on certain persons killed during the liberation struggle.
"It is sad to note that 40 years after independence, we don't have a clear policy on reburials
of fallen heroes. We are now working on a new policy, which is being crafted in consultation with all stakeholders.
"Our wish is to have this policy expedited so that thousands of fallen heroes' remains lying in caves, disused mining shafts, rivers and forests are accorded decent reburials," said the deputy minister.
Reflecting on the 40 years of independence, Dr Gwaradzimba said the liberation narrative of being our own liberators did not end with the attainment of political independence, but it is now being fulfilled through the establishment of small and medium enterprises to make people become masters of their economic destinies.
"The Government has embarked on a deliberate programme to promote SMEs so that our people become masters of their economic destinies.
"Now that we have had 40 years of independence, we should now focus on economic development. As Manicaland, we have our eyes on the ball. We will do whatever it takes to develop this province.
"Everyone needs to pursue the national interests and this includes development, economic ventures, unity and peace building," said Dr Gwaradzimba.
Dr Gwaradzimba hailed the Zimbabwe Defence Forces for their tireless efforts in ensuring that peace and tranquillity prevails in the country, thereby making it an ideal investment destination.
"Our defence forces are tailor-made to preserve peace, law and order and I am happy to say that they discharge these duties without fear or favour and are guided by a statute.  They are vigilant and proactive.
"During this period, it is the duty of every citizen of this country to extol and exalt the gallant sons and daughters of our country, dead and alive, as they gave the ultimate sacrifice so that we could be free.
"The political space and the democratisation of our national institutions would have remained unthinkable without their sacrifices and selflessness," said Dr Gwaradzimba.
Minister Gwaradzimba went on to bemoan the presence of economic saboteurs in the country.
"There are groups that want to resort to violence and demonstrations to achieve their own personal scores at the expense of development and the hard earned independence," she said.
Unlike during previous years when thousands would converge at Manicaland Provincial Heroes' Acre, Sakubva Stadium and various other centres across the province to commemorate the Heroes' and Zimbabwe Defence Forces Days, this year's commemorations will be virtual due to the Covid-19 pandemic.