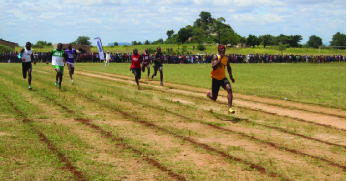 The ManicaPost
Ray Bande
Senior Reporter
MUTARE District might have dominated last week's National Association of Secondary Heads (NASH) athletics competitions in Buhera, but individual brilliance from Hillcrest College's Panashe Nhenga remained the major talking point.
NASH held its 2023 edition of the inter-district athletics competitions at Murambinda B High School in Buhera last week on Friday.
The event was sponsored by integrated media company, Zimpapers through its The Manica Post and Diamond FM brands as well as textbook producers, Gramsol Publishing.
The inter-district competitions will now pave way for top performing athletes who were selected to represent Manicaland in the national finals set for camping at Mavhudzi High School starting tomorrow (Saturday).
The national finals will be held at Peterhouse in Marondera, Mashonaland East from March 21 to 23.
However, it was talented Panashe Nhenga of Hillcrest College who remained on the lips of many as he virtually outclassed competitors in all events he competed.
Nhenga, who recovered from an injury recently came for the NASH inter-district competitions fresh from the Watershed Sprint Challenge held a fortnight ago where he broke the 100m record in 10.36 as well as breaking the 200m records in 21.45.
These Watershed Sprint Challenge records had been there for more than five years.
In last week's NASH competitions, Mutare District were the winners of the competition after scooping 23 gold medals, 18 silver and 22 bronze, while second placed, Mutasa District amassed 18 gold medals, 13 silver and 16 bronze.
Hosts, Buhera District came third with 20 gold medals, 17 silver and 19 bronze.
Makoni District weighed in fourth position after amassing 16 gold medals, 19 silver and 12 bronze, while Chimanimani District settled for fifth position with 14 gold medals, eight silver and eight bronze.
Nyanga District was in seventh position after getting a total of six gold medals, 18 silver and 19 bronze, while Chipinge District finished the contest with only five gold medals, seven silver and six bronze.
In an interview on the sidelines of the event, Manicaland Provincial Education Director, Edward Shumba said age cheating deprives deserving athletes and kills the spirit of sportsmanship.
"We are serious about nipping age cheating in the bud. This is a cancer that is driven by hunger to win at all costs and yet it unfairly deprives the deserving athletes. As a ministry, we are seriously monitoring our sports events with the determination to weed out all teachers and sports administrators who facilitate age cheating.
"Those found on the wrong side will be charged and they risk stern disciplinary action that includes dismissal. Let everyone handling young talent in schools be warned accordingly," said Shumba.
NASH Manicaland chairperson, Albert Dzvuke heartily thanked the sponsors of the event and pledged to assemble a competitive team capable of winning the national competitions.
"What I can assure everyone here is that we will bring gold medals from the national competitions. We need your support.
"We really want to thank our sponsors, Zimpapers and Gramsol. We really appreciate your efforts and we hope to have this relationship for a long time to come," he said.