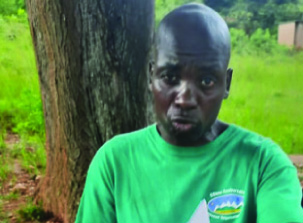 The ManicaPost
Melody Vherenaisi
Post Reporter
TWO Zimunya men, who recently made headlines for bedding a married woman believed to be mentally challenged, were this week arraigned before the courts facing rape charges.
Joshua Chabodo (48) and Freddy Mwatutsa (46) allegedly abused the 22-year-old woman on different occasions and the case was first brought before Headman Chigodora where they publicly admitted to the crime.
Videos of the duo's community court appearance went viral on different social media platforms and the long arm of the law has finally caught up with them.
Chabodo and Mwatutsa appeared before Mutare regional magistrate, Ms Pathekhile Msipa on Wednesday.
The two are facing rape charges as defined in Section 65 (1) as read with Section 64 (3) of the Criminal Law (Codification and Reform) Act, Chapter 9:23.
They were remanded in custody to June 7 and were advised to apply for bail at the High Court.
At law, the woman is incapable of consenting to sex due to her mental status.
Prosecuting, Ms Perseverance Musukuto said sometime in April on an unknown date, the woman and her husband were at their homestead in Chikara Village when Chabodo arrived and showed her some pornographic videos on his cellphone.
He later left.
It is alleged that Chabodo returned to the woman's homestead later that evening and sneaked into her bedroom as she was sleeping with her husband who is believed to have been drunk.
Ms Musukuto said Chabodo asked the woman if they could do what he had shown her on his cellphone in the afternoon and she agreed.
"Chabodo had unprotected sex with the victim several times that night while her husband was sleeping next to them.
"The matter came to light the following morning when the husband's sister saw Chabodo sneaking out of the couple's bedroom.
''She asked her sister-in-law what had transpired and the victim disclosed everything," said Ms Musukuto.
Chabodo, who is the couple's neighbour, is also alleged to have sexually abused the woman on numerous occasions in a nearby bush.
Moving on to Mwatutsa's case, Ms Musukuto said sometime in April, the accused visited the woman who was alone at home and asked her to accompany him to his homestead to collect some cabbages.
The woman allegedly agreed.
It is said before reaching the homestead, Mwatutsa asked the woman to accompany him to a nearby bush and she agreed.
"While in the bush, Mwatutsa asked to sleep with the woman and she agreed. After the act, Mwatutsa took her to his homestead and gave her some carrots and cabbages and she returned to her homestead," said Ms Musukuto.
Mwatutsa continued to sexually abuse the woman without any protection.