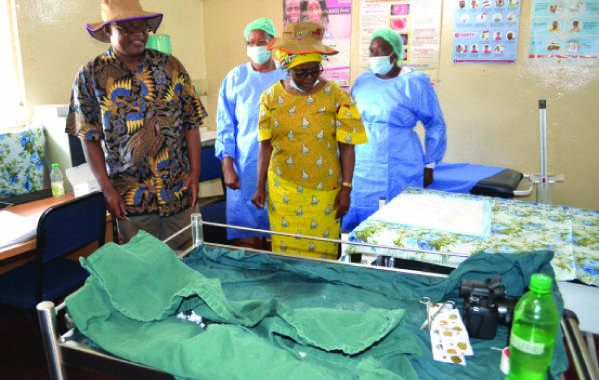 The ManicaPost
Post Reporters
ACCESS to health services is now much smoother in most parts of Manicaland as local authorities are utilising part of the devolution funds disbursed by Government to either construct new clinics or refurbish the existing ones.
The Second Republic's funding of devolution programmes has enabled both rural and urban councils to drastically improve the health services delivery system over the past four years.
The local authorities have also managed to look into other curative areas such as the drilling of boreholes, acquisition of ambulances and water treatment chemicals.
The long distances that people used to trudge to access basic primary health care have now been drastically reduced, thanks to the massive investments in health facilities.
In most cases where clinics were built, devolution funds were spent on materials such as cement and roofing, while local communities chipped in with bricks, quarry, labour and sand.
In a recent interview, Secretary for Manicaland Provincial Affairs and Devolution, Mr Edgars Seenza said in line with Vision 2030 which is pursuing an upper middle income economy for the people of Zimbabwe, health provision is a top priority.
Among the signature projects that are either completed or still under construction are the US$6 million state-of-the-art National Pharmaceutical Company (NatPharm) warehouse at Victoria Chitepo Provincial Hospital, the $7 million Nzvimbe Clinic (Makoni), Mbundire Clinic (Buhera), Mhakwe and Hotsprings Clinics (Chimanimani), Chidazembe, Magadzire, Mt Jenya, Muparutsa, Nyamukwarara and Tsvingwe Clinics (Mutasa) as well as Zamuchiya, Chipangayi, Checheche and Maondere Clinics in Chipinge.
The construction of the NatPharm warehouse at Victoria Chitepo Provincial Hospital in Mutare will be a game changer as it will improve access to drugs and their availability in Manicaland.
When completed, the warehouse will have the capacity to store pharmaceutical products four times more than the old warehouse as it will house around 6 000 pallets of medicine.
In Mutasa District, more than $25 million has been used to fund the construction of clinics.
Mutasa Rural District Council Chief Executive Officer, Mr George Bandure said these projects include Magadzire ($6.3 million), Mt Jenya ($11.8m), Muparutsa ($6.2m), Nyamukwarara ($266 590) and Tsvingwe Clinic ($243 200).
"We have allocated a substantial amount towards the construction of clinics in the district. For the Magadzire Clinic in Ward 12, roofing has been completed and electrification is in progress.
"For Mt Jenya (Ward 16), construction of the main wing is now complete and construction of semi-detached staff houses is at slab level. At Muparutsa (Ward Five), we completed the construction of the small wing. Painting and electrification will start soon. Construction of the main wing is at slab level, while casting of the slab is under way for the staff semi-detached house," said Mr Bandure.
In Chipinge, walking long distances to access health facilities for Junction Gate villagers in Ward 12 will soon be a thing of the past as a state-of-the-art clinic is under construction and is expected to be commissioned soon.
The villagers used to walk 20 kilometers to Mount Selinda Mission Hospital and Chipinge District Hospital to access health services.
In an interview, Chipinge Rural District Council administrator, Mr Takesure Maduveko said they are expecting to complete the project in the immediate future.
"After realising the plight of Junction Gate villagers in accessing proper health care, the council channelled part of the devolution funds to build a clinic in the area. The clinic will also house a waiting mothers' facility.
"Villagers used to grapple with high transport fares to access health care and this resulted in some people delivering or dying at home after failing to raise the required transport fares," he said.
Mr Maduveko said the council also rolled out various project to improve health care services in the district.
"Part of the devolution funds were also used to build nurses' houses in clinics across the district. There is also a polyclinic at Checheche Growth Point which is being built using devolution funds.
"Work is also in progress to construct a new clinic in Ward 18, while we are also building Maondere Clinic in Ward 18. The clinic is now at roofing stage and is set to be commissioned soon," said Mr Maduveko.
Acting Rusape Town Council secretary, Mr Faniseni Shuwa said devolution funds assisted them to buy an ambulance that is servicing three clinics.
"Devolution funds have enabled council to address health related issues in the town and the impact is that there are no outbreaks of diseases," he said.
Makoni Rural District Council also received devolution funds and channelled a significant portion to health related issues, with the Nzvimbe Clinic being the flagship.
The council channelled $7m towards the construction of the rural health centre which serves over 10 000 people.
Nzvimbe people used to travel for 20km to either Nyamidzi or Mount Zuma clinics in Mutare District.
The clinic, which was first mooted in the early 1980s, only came to fruition recently, thanks to devolution.
On several occasions, Makoni Rural District Council and the community attempted to kick-start the project, but failed due to financial constraints.
In line with the National Development Strategy (NDS1)'s thrust of improving communication in disaster prone areas, Government recently installed Wi-Fi at two clinics in Chipinge District.
The unlimited wireless network was installed at Ngaone and Chichichi clinics and will be open and free to health personnel and villagers.
Said Ward Two Councillor Agrippa Mayanga: "I applaud Government for always having its people at heart. Now we know that if another disaster ever strikes again, measures that help with getting immediate help have been put in place.
"The Wi-Fi will also guarantee an improvement of service delivery at our health facilities, while also going a long way in assisting our school going children who need the internet for research. Everyone in the villages will benefit from the Wi-Fi directly or indirectly," said Councillor Mayanga.
Miss Tanaka Saurombe said the wireless internet connectivity at the clinics was a huge relief to them, especially candidates sitting for their examinations this year.
"The Wi-Fi is helping us immensely. It used to be difficult to get internet connectivity in this area even if you had data because of the rugged terrain. We used to travel to Chipinge to do our research on given topics, but I can now do this at our local clinic, thanks to Government intervention," she said.