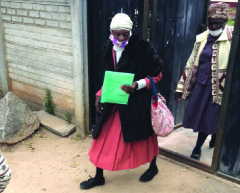 The ManicaPost
Tendai Gukutikwa
Weekender Reporter
A MUTARE woman is up in arms with her in-law over her late sister-in-law's property which she wants out of her late brother's home barely a month after her death.
Judith Sharata dragged Musa Guyo to Mutare Civil Court last week over the matter.
The court heard that Sharata's late brother was married to Guyo's late sister.
Sharata's brother died two years ago while Guyo's sister passed away recently.
Sharata begged the court to order Guyo to remove his sister's clothes and property from her late brother's house, saying the family wants to lease out the house to raise money for her brother's 17 minor children.
She said she raised the issue with the Guyos during their daughter's funeral, but they ignored her.
Instead, they locked the doors and left with the keys after demanding their daughter's outstanding lobola.
Sharata claimed that she settled the outstanding lobola on behalf of her brother.
"My late brother sired 17 children with different women. In fact, the house was built by my late brother and another woman, not the Guyos' daughter. There is no reason for them to continue holding on to the keys of the house while depriving the surviving children benefits from their late father's estate.
"I cannot lease out the house while the property is still inside. The Guyos promised to collect the property upon the full payment of the outstanding lobola and we managed to do so, but they are now shifting goalposts. They are saying a memorial service for their late relative should be held first," she said.
Sharata also said the Guyo family is still to come up with a date for the memorial service.
"They do not care about the welfare of their late sister's two children as their belongings, including birth certificates, are locked up inside the house. All they want is money, yet we can only get that money if we lease out that house.
"Your Worship, I cannot single headedly provide for the 17 children that my brother left. I am old and frail and cannot work for these children," bemoaned the woman.
Guyo, who was seething with anger, was not given a chance to respond as Mr Chipato struck the matter off the roll and referred Sharata to the Legal Aid Directorate for advice on how to proceed with the matter.
However, Sharata would not budge and insisted that the magistrate should hear the matter.
"Mwanangu, tese tiri vanhu. Iwe wakabva kuvanhu iwe, ita semunhu akabva kuvanhu. Pachivanhu pedu hazviiti saka ndatouya kwauri kuti undibatsire. Mwanangu usadaro, tese tiri vanhu (My son, we are both human beings. I have approached this court for help. My son please don't do that, we are all human," said Sharata.
Mr Chipato had to explain why he was striking the matter off the roll to Sharata's son as she remained adamant that the court should preside over the matter.