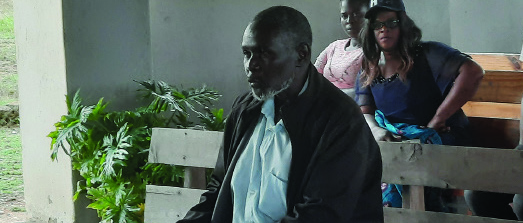 The ManicaPost
Tendai Gukutikwa
Weekender Reporter
A ZIMUNYA man is accused of having an insane fascination with dead bodies and funerals, an obsession that is allegedly causing the death of four of his family members every year.
The Mukwawaya family has lost more than 30 family members in the past 10 years and members who include Sam and Misheck Mukwawaya believe that their uncle, Joseph Mukwawaya, is responsible due to his alleged fascination with funerals.
The family also alleges that after burying family members, they wake up to see yawning graves.
It is alleged that whenever that happens, Joseph usually covers the graves without consulting other family members.
Appearing before Acting Chief Zimunya last week on Sunday, the Mukwawaya brothers said family members usually develop mental health problems before their death.
"When they become mentally challenged, they name our uncle, Joseph, as the cause of the ailments and deaths in the family. This is also evidenced by his weird fascination with funerals and dead bodies. When someone dies, Joseph is the first one to arrive at the funeral, even if you don't inform him.
"He likes family funerals so much and we have concluded that he is the one causing the countless deaths in the family. He just loves death. When my father died on August 20, he gave me some finger millet and instructed me to put it into my dead father's mouth. I was so scared and I told my aunt and mother about it, they stopped me from performing the ritual," said Sam.
He also said Joseph does not eat meals at the family funerals.
According to Misheck, the Makwawaya homestead has more graves than living family members.
"The Zimunya community knows that most of the Mukwawayas are dead. The remaining ones are less than 20. What scares us the most is that only people from Joseph's extended family die, not his immediate family.
"As we speak, another family member is suffering from mental sickness. We have already lost three family members this year and we are afraid that this child will be the fourth one. We plead for assistance from this court," said Misheck.
He said as a family, they have consulted different prophets and traditional healers over the issue, adding that Joseph has been identified as the culprit.
"Our fathers were soldiers, but they died paupers because of this old man. Look at us, we are very poor, yet we got good education and had good opportunities to be great people. Joseph will not let us succeed because of his jealousy and wizardry," said Misheck.
However, Joseph rubbished all the allegations and said an avenging spirit is behind the family's misfortunes.
"These children should not be economic with the truth. The child who is currently mentally challenged is usually possessed by a spirit of someone who was killed a long time ago. That person is alleging that he is our relative who was also called Joseph Mukwawaya.
"He wants his remains to be exhumed and accorded a proper burial. I am not a wizard, the only reason my immediate family members are not dying is because I do not have many children. I was only blessed with a single child," said Joseph.
He, however, confirmed that he gave Sam some finger millet to put into his dead father's mouth.
"I only did that because l wanted my late brother to torment the people who had killed him. It was my sister's suggestion. She could have confirmed that if she was at this court. On attending funerals, I am usually the first person there as I am the family head," said Joseph.
Acting Chief Zimunya ordered the family to consult traditional healers to ascertain the root cause of the calamities befalling the family.
The matter was adjourned to this Sunday.