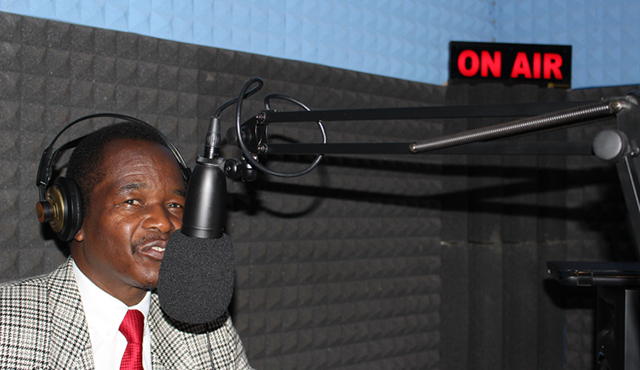 The ManicaPost
CASPER Muradzikwa (cell number 0773 612 772) of Chinota Secondary School writes: To the producer –HEAD-TO-HEAD WITH MM / Diamond FM and Manica Post-Mutare.Dear Mr Mtisi
I write to applaud you the programme host of HEAD-TO-HEAD WITH MM which is broadcast to education lovers every Thursday between 8 and 9pm.
I specifically applaud the one held on August 18, 2016. It was refreshing to note the humility which was displayed by the interviewee, one Mr Mukoyi of St Faith's High School, also NASH secretary-general.
I was completely awed by the humility he has despite the numerous glowing achievements under his belt. I thought I was particularly impressed by his command of the Queen's language, ask Lee Kandiyero (Diamond FM Radio station manager).
I for one concur with the total development of the child during their time at school. This is enshrined in the new curriculum and was perfectly expounded by this great luminary (Mr Mukoyi-talk of Ellen G.White's philosophy of education! What I would like to urge Mr Mukoyi and NASH is to relentlessly push for programmes that enhance expansive networking among teachers from different schools. As Mr Mukoyi rightly quipped albeit in agreement with your equally flaming eloquence as Head-To-Head host there is always something to learn from the other schools / teachers despite the glaring disparities. This writer feels there can also be a way of sharing the few resources in order to maximize learning.
It is also prudent to have NASH organise conferences such as those for school heads for instance for Literature teachers annually. I foresee teachers benefitting immensely from such programmes.
To the host of HEAD-TO-HEAD, you Mr MM, I say hats off for such a presentation and others of your programmes on air. They give us budding Literature teachers the impetus to work harder to reach the dizzy heights reached by the likes of you and Mr Mukoyi.
MM REPLIES
Thank you Casper! Head-to-head with Mr Mukoyi was aired on the night of Thursday, August 18 and on Friday, August 19 at about 11am you were at The Manica Post and Diamond FM with your feedback. What a rapid response!
It is fascinating to learn the rightful listeners for which this education programme was designed are listening in and enjoying the broadcasts. Not only enjoying, but learning a few things! This is precisely the purpose of Head-to-Head. Diamond FM as indeed The Manica Post through its regular Education Page both wish you happy listening and happy reading respectively. Both want to reach out to teachers, education directors and inspectors and parents who are major investors in the education of their children and those under their custody, to listen in and learn whatever they can from the conversations lined up on radio and written in the regular columns in The Manica Post.
Casper, it is most heartening and elating to learn from you that you found Mr Moses Mukoyi's humility awesome, in your words ". . .despite the numerous achievements under his belt."
I agree with you and am sure the awesome Mr Mukoyi has already made and left his legacy imprinted on the minds of those who know him well. It is also my hope that Mother Nature does not allow envious jealousy to rule and overshadow sanity among fellow educationists and school administrators. You certainly are one very different Casper. You openly recognise other people's abilities and achievements. You acknowledge outstanding performance. It's hard to do especially amongst teachers and other members in the education sector.
Of course, Mr Mukoyi's command of English Language is a known aptitude. I dare add, 'not only the command of language but the vision and the sense in it.'
You write about a NASH-size Literature Symposium. What a great idea! You recall my recent call for a provincial Literature Indaba? It is known that many teachers and heads of English Department feel their hair stand on end when other experts intervene. To them it is uncalled-for trespass, as they know it all and are the 'owners' of the students in their classes.
I know certain teachers and department heads who pray every day that no one 'strays' into their schools, let alone their classes. It's natural, isn't it? But such iron-age apprehension (fear of nothing) has no place in a school. A school is a source of physical growth as it is for mental growth and unfolding. Such primitive thinking has no place in the 21st century knowledge-driven world. Education is about research from other people and sharing of knowledge and wisdom. Teachers who refuse to continue to learn themselves are authors of their own intellectual demise.
I like it when you realise the wisdom of Mr Mukoyi that every single teacher and school offers some learning curve to every willing learner. And I like it more when you emphasise the need for expansive networking among teachers from different schools. I want to advise you something Casper. It is not only amongst teachers that knowledge is attainable. Engage experts, consultants and specialists even from 'outside' your establishment.
Teachers never have everything required for the intellectual diet of each class. You look further in today's day and age. There is the internet. Google for more knowledge and information! Think about it! Are all the books you use for teaching and learning written by teachers? Most of them are not, are they? This shows that while class teachers are indispensible guides and managers of learning, they don't ever have enough on their menu to satisfy the needs of modern educational exploration and discovery.
Finally, I want to ask you to push your NASH, your English District panel, your zone and cluster, your school, for the Literature Indaba you hungrily advocate in this your salute to Diamond FM Radio.
As host of the educational programme-HEAD-TO-HEAD, I am enfranchised to do all I can to make this programme a forum for serious discussion and debate on important issues about education. But without you, it cannot be a worthwhile broadcast. It's people like you Casper who make the programme great and not the host, please note. It is serious and open-minded people like you whose indispensable contributions to a valid conception of radio broadcasting enrich the process of learning.
Soon and soonest, we will have live broadcasts of Head-to-Head that invite phone-ins from listeners to make it more interactive and engaging. Soon I will assemble regular panelists to help me create a genuine platform of interest and learning on radio.
I want to leave you with words of wisdom from John Dewey-Thinking in Education: ". . .information severed from thoughtful action is dead, a mid-crushing load. Since it simulates knowledge and thereby develops the poison of deceit, it is a most powerful obstacle to further growth in the grace of intelligence. The sole direct path to enduring improvement in the methods of instruction and learning (whether in classroom, in the newspaper or on radio) consists in centrering upon the conditions which exact, promote, and test thinking. Thinking is the method of intelligent learning, of learning that employs and rewards mind. We speak, legitimately enough, about the method of thinking, but the important thing to bear in mind about method is that thinking is method, the method of intelligent experience in the course which it takes."
With that comforting philosophic theory, which to some may sound like a silly truism, I wish you happy reading of education material in The Manica Post and on Diamond FM's HEAD-TO-HEAD WITH MM. The greatest is yet to come.
Casper Muradzikwa, thank you for your feedback.