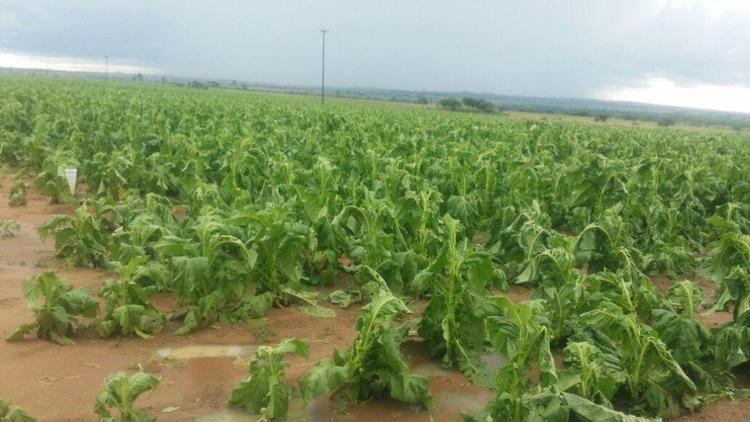 The ManicaPost
Samuel Kadungure Senior Reporter —
High value tobacco and maize crops in Headlands took the brunt of unforecast precipitation, coupled with heavy hailstones and strong winds, which decimated thriving crops, some just days before harvest.
The storm reportedly shattered an estimated 80 percent of the crop along its path, putting an abrupt end to harvest. The heavy hailstones and strong winds also destroyed farm property and uprooted trees of various sizes.
The worst affected farms were Rungutai Farm, owned by Retired Colonel Topira Mutasa and the adjacent Ziswa Farm.
The damage estimated at hundreds of thousands dollars – with the farmers still agonising under its effect – as insurers were expected to assess the full extent of the cumulative losses.
As the rainfall lashed the area on Saturday afternoon, farmers initially received it as a blessing, but suddenly dashed their hopes of a bumper harvest with nearly-ripened tobacco harvest flattened completely.
The sensitive tobacco leaves were shredded, pock-marked and ripped by hail stones. The maize crop, which was at the sensitive knee-high growth stage was pruned, leaving the farmers in a quandary and unsure if it will rebound or not.
Even if it survives, longer-term impacts, such as lower yields, are likely. Crops can recover after being defoliated if the hail did not damage a particular plant's "growth points" responsible for cell division. If the growth point is damaged, that plant is gone for good.
The storm has damaged the branches of many trees while uprooting fruit trees.
The damage to plant leaves was most severe as most them were sprouting and growing tender new leaves and stems.
In an interview, Chenge Mutasa, of Rungutai Farm, about 21km outside Rusape, said it was disturbing that the tobacco suffered damage a few days before harvest.
"We were impressed with its quality (tobacco leaf). It was the best we have grown and we were looking forward to harvest in a few days. It's really disappointing to see the crop that you have worked so hard on all year wiped out in a flash like that," said Mr Mutasa.
Last year also a hailstorm accompanied by wind-storm hit the area causing about 80 percent crop damage.  Farmers along the vulnerable belt, which stretches roughly for 20km from Mr John Stanger's Farm, have time and again sought insurance cover for their crop.
It is believed the storm was about 10 kilometres wide and ran for at least 20 kilometres, but the damage to crops and trees, varied in severity depending upon the type of crop and tree and the force and size of hail that fell.
However, more than six months' production and the livelihoods of some growers across the belt may have been lost after the freak storm.
Mr Mutasa said although they had insured the crop, the hail dealt them a devastating blow.
"It's my first time to experience something like this, we had 87ha of maize under Command Agriculture, 20ha was knee-high, and another 40ha was at the early vegetative stage. Tobacco covered 50ha, and 30ha of the irrigated crop is a write-off and the dry land tobacco, which was at the 12-leaf stage, was severely damaged too. We had projected a harvest of three and half to four tonnes per hectare, and this hail has dealt us a fatal blow. It is a major setback.
"It happened when we thought we had scored, I have never seen anything like it," said Mr Mutasa, adding the loss was a shattering end to what had been shaping as a good season.
"We eke a living out of growing crops, so you dedicate a fair amount of time and effort into it suddenly it all goes up in a smoke like that, it's really sad.
"We have been having rains for several weeks, and when it rained again on Saturday, I saw it as a blessing which will boost our expectation of a bumper crop and subsequently a huge turnover, but our crop has suffered massive damage due to hailstorm. It turned into a complete disaster that dashed our hopes for a bumper harvest," he said.
Mr Ziswa said the hailstones destroyed the standing crops ruining his precious source of income and hard work.
He said his tobacco took a beating from the unforecast storm, which shattered up to 70 percent of the crop thereby putting an abrupt end to harvest.
He said the storm has caused huge frustration for farmers that were looking at a reasonable return for their investment.
Farmers are still reeling from a horrible season last year when the Government declared a national agricultural disaster as a result of El-Nino induced drought.