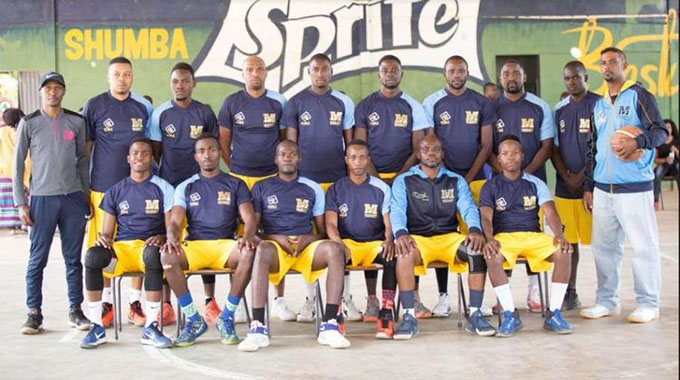 The ManicaPost
Tafadzwa Tichawangana Sport Correspondent
MERCENARIES' crowning moment as 2019 basketball national club champions might have come as a surprise to most outsiders but to keen followers of the game in Mutare and more significantly for Mercenaries founder and power forward Innocent Sithole this has been a championship 15 years in the making.
Last Sunday, Sithole, 38, a former national team player and coach led the Mercenaries, a club he helped start 15 years ago to a 75-60 win over Foxes in the national club championship final at Mutare Boys High, becoming the first team from Mutare to win a national basketball title.
In the process Mercenaries earned the right to represent Zimbabwe at the FIBA Africa club championships later this year.
In an a wide ranging interview with Post Sport, Sithole chronicled the Mercenaries origins story, cataloguing the significant moments that finally culminated in an historic national title.
"We started the team in 2004. Back then we were just a couple of friends from Chikanga, Yeovil and Westlea who shared the love for basketball. We soon figured out we could make money from playing together in basketball tournaments, and that is how the Mercenaries name came about.
"The first tournament we played in was the Mutare Harlem tournament the same year. Over the next two years we continued playing together whenever there were tournaments with prize money.  We won every tournament in Mutare during that period including several national tournaments," he said.
After dominating the "money game" circuit with Mercenaries between 2004-2006, Sithole led a breakaway group of players from the City Saints who played in the Manicaland Basketball Association (MBA) league. He went on to register the Mercenaries as a franchise in the same league.
"In 2006, following disagreements with some of the senior players at City Saints over the running and future direction of the club I left and teamed up with my friends who I played with as the Mercenaries. Together we registered the franchise with the MBA.
"Halfway through the 2006 season, more young players from City Saints who were mostly from Dangamvura joined Mercenaries as we started becoming a team more representative of Mutare," added.
After registering as a franchise in 2006, Mercenaries went on to win 13 straight MBA league titles, and to date have never lost a single league game.
Nationally, it was a different story. Mercenaries were losing finalists on three different occasions having made it to at least the semi finals at the national club championships in the last 8 years but a national club title proved elusive.
The most crushing of those finals defeats came in 2012 when they lost by half a basket to Cameo.
Sithole told Post Sport how this particular loss marked the beginning of the end for some of the Mercenaries founding players and paved way for a new generation who would go on to win the national title.
"After we lost that final to Cameo when we were at our peak as a team, we realised that age was starting to catch up with us and several of the original Mercenaries left the club for other opportunities in the diaspora. This created a huge vacuum at the club and along with the remaining founding players such as Tonderai Sengai and Solomon Muradzikwa we started blooding in young players from around Mutare who we had previously overlooked," he said.
Fast forward to last Sunday's final and that decision to in cooperate the young players from Mutare paid off handsomely. The Mercenaries starting five in the final vs Foxes featured two players over 30 years including Sithole and three players under 25, a winning cocktail of youth and experience that finally delivered a national basketball title to Mutare.
For Sithole, winning the national title with Mercenaries in front of his home crowd, playing for a club he formed and which is made up exclusively of players from Mutare proved to be the highlight of his long career.
"It has been a struggle for the past 15 years and for the crowning moment to come in front of my friends and family, that is the icing on the cake. This is one of the greatest moments in my life in terms of achievement. I always believed we would win a national title but I didn't believe we would win while I was still playing. I thought I would be focusing more on coaching. I was actually contemplating retiring after these national championships so it actually came as a bonus and I am now retiring on a high. I have all the confidence the youngsters will push for more championships in the next few years," he said.
With young bucks such as Peterson Muchakabvura, 24, who was named the national championship's Most Valuable Player (MVP) proving they can deliver at the highest level the future looks bright for Mercenaries.
Sithole whose guile and experience saw him leading the Mercenaries scoring in the championships paid tribute to the Mercenaries youngsters.
"The youngsters did a great a job considering the inexperience that we have. We don't have a lot of youngsters who have played at this level for a long time, and to go and beat perennial winners like Harare City Hornets in the semi's and Foxes in the final is a great achievement. We look forward to defending our title next year as well as representing Zimbabwe at the FIBA Africa Club championships later this year."