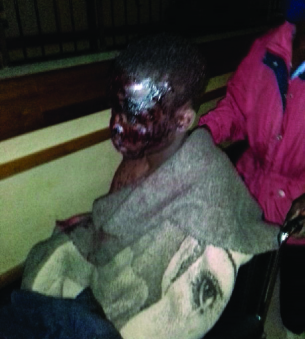 The ManicaPost
Tendai Gukutikwa
Weekender Correspondent
A ZIMUNYA man is battling for life at Parirenyatwa Group of Hospitals in Harare after the husband of the woman he was caught red-handed bedding hacked him with a machete all over the body recently.
Leonard Chiwiti (26) of Bvirindi Village under Chief Zimunya, was first admitted at Victoria Chitepo Provincial Hospital, but had to be rushed to Harare because of the complexity, and seriousness of his injuries.
According to neighbours, Chiwiti was cheating with a married mother of three, only identified as Mai Tino Magarabha of the same village for two years before the husband, Dunmore Magarabha was alerted of the adulterous affair.
The matter has since been brought before acting Chief Zimunya's court.
Magarabha disappeared after committing the offence.
Acting Chief Zimunya who presided over the matter last Sunday had to adjourn it to a later date to allow the court to locate Magarabha, while Chiwiti recovers.
Narrating the sad ordeal, Chiwiti's cousin, Chris Mhandu said the affair was not a secret in the village, since Chiwiti would cohabit with Mai Tino during Magarabha's absence.
"Chiwiti is battling for his life in Harare, and we are just praying that he recovers so that we take the matter further. The matter should be reported to the police, and Chiwiti is the complainant. We know that according to the law of the land of Zimunya, our brother might be ordered to compensate Magarabha with cattle for cheating with his wife. He wronged him yes, but Magarabha should not have hacked him," he said.
He added: "Magarabha, being an illegal gold panner spent most of his time in Penhalonga, and would make sporadic visits to see his family. This resulted in the affair going on for some time without him knowing."
Mhandu said after being alerted of the affair by other villagers, Magarabha checked his wife's phone, and discovered messages between the two cheats.
"He asked his wife about the matter, and she denied dating Chiwiti. This angered him, and tied her legs and hands with electric cables. After tying her up, he threatened to kill her before taking his own life. Mai Tino later confessed," he said.
After her confession, Magarabha allegedly ordered Mai Tino to call, and inform Chiwiti that he (Magarabha) had left, and he should come for a sleepover.
She complied and phoned her lover.
"Chiwiti arrived at Magarabha's homestead around 10pm. Magarabha was hiding in the kitchen. After Chiwiti had stripped naked, Magarabha opened the bedroom door and entered, leaving a friend he had with him blocking the door," he said.
Fellow villager, Tiritose Chikuni said Magarabha's friend raised alarm after realising that his friend was mercilessly hacking Chiwiti with a machete even though he was unconscious.
"He was seething with anger, and it took the bravery of some villagers to subdue him.
"When we arrived at the homestead, Mai Tino had escaped, and Chiwiti was lying naked in a pool of blood. We called Magarabha's brother who assisted us to hire a vehicle to ferry Chiwiti to the hospital," said Chikuni.