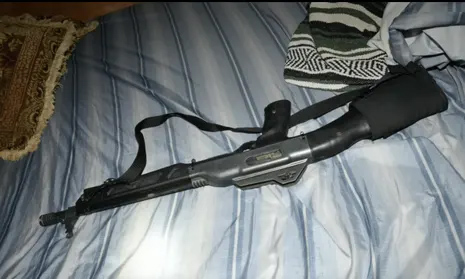 The ManicaPost
Luthando Mapepa
Chipinge Correspondent
A 56-YEAR-OLD security guard allegedly shot himself with his service rifle in Checheche following a misunderstanding with his wife over her alleged infidelity.
The now late Johane Chiweshe from Dambamuromo Village in Chipinge South shot himself after discovering that his wife was having extra-marital affairs.
Manicaland provincial police spokesperson, Inspector Nobert Muzondo confirmed the incident which happened in Checheche last week on Thursday.
"The now late Johane Chiweshe who was employed as a security guard was on duty when the incident happened. He was armed with a 303 riffle.
"His workmate, Munyaradzi Gorivoto heard a gunshot around midnight and called out Chiweshe who did not respond. He alerted their superior, Enock Musasike, and he rushed to the scene.
"The two searched around the company premises and discovered that Chiweshe was already dead. His body was found lying facing upwards with blood oozing from his head.
"A report was made to the police who attended the scene and observed a gunshot wound on Chiweshe's head. The 303 riffle was also discovered near Chiweshe's hand with a magazine containing seven rounds. An empty cartridge was also discovered at the scene and the body was conveyed to St Peter's Mission Hospital mortuary.
"Inquiries done indicate that Chiweshe had attempted suicide many times before," said Inspector Muzondo.
Interviewed neighbors who requested anonymity said Chiweshe had a frosty relationship with his wife, adding that he attempted to commit suicide several times.
"Chiweshe accused his wife of infidelity several times. Their relationship was an on and off affair. His church members would intervene whenever the couple had a misunderstanding and they would reconcile.
"However, Chiweshe always told church members that his wife had not reformed from her old habits and because of this, he would end his life. He made several suicide attempts before.
"We don't know why his employers gave him a gun at work as he had suicide tendencies," said the neighbor.
Chipinge Rural District Council Ward 20 Councillor Charles Mugodho said Chiweshe was buried in Dambamuromo Village last week on Saturday.