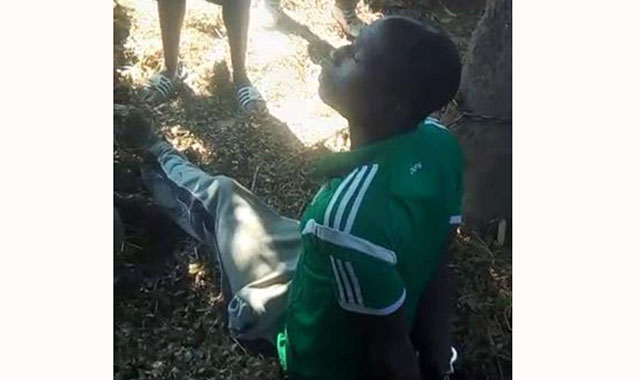 The ManicaPost
Dorcas Mhungu Weekender Correspondent
The soil was still damp with the blood of headman Lameck Ndiraya (70) of Shenayeguta area of Gandanzara, when The Weekender arrived on Monday morning following his horrific death on Sunday, May 13.
The murder has sent shock waves not only in the surrounding village, but across the country. In a macabre style murder, headman Ndiraya was axed to death by his 25-year-old grandson, Luckmore Nyakuchena. Narrating the blood curdling death of her husband, Mrs Evangelista Maunga said Luckmore had arrived from Honde Valley the previous day and he is known to be mentally challenged.
The eve that he arrived, Luckmore had slept bound by locked chains because he was showing signs of violence. On Sunday morning, Mrs Maunga had left Luckmore in chains when she went to wash clothes after deciding not to go to church that Sunday morning. "I wanted to monitor Lucky's behaviour. I don't know why sekuru (her deceased husband) removed the chain," said Mrs Maunga with a breaking voice.
After a short while, Allen ran towards the garden where Mrs Maunga was washing clothes. "Ndakamubvunza kuti urikumhanyirei kudaro. Wasiirei basa rawapihwa nasekuru rekuchera makomba. (I asked Allen why he had left the assignment to dig holes and why he was running so fast.)
"I then heard Allen shouting, sekuru hakuchina, wagurwa musoro naLuckmore nedemo (sekuru is dead, he has been axed to death by Lucky) Mrs Maunga narrated the Sunday horror.
Immediately she ran towards the house and was horrified to see the naked body of her husband lying on the ground and his severed head next to the body.
"When I first arrived, my husband's head was next to his body with his hat which Luckmore had put on after chopping off the head as if he was alive. When Lucky saw his grandmother, he picked up his grandfather's head and holding it by the ears, he advanced towards her saying, "mbuya, hona musoro wasekuru uyu, ndatovauraya, vatofa, (here is sekuru's head, I have killed him," she said as she broke down and sobbed.
"My husband was lying on the ground naked. Lucky had removed all his clothes after murdering him and his clothes were strewn all over. I stood there in shock and disbelief. I picked up the under garment and trousers and I tried to dress him before calling for help. I only managed to pull the trousers halfway, I couldn't pull the clothes all the way up," Mrs Maunga said sobbing uncontrollably and sympathisers and her daughter who were in the round hut also cried.
Her screaming and pleading for help was heard by the neighbours who rushed to her homestead. On seeing the neighbours coming, Luckmore dismantled the axe and tried to flee from the scene but the neighbours apprehended him and effected citizen arrest while waiting for police to come.
When the late headman Ndiraya met his fate, he was digging holes for a maize storage facility with 25-year-old Allen Quizza when Luckmore committed the alleged gruesome murder. Allen told The Manica Post that on the fateful day, he was digging holes with the deceased and Luckmore. Allen had briefly gone to the toilet when Luckmore murdered his grandfather.
"Sekuru asked us to cut the poles because they were too long but I had a premonition and constantly took the axe from Lucky.
''Sekuru took the axe and after using it, he put it on the ground and I went to the toilet. I came out of the toilet just in time to see, Luckmore striking sekuru and the axe sank deep into his neck. Sekuru didn't scream or move. Then Luckmore looked at me and gestured the axe in my direction and I ran where grandmother was shouting. I am sure he wanted to attack me too had I not fled," Allen, who lives with the Ndirayas narrated the ordeal of the horrific murder.
Police spokesperson inspector Tavhiringwa Kakohwa confirmed the incident saying the suspect Luckmore appeared at the Rusape Magistrate Court on a murder charge and was remanded to 28 May for further investigations. He was not asked to plead.
Tough times lie ahead for the late headman Ndiraya's family whose death place is very close to the kitchen and horrific death has no doubt left an indelible mark in their memories and distant from counselling services that one dearly needs in such circumstances.