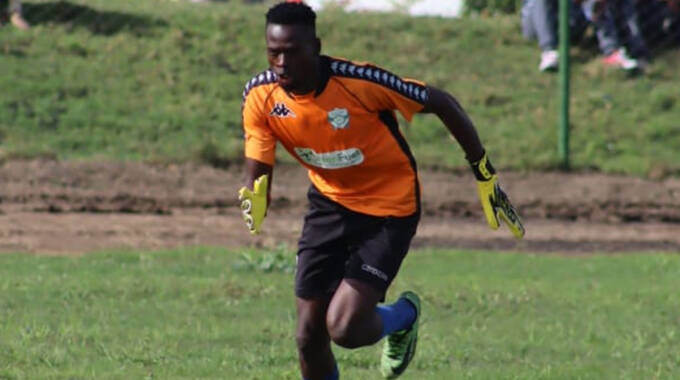 The ManicaPost
Moffat Mungazi and Freedom Mutanda
THE historic feat accomplished by GreenFuel for being the first team to bring Premiership football to Chipinge was a collective effort that deserves plaudits.
However, the unprecedented achievement would probably not have been possible without the individual brilliance of some players in the squad.
While there may be several to recognise, goalkeeper, Tedious "Mendy" Baye deserves special and singular mention for his sterling exploits between the sticks.
So outstanding was the 27-year-old shot-stopper that he conceded only five times in 26 matches.
His defence was breached in only three matches.
He kept an incredibly massive 22 clean sheets in the process.
Baye never conceded more than two goals in a single match throughout the season as the most he conceded was in their 3-2 triumph against Mutare City Rovers at the Green Fuel Arena.
Three of the five goals scored past him came in the first round of the campaign and two in the second.
Only three teams – title rivals, Mutare City Rovers, Manica Diamonds Juniors and FC Wangu Mazodze – managed to score past him.
A goalkeeper can turn from hero to zero during the course of a match as their mistakes can easily be magnified by the zooming lenses of nit-pickers or from villain to paragon as admirers paint their heroic acts in colour.
While Baye is revelling in GreenFuel's promotion into the elite league, he is also celebrating a personal career best after a stellar season with the ethanol producers.
From playing in the lower divisions, the agile goalie is now set to face some of the best marksmen in the domestic game's top-tier league.
"Earning promotion with GreenFuel is the fulfilment of one of my football dreams. I am delighted for the club, players and the Chipinge community. These are the fruits of hard work, determination and zeal for success. We hope to be a formidable force that will make its presence felt among the big boys by challenging for honours.
"On an individual level, I am happy to have managed to keep 22 clean sheets and that my contribution helped to steer the team to glory and achieve its goal of being crowned champions. It is fulfilling to be part of the group that made history not only for Chipinge, but Manicland Province as well," enthused the shot-stopper.
He revealed that he managed to surpass his target as his goal was to keep 20 shutouts throughout the season.
Baye paid tribute to seasoned ex-CAPS United star and his fellow goalkeeper, Chris Mverechena for sharing with him secrets and tips to top goalkeeping.
"He helped me a lot. We enjoyed the drills during the training sessions. Ours was a healthy competition. His experience was handy. We worked well together and never felt a sense of rivalry. As goalkeepers, we shared a lot; even gloves," said the Harare-born footballer.
Baye doffed his hat to the technical department comprising head coach, Lloyd "Samaita" Mutasa, his assistants, Joseph "Shabba" Takaringofa and Albert "Dhalala" Mabika and goalkeepers' trainer, Ndodana Sibanda.
The goalminder also saluted the Chipinge community and surrounding areas for rallying behind the team.
Particularly impressive, he added, was how the supporters crucially played their 12th man role with panache even when the chips were down.
"We enjoyed and cherished their support a lot. Some of the fans travelled to our away games in their numbers and with them solidly behind us, we ended up turning difficult games into 0-0 draws and avoiding defeat," he explained.
Baye looks up to Senegal and Chelsea star, Edouard Mendy, after whom he is nicknamed by his legion of fans.
On the local front, FC Platinum and Warriors' keeper, Petros Mhari is his role model.
He also watches German and Bayern Munich captain, Manuel Neuer a lot and takes every opportunity to learn from him.
He said: "There is always something to learn from every goalkeeper as I watch and follow many. Such attributes as commanding one's goal area, organising and coordinating the defence, precise ball distribution, excellent reflexes, agile acrobatics, strong catching, solid punching and composure are hallmarks that define a good goalkeeper and I am always working hard to perfect these aspects of my game."
Baye is dreaming of brighter days.
"Like any other player, I look forward to representing my country at national level and also ply my trade in Europe's top leagues across the globe," he said with confidence, adding: "I understand the Premiership is a different kind of competition and I am bracing for it. My goal is to leverage on that platform as a spring board to launch me to greater heights. I hope the exposure that comes with playing in the Premiership will open up more avenues for me and broaden horizons."
But how did a player who once toyed with the idea of quitting the game only two years ago managed to stick it out?
"At some point I thought of walking away from football. I was so frustrated and assumed that I was not making progress in my career. This was compounded by the challenges brought about by Covid-19 as clubs struggled to get back to their feet following disruptions caused by the pandemic.
"Looking back now, I am glad I never quit and glory be to God for seeing me through and taking me this far. In fact, after living my dream I am now looking forward to achieving more in a fulfilling and rewarding career," said the former Mutoko Pirates and Bikita Minerals goalkeeper.
Despite encountering some hurdles along the way, he soldiered on.
That saw his game improving over the years as he never looked back.
"The setbacks taught me to be a fierce competitor," he said.
"This season I was forced to finish the remainder of our duel against closest chasers Mutare City Rovers with a swollen face after bleeding following a collision with an opponent. We won that match 2-1 in their own backyard at Sakubva and it was one of the marathon's highlight results."
Baye's greatest strength is cutting out crosses and thwarting opponents in one-versus-one situations, which kept him on top of his game as his imperious form saw him deliver flawless performances.
The Ethanol Boys' coach spoke glowingly of one of his standout performers in their breakthrough season.
"We feel delighted to have him in the team and his contribution to our success was immense. He played every minute of the 26 games he was involved in and was outstanding throughout. His work ethic was very high during training sessions and on match-days.
"The way he commands his goal area and organises defence is good and that helps to avert looming danger. He is always alert in every situation and heavily involved with on-field play. Combining his keenness to continue learning and humility, he is set to go far because he also works very hard. Everyone enjoys working with him because he is disciplined and committed," said Mutasa, who made his name as a midfield genius with the now defunct Tanganda.
The former Dynamos gaffer and ex-Warriors assistant coach attributed their success this season to resilience and team work.
Employing a 3-5-2 formation, they treated each match as a final on their marching procession to a podium finish.
The seasoned Obey Mwerahari skippered the ship.
GreenFuel seamlessly blended experience and an exciting array of blossoming talent to clinch the crown.