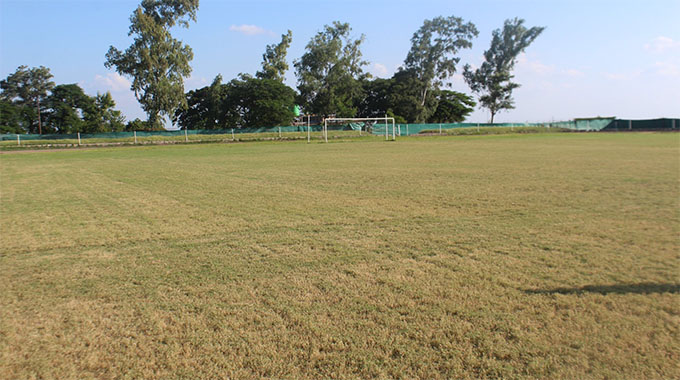 The ManicaPost
Freedom Mutanda Sports Correspondent
ETHANOL producing giant — GreenFuel — is refurbishing the GreenFuel Sports Arena so that in addition to soccer, the facility can also cater for netball and basketball.
The project is part of grassroots' sports development. The company sponsors soccer, netball and basketball teams, with its soccer team competing in the Eastern Region Division One, while the netball team — Green Fuel Angels — is holding its own in the Rainbow Amateur Netball League.
Last week, Zifa president Felton Kamambo led a high-powered delegation to inspect the progress made so far in refurbishing the stadium.
The delegation included chief executive officer Joseph Mamutse, board member Sugar Chagonda, Gwesela, and Eastern Region officials Simba Wisdom, Liberty Mugari, Farai Rutsvara and Patient Dube.
Speaking on the sidelines of the tour, Kamambo said he dreams of seeing competitive soccer spreading to all parts of the country.
He also said Zifa will chip in to ensure the success of the project.
"I urge the club to engage the Zifa technical committee on grounds. You should also rope in Xolisani Gwesela (Zifa communications and marketing manager) as he is highly regarded in Africa when it comes to grounds inspection,'' said Kamambo.
"We have applied for Fifa funds to construct two sporting facilities in each province. In line with that vision, it will be noble to complement GreenFuel's efforts in building a stadium here. Therefore Zifa will chip in to expedite the project,'' said the Zifa president.
Kamambo urged GreenFuel to put together a women's soccer team as Zifa intends to include 18 clubs in each of its four regions.
"We have 18 teams in the elite league of women's football. Going forward, we want each region to have 18 teams as we work on supporting women's football. That will see us having a total of 72 teams," said Kamambo.
He also highlighted the prohibitive costs of transporting players to matches.
"These teams should be equipped with minibuses as transport costs to matches are very prohibitive,'' he said.
Speaking at the same occasion, GreenFuel Football Club executive chairman, Vincent Moyo said the Greenuel Sports Arena will cater for various sporting disciplines. GreenFuel public relations officer, Merit Rumema thanked Zifa for spreading the game to the grassroots. She said soccer is a unifying sport, adding that the company ferries supporters from neighbouring villages to watch games featuring GreenFuel. Greenfuel Football Club plays in Division One, with coach Masimba 'The member-in-charge' Dinyero leading the boys. Dinyero was 1989 Soccer Star of the year. The club joined the second tier league in 2018 to give an impressive attack for the title. However, Manica Diamonds' dominance dismantled its intentions. In 2018, the team was disappointed again following Tenax's promotion into the elite league.