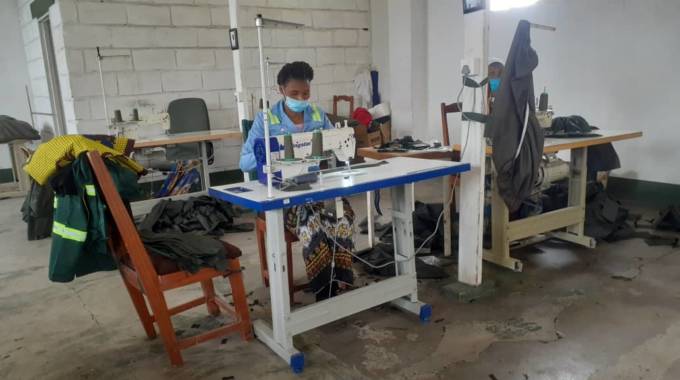 The ManicaPost
Ray Bande
Senior Reporter
WHILE the main motive of business is to earn money, corporations working in communities are expected to protect and promote the interests of society as well as the environment in which they operate.
Corporate companies are part of society and their business activities directly or indirectly affect society.
The social responsibilities of corporates are referred to as Corporate Social Responsibility (CSR).
This moral duty is a way of showing the human face of any given business.
It is also the newest management strategy in which companies try to create a positive impact on society as they conduct business.
Businesses deal with humans and therefore any business entity worth its salt needs to connect with its surrounding communities by showing some humanity.
According to Lord Holme and Richard Watts: "Corporate Social Responsibility is the continuing commitment by business to behave ethically and contribute to economic development while improving the quality of life of the workforce and their families as well as that of the local community and society at large."
Crucially, CSR is a system for managing relationships between the company and the surrounding environment, that is stakeholders and local communities.
Companies implement CSR voluntarily to achieve various social and environmental objectives in their daily business activities.
Thus, Lowveld ethanol producing concern – GreenFuel – has not only implemented CSR projects in its operations; it has done so in a multi-pronged approach.
The ethanol plant is located in Chipinge District.
This falls under Natural Region Five, which is prone to severe perennial droughts.
This week, GreenFuel public relations manager, Ms Merit Rumema, took The Manica Post through the company's vast CSR projects that range from education, environmental to agricultural projects.
"GreenFuel has a robust Community Social Responsibility programme that keeps growing each year. This is founded on the belief that the communities around the business need assistance in sustainable development initiatives which will see more households relying less on donors for food aid, school fees for their children and general welfare of their families.
"Drinking water is also difficult to get in some areas due to high concentration of salt in the water table. Where there is limited water, agricultural activities are also limited, thereby resulting in less disposable income, high numbers of children dropping out of school, high incidence of child marriages as well as migration mainly to South Africa in search of greener pastures.
"Given such a context, GreenFuel responds in various ways to the needs of the people by investing in education, food security, health and the environment," said Ms Rumema.
Unlocking success through education
For an impoverished or underprivileged community, education is an avenue to escape poverty.
It provides an opportunity for a decent future.
To this end, GreenFuel has an educational bursary facility named 'Ramangwana Rakajeka'.
Based on the need to provide a better future through education for families in and around the Lowveld, GreenFuel has over the years been paying school fees for 100 primary school going children without considering their abilities in the classroom.
"This is a bursary scheme dubbed '100 kids, 100 dreams'. This bursary is different from regular ones as it is not merit, but humanitarian based.
"We pay for the most vulnerable children who fail to make it onto Government's Basic Education Assistance Module (BEAM) list or other such lists. Realising that some of the children come from poor backgrounds, company employees volunteered to mentor and keep them motivated to stay in school in order for them to pursue their studies.
"The children who are under this scheme are from the five primary schools closest to the estate. These include Chinyamukwakwa, Munepasi, Matikwa, Chisumbanje and Takwirira Primary Schools. Keeping children in school is one way of ensuring that the future of the greater Chisumbanje area is bright," said Ms Rumema.
Given the long standing tradition of a community whose young people often abruptly drops out of school to cross into South Africa for menial jobs, the company is trying as much as possible to retain the children in school.
Technology is the future
Still on efforts to support the education sector, GreenFuel provided a Library and Technology Centre for the community.
"Anyone can borrow a book from the centre and return it. It is stocked with academic books in the current school curriculum as well as other genres and types," she said.
In this age of Internet Communication Technology, GreenFuel has ensured that folks in the Lowveld are not left behind.
The fact that the ICT Centre is located in the heart of the rural Takwirira community places into perspective the developmental thrust aimed at leaving no one behind in the use of ICTs.
"There are 12 desktop computers for use by members of the community. Local schools have taken advantage of these and are now holding Computer Science lessons at the centre.
"There is free internet connection and users can also bring their own digital gadgets for research. Furthermore, there is a heavy duty photocopier for use by schools to photocopy exam papers during their examination periods," said Ms Rumema.
"A reading club led by selected employees also runs the centre. The club also targets pre-scholars and Early Childhood Development (ECD) children to help them develop a healthy reading culture," said Ms Rumema.
Science & innovation: Checheche tags along
Science and innovation is the in thing in the education sector the world over.
However, many rural communities around the country have been left behind owing to lack of resources in establishing sound Science labs in schools.
To this end, GreenFuel took it upon themselves to ensure that children in the Lowveld are on the same page with their peers elsewhere.
"The Checheche High School Science Lab is currently under construction to afford local high school students an opportunity to pursue Science-related careers," said Ms Rumema.
Irrigation pivotal in agric revolution
Nutritional needs are also at the heart of GreenFuel's CSR projects.
Vast tracts of land in the Lowveld have been turned into a greenbelt, with 1 290 households benefiting from one of the country's biggest communal irrigation schemes.
Each household has access to 0.5 hectare of land, thereby translating into 645ha of a communal irrigation scheme.
In addition, a drip irrigation system was set up for St Peters' Mission Hospital.
"This is used to grow vegetables which the hospital sells to supplement its income. Another garden is run within the estate by youths from the community.
"They sell their vegetables to the company and these are used to feed employees. Individuals also buy fresh vegetables and some are sold to wholesales and vendors at the community market," said Ms Rumema.
A community that cooks together
Community kitchens have ensured that GreenFuel employees are well fed during their working hours, while also benefiting the entire community.
"Every employee at GreenFuel is served a meal during their shift, either lunch or supper, depending on their shift. The catering for these meals is done by men and women from the villages around the estates. They are paid for their labour and they are looking after their families using proceeds from this initiative," she said.
Manna Creative Fashions: A factory in the Lowveld
GreenFuel has several CSR projects that directly benefit the community in terms of their welfare and general well-being.
"Manna Creative Fashions is a community sewing project. The factory produces all work suits and other designated Personal Protective Equipment for GreenFuel. They also make curtains and linen for the company residences. On average, they make around US$6 200 and $88 000 per month," said Ms Rumema.
"Community members run this factory as a cooperative and are fairly independent.
"The machines they use were bought by GreenFuel and are regularly serviced. The cooperative does not pay any electricity bills or rentals for the factory. They are also free to sew for other clients other than GreenFuel," said Ms Rumema.
Ending period poverty
Having realised that under-priviledged girls in rural communities were struggling to access affordable and comfortable sanitary wear, Greenfuel have been on an aggressive drive to avail reusable pads to the young girls.
"Access to sanitary wear is a real challenge and it often sees adolescent girls missing their school lessons," said Ms Rumema.
"Community members were therefore trained to sew reusable pads which have a lifespan of two to three years, depending on usage. They received equipment from the company.
"They sell the pads to GreenFuel, who in turn donate them to school girls in the district. They also sell the same products to other community members," she said.
CSR gets sweet
A thriving honey making project is one of the low hanging fruits rolled out by GreenFuel in the community.
"The company constructed an apiary which is run by women from the community. They keep bees and make 100 percent organic honey for sale," said Ms Rumema.
State-of-the-art community market
GreenFuel stepped in to construct some market stalls as the existing ones had turned into an eyesore.
"The company constructed a market in Chisumbanje and donated it to the community. It has 80 stalls and it is independently run by members of the community," said Ms Rumema.
Loving the environment
In its execution of the CSR projects, GreenFuel has also not forgotten its responsibility towards the environment.
"In efforts to reforest the environment, we set up a tree nursery.
This is run by the company, but trees and shrubs are donated to schools, institutions and individuals so that they can re-green the area.
"Due to high usage of firewood as a source of energy, some parts of the greater Chisumbanje area are turning into deserts. The company makes a deliberate effort to plant trees inside and outside the estate and maintain them," said Ms Rumema.
Fencing made easy
A thriving fence making project has benefited the locals in a big way.
Ms Rumema said: "As a company that is environmentally conscious, GreenFuel reduces its carbon footprint by recycling vehicle tyres. Wire threads from the tyres are used by the community to make fence, chicken mash and brick force.
"The team runs a corporative and sells their products to the company and other individuals, thus making ends meet for themselves and their families," said the GreenFuel PR manager.
Looking out for the community
Ms Rumema added: "The above CSR initiatives are by no means exhaustive of the work we do. In response to the Covid-19 pandemic, we have been manufacturing hand sanitisers and making donations to schools, clinics and hospitals in Manicaland and beyond.
"In emergency national crisis, we also respond accordingly.
Locally, we are the fire-fighters and emergency responders in road traffic accidents. We also maintain the small roads leading to the villages," said Ms Rumema.
During the devastating Cyclone Idai in 2018, GreenFuel's earthmoving equipment came in handy in clearing roads as well as constructing new ones soon after disaster had struck.
Common business practice dictates that we cannot expect CSR activities to eliminate all the community problems. However, such efforts can definitely leave the community in a much better space.