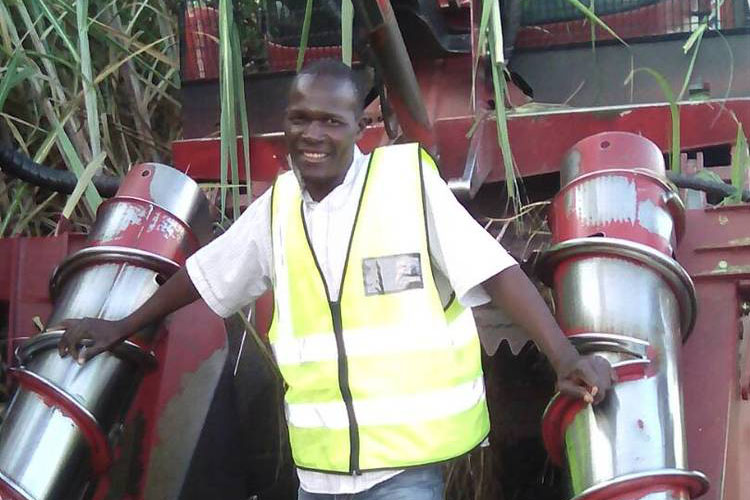 The ManicaPost
Luthando Mapepa and Wimbainashe Zhakata Post Correspondents
A 38-year-old Green Fuel plant employee Lovemore Mthombeni was last Saturday accidentally crashed to death by a cane combine harvester after he allegedly fell asleep on duty in the sugar cane thicket that was being reaped.
Mutombeni, of Chinyamukwakwa Village under Chief Garahwa, in Chisumbanje was employed by Macdom Green Fuel as a harvesting clerk, whose duties included recording the number of  loaded trucks and issuing receipts to the drivers at the sugar cane fields.
Manicaland police spokesperson Inspector Tavhiringwa Kakohwa confirmed Mutombeni's death and said: "We received a report on the death of Mutombeni. He died after being involved in an  accident, in which he was crushed by a combine harvester while resting at work."
"On July 14 at around 5am, Mutombeni was on duty at Macdom sugar estate fields in Chisumbanje, Chipinge. He was employed as a sugar cane harvesting clerk at Green Fuel. It is understood that Mutombeni was on duty at around 2am, recording sugar cane loads from the fields to the mill," said Insp Kakohwa.
He said it is suspected that Mutombeni could have "fallen asleep" in the sugar cane fields and "was crushed together with the sugar cane batch" that was loaded into one of the truck and conveyed into the mill.
"Mutombeni was last seen by Warren Musiwaro (31), a combine harvester operator, who noticed some blood stains at the conveyor belt and advised his supervisor who then alerted the police at Chipinge Police Station," he said
"His remains were processed together with the sugar cane into the mill. Some human flesh were, however, recovered from the combine harvester," said Insp Kakohwa.
Muthombeni's work mates, who requested anonymity, told The Weekender that the deceased is suspected to have fallen asleep in the sugar cane fields and was crushed together with the sugar cane, into the trucks and conveyed to the mill where his remains were processed together with the sugar cane.
"On July 13, 2018 at around 5pm, Mthombeni commenced his shift which was supposed to end at 5am the following morning. He was working with cane harvester operator Warren Musiwaro," said one of the workers.
"At around 3am, Warren Musiwaro failed to locate Mutombeni at work and stopped the cane harvester. As he searched the missing workmate, he discovered some blood stains on the harvester conveyor belt and then rushed to inform his superiors who formed a search team for Mutombeni, but failed to locate him," he said.
Police who attended the scene found suspected crushed human flesh on the cane harvester belt.
The remains were taken to St Peter's Hospital mortuary pending further investigations.