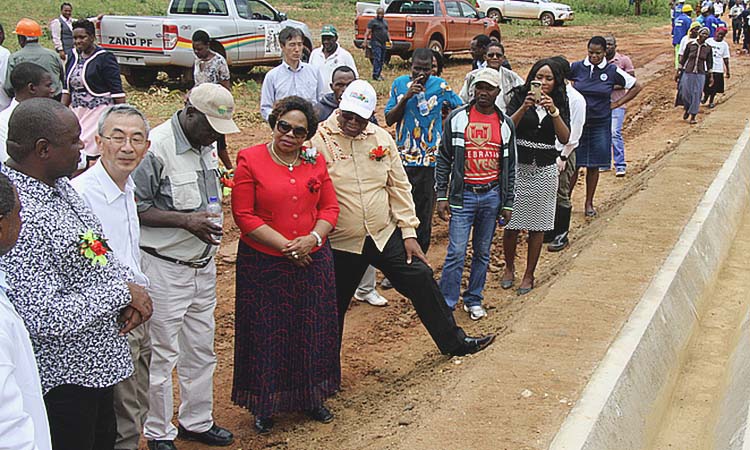 The ManicaPost
Nyore Madzianike Senior Reporter
IRRIGATION farmers in Manicaland should introduce a different crop regime that is market-led to enable them to unlock value and get good returns on their investment. Minister of Land, Agriculture and Rural Resettlement Chief Air Marshal (Retired) Perrance Shiri said irrigators should grow high value exotic crops that bear downstream benefits after harvesting. He was responding to concerns raised by farmers at Nyanyadzi and Nyakomba irrigation schemes in Chimanimani and Nyanga, respectively.
"What I noticed as the main problem is the type of crops you are growing. There is need for a (new) crop regime in these irrigation schemes. All what is needed is to unlock the value of the projects. You need to grow cash crops to sell to other markets. Focus should be more on high value exotic crops, and you also need to identify key markets for these crops," he said.
Minister Shiri said farmers also needed to diversify and broaden their livelihoods by venturing into livestock production. He said Government would explore ways to cushion against high water and electricity costs. Farmers at both Nyanyadzi and Nyakomba had complained of high costs of electricity and irrigating water. They said high water and electricity bills were chewing into their profits. Minister Shiri urged them to religiously settle their bills while his ministry lobbied Government to subsidise the bills.
"The ministry will lobby for the subsidisation of electricity bills as it will go a long way in reducing costs of production. While Government has committed itself to irrigation development, there is need to show sustainability and this requires farmers to show willingness to pay electricity, water, operation and maintenance fees on time," he said.
Head of irrigation department in Manicaland Engineer Tendayi Chimunhu said farmers at Nyanyadzi faced a number of challenges that hindered their progress.
"Irrigation equipment is too old to sustain production and as we speak there is a pump which is leaking. Some of the farmers at Nyanyadzi are also failing to fully utilise their plots. The major challenge is of high water and electricity bills," he said.
Eng Chimunhu said siltation was also threatening viability of Nyanyadzi irrigation scheme. The gravity-fed irrigation scheme's productivity dropped and eventually became moribund due to heavy siltation of its river systems upstream, irrigation canals, weir and night storage dam.
The chairperson of Nyakomba Councillor Richard Nyagwaya also complained about high water and electricity bills. He also said inheritance disputes were affecting smooth operation of the scheme, and had resulted in congestion of some plots.
"We have more than 300 farmers at Nyakomba. The major problems include high cost of irrigating water and electricity bills and inheritance disputes in the event of death of the plot owner (s). Government should subsidise farmers' utility bills. We also do not have ready markets for some crops, and it becomes a problem as farmers end up selling their produce at very low prices to middlemen," he said.
Minister of State for Provincial Affairs Senator Monica Mutsvangwa said the Manicaland has potential to irrigate 120 000 hectares, but is currently irrigating a paltry 33 000 hectares.
"It is disheartening to note that the greater part of this potential lies in the agro-ecological region five which is characterised by high temperatures and high evapo-transpiration rates, making irrigation a key enabler for sustainable agricultural production," she said.
Sen Mutsvangwa said the rehabilitation and expansion of Nyakomba by the Japanese Government would go a long way in improving farming and rural livelihoods. About $18 million has been injected into the rehabilitation, modernisation and expansion of Nyakomba. This is set to increase productivity manifold as it will improve water conveyance efficiency, strengthen technical services and scheme management.