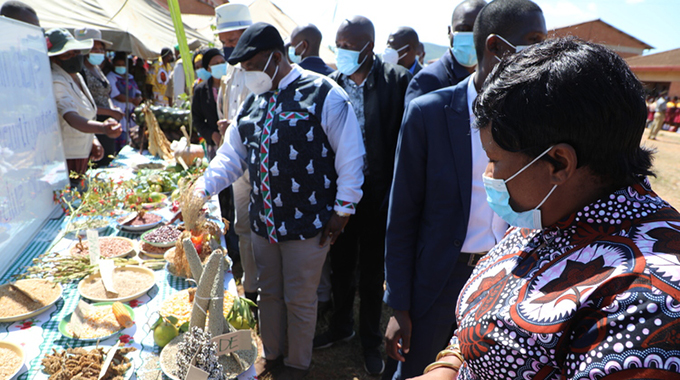 The ManicaPost
Cletus Mushanawani News Editor
GOVERNMENT will continue providing the much-needed services and support to address the challenges in agriculture production, productivity, product quality and access to both local and foreign markets, Vice-President Constantino Chiwenga has said.
Speaking after touring Nyakomba Irrigation Scheme in Nyanga North last week on Saturday, VP Chiwenga said the thrust of the Second Republic in its quest to achieve food security is hinged upon exploring new irrigation technologies, expansion and rehabilitation of existing irrigation facilities, drilling of boreholes and the construction of dams.
Government embarked on the rehabilitation of the Nyakomba Irrigation Scheme with financial support from the government of Japan through the Japan International Cooperation Agency after the latter extended a US$15 million grant towards the scheme.
The scope of the work included the rehabilitation of pump stations on the banks of Gaerezi River, upgrading of old transformers and installation of new transformers, extension and installation of new overhead power lines, construction of flood protection walls, construction of pump houses, headrace and infield works.
VP Chiwenga said Nyakomba is one of the most essential irrigation schemes in the country whose modernisation and expansion can spur production in Nyanga District.
Farmers at the scheme are producing maize, beans, wheat and Tabasco chillies.
"The vision to revolutionise agriculture through irrigation has greatly promoted sustainable livelihoods and food security in the country.
"Small-scale irrigation schemes are emerging as a top priority to boost food security, eradicate poverty and build resilience against climate change impacts.
"I am reliably informed that the foreign market for Tabasco chillies is readily available. I therefore urge farmers to increase the hectarage put under this crop to maximise profits," said VP Chiwenga.
He also urged farmers to plant wheat during the planting window period.
"The country cannot be a perpetual importer of wheat when we have the imperative factors of production, including water resources from dams and rivers. This should spur our production and productivity.
"While the Government is committed to irrigation development, there is need to ensure sustainability.
"We are all aware that Zimbabwe is prone to droughts and other weather phenomenon such as cyclones, hence the country has to mitigate against these calamities by climate proofing agriculture through building dams and developing modern irrigation schemes.
"All existing dysfunctional irrigation schemes must be rehabilitated while those that are obsolete should be replaced with modern irrigation technology," he said.
VP Chiwenga called on farmers to settle some of their outstanding water and electricity bills.
"Small-holder irrigation farmers are only able to succeed when they can manage their farming systems efficiently. Farming is a business.
"It is a commercial venture, which, in this country, is a priority in addressing unemployment problems, poverty alleviation and fostering economic development as we work tirelessly to attain an empowered and prosperous middle income economy by 2030.
"I implore the Ministry of Lands, Agriculture, Fisheries, Water and Rural Resettlement to continue empowering local farmers with expert advice so that they can produce high quality products which can be exported to bring in the much-needed foreign currency and improve the livelihoods of our people," said VP Chiwenga.