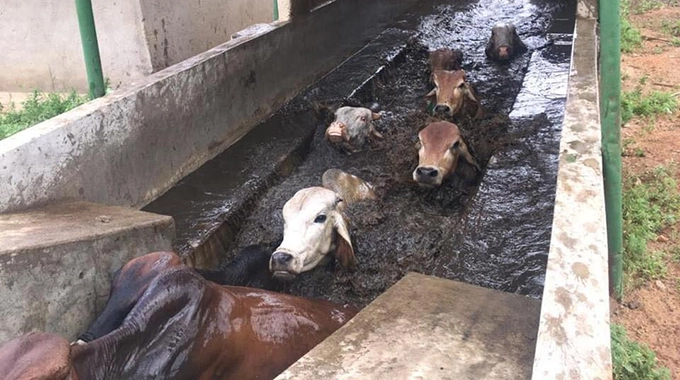 The ManicaPost
Samuel Kadungure
Senior Reporter
THE good days are beckoning for cattle farmers as Manicaland has been certified as a safe and clean region following the successful implementation of a wider spectrum of radical measures to control the spread of the January Disease.
January Disease, also known as theileriosis, had turned out to be the single most serious threat to sustainable cattle production in Manicaland's communal areas.
Manicaland has a cattle population of 627 000.
Department of Veterinary Services says about 500 000 cattle, with an estimated value of US$175 million, were wiped out at the peak of the disease between 2017 and 2019.
With a national herd of 5,6 million cattle, this means the country lost 8,9 percent of its herd over the two years.
Cattle with an estimated value of US$1 million were lost in Manicaland.
The disease upsurge was largely blamed on acute shortage of dipping chemicals which resulted in serious disruption of the communal dipping programme.
Cattle would go for more than two months without dipping, and in the long run succumbed in huge numbers to tick-borne diseases.
Although the incidence of four tick-borne diseases went up over recent years, theileriosis turned out to be the biggest problem, wreaking havoc even outside the rainy season when it usually rears its ugly head.
Coupled with drinking water and grazing land shortages, the disease forced communal farmers to accrue huge losses as they either watched helplessly as their cattle died or panicked and sold them for a song.
However, Manicaland, which was one of the hardest hit regions in the country, has turned the curve.
Better days are beckoning for cattle farmers.
This follows a number of positive developments in the livestock sector that have been cascaded to the grassroots by Government.
Zimbabwe is rolling out its Integrated Ticks and Tick-Borne Disease Control Strategy (ITTBDCS), which is composed of three main components — dipping, acaricide resistance monitoring and the use of TBD vaccines.
Late last year, a new vaccine — Bolvac — was developed to help bring an end to the devastation being caused by the disease.
The Bolvac vaccine was developed by the Department of Veterinary Services, with financial support from Government and its development partners.
Also to its credit, the Department of Veterinary Services in Manicaland adopted a radical approach to coerce farmers to dip their cattle judiciously and punish deviants who fail to comply in an aggressive bid to curtail the spread of theileriosis.
Animal health experts believe the situation can only return to normal if dipping is judiciously enforced and adhered to.
DVS chief director, Dr Josaphat Nyika said: "Manicaland is presently one of the safest regions in the country in terms of the January Disease.
"Despite the heavy rains pounding the province, the province has few cases of January Disease. Yes, there could be a few cases here and there, but they are nothing to shout home about."
Dr Nyika also applauded the Presidential Tick Grease Programme, which is continuing into the 2022/23 season, for helping reduce cattle mortality.
President Mnangagwa introduced the tick grease blitz which saw cattle mortality being reduced by 40 percent.
"The Presidential Tick Grease Programme is continuing and will bolster our efforts to hit the diseases hard. We had fewer cattle deaths in the last two seasons when compared to the period between 2017 and 2019," said Dr Nyika.
About 125 000 farmers are expected to benefit under the programme, of which 25 000 farmers in Mutasa and Mutare districts are expected to receive their share next week.
Dr Nyika warned farmers against complacency, arguing that theileriosis is one of the four major tick-borne diseases — namely gall sickness, redwater and heartwater — which can only be effectively controlled through regular and coordinated dipping.
"The core of tick-borne diseases control is dipping. If you vaccinate cattle against January Disease and stop dipping them, that will not protect the herd against the other three diseases. So dipping is holistic and cost effective," he said.
The rules and regulations of dipping should be judiciously enforced as was the case in the past.
In the past, a farmer would be liable for failing to dip cattle, but in recent years there was laxity in enforcing the law.
In the past, movement of animals was properly restricted, but nowadays a person can easily relocate cattle from one point to the other.
The regulation and policing aspects have been strengthened.
Manicaland Provincial epidemiologist, Dr Innocent Chabanga said the province recorded 64 deaths against a backdrop of high tick infestation due to prevailing wet conditions, although the cases are minimal.
"Cases of cattle deaths had gone down in December 2022, but with these heavy rains, we still managed to record minimal cases compared to same period over the years.
"Last season we had less rains at this juncture, which means this year we have more tick activity, yet our cases remain manageable. This shows that interventions like the Presidential Tick Grease Programme, the dip tank rehabilitation and weekly dipping are yielding results," said Dr Chabanga.
About 83 dip tanks have been rehabilitated in the province.
The DVS has enlisted assistance of traditional leaders and the police to mobilise farmers for weekly dipping.
Provincial Veterinary Officer, Dr Charles Guri recently said the new approach seeks to eradicate smugness that has crept in farmers, especially those who refuse to avail their cattle for dipping, a practice that is punishable at law.
He said the Animal Health Act criminalises deviant behaviour regarding dipping.
"In the past, people used to be force-marched to dip tanks.
"At lndependence, we adopted a different approach by taking proper veterinary extension services to the people, explaining the reasons, and the importance of dipping cattle, hoping that the people would understand and realise the benefits, but complacency crept in.
"What we have been experiencing are the consequences, and from November of every year, we will be forcing farmers to dip their cattle while punishing those who do not heed the call to avail their cattle.
"We will target and penalise those who violate animal cleansing regulations," said Dr Guri.