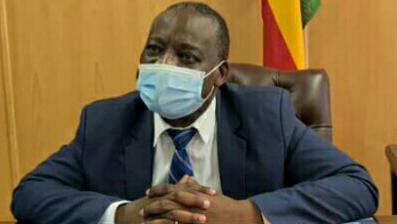 The ManicaPost
Tendai Gukutikwa
Post Correspondent
PUBLIC health institutions administrators have been urged to take advantage of the uniformed forces and tap on their expertise for infrastructural development of their facilities.
Health and Child Care Deputy Minister, Dr John Mangwiro said this at Victoria Chitepo Provincial Hospital last week on Friday where a paediatric unit is to be constructed.
In an interview, Dr Mangwiro said while using the services of the uniformed forces is cheaper, swift progress is guaranteed as they have development of the country at heart.
"Whether it is refurbishment, reconstruction or the initial construction stages, there is need for public health institutions to employ the services of our uniformed forces. Zimbabwe Defence Forces, Zimbabwe Republic Police and Zimbabwe Prisons and Correctional Services are very experienced and if we employ their services, we will benefit more.
"Remember this is one Government and we should help each other to achieve Vision 2030. Government under National Development Strategy 1 wants to ensure that everyone has access to quality health services. To achieve that, we need our uniformed forces to play a big role in the construction of these structures.
"It is important because if we do not engage them, construction will be expensive and very slow. This might affect Government's vision," he said.
He further advised the use of building and construction students from tertiary institutions like Mutare Polytechnic and Mutare Teachers' Colleges in some of the projects.
"While our children at these institutions still need to get experience in construction, you can team them up with our security personnel. They will gain the necessary experience from that," said Dr Mangwiro.
He commended the involvement of ZNA medical personnel in the fight against Covid-19 by vaccinating members of the community in rural areas.
"The military has been building state-of-the-art schools and clinics across the country, but mainly in Manicaland, especially those that were affected by Cyclone Idai. Why not take advantage of that since you know they produce great results?" said Dr Mangwiro.
Victoria Chitepo Provincial Hospital Medical Superintendent, Dr Dorcas Masanga-Mutede who is also a paediatrician, said they had already identified space to construct the paediatric unit at the hospital.
"The citing for the paediatric unit has been identified. Our desire is to become a modernised health facility," she said.
The unit will include a ward, gynaecology and surgical facilities for children.
The Government has also undertaken to upgrade Mount Melleray Mission Hospital in a bid to improve health service delivery in Nyanga district in line with President Mnangagwa's Vision 2030 of an upper middle class economy.
The 60-bed hospital has for years been operating as a clinic without a resident medical doctor until three months ago when Dr Melissa Muranda was posted to the hospital.
The hospital is one of the five hospitals in the district and serves around 40 000 villagers.
Dr Mangwiro said another doctor and more staff would be deployed to the hospital.
"We want to upgrade more hospitals across the country so that we bring meaningful service delivery to the people.
"Laboratories, ultrasound scans and X-rays will be set up here because our policy as a Government is that every Zimbabwean must get proper medical services. Having more doctors residing here is what is needed for the country to achieve Vision 2030 of an upper middle class economy.
"This hospital serves a lot of people and Nyanga District Hospital, which is the referral hospital in the district is 35km away. If we do not equip this hospital, or any other health institution, people will die on their way to the next hospital. We need to equip this hospital so that patients can be referred here as well and get the necessary medical attention," he said during last week's tour of the medical facility.
Dr Mangwiro also promised to avail enough oxygen cylinders to the hospital as it has been operating with only a few.
"The Covid-19 challenge is better handled by doctors than nurses alone. Once the doctors are here, a lot of things will be put in place. As they specialise, the hospital will also be upgraded since they will need equipment that go hand in hand with their specialty in the medical fraternity," he said.
Dr Mangwiro said Government's efforts on upgrade hospitals will see Manicaland receiving ventilators and other hospital equipment.