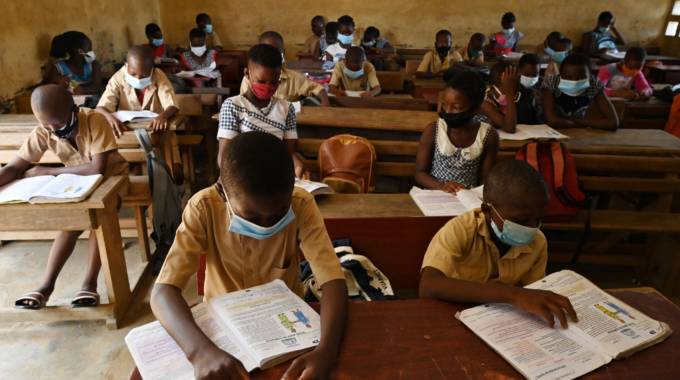 The ManicaPost
Ray Bande
Senior Reporter
GOVERNMENT is concerned with the containment of Covid-19 cases in schools, and will soon be unveiling a Joint Operation Plan meant to curtail the further spread of the pandemic among learners, a Cabinet Minister has said.
Speaking during the Ministry of Primary and Secondary Education Strategic Review Workshop held at a local hotel last Friday, newly appointed Minister, Dr Evelyn Ndlovu said her ministry had to adapt its way of doing business in order to continue offering educational services to its clients.
"As the Covid-19 pandemic continued to re-define the education landscape globally, a lot of changes took place in the Year 2021, and posed a significant threat to the ministry's programmes and activities. The ministry had to adapt its way of doing business in order to continue offering educational services to its clients.
"To do this, the ministry continued to be guided by the two major responses to the Covid-19 documents which it crafted in 2020 in close liaison with the education cluster of partners. These key strategic documents were; the 'Zimbabwe Covid-19 Preparedness and Response Strategy' as well as the 'Standard Operation Procedures to Combat Covid-19, and other flu-like symptoms.
"The ministry continues to use these as key to its interventions, and has since expanded the SOPs through jointly working with the ministries of Health and Child Care as well as Higher and Tertiary Education, Innovation and Science and Technology Development to come up with amended guidelines for use by all educational institutions to help keep our learning spaces safe. It is my hope that the Joint Operational Plan will soon be put in place so that we continue to manage the safety of our education spaces as we strive to make sure that the future of our children is not irreversibly disrupted," she said.
Dr Ndlovu said various measures aimed at lessening the impact of the pandemic among pupils continue being explored and implemented.
"Of note were the various alternative teaching, and learning strategies that were adopted and actively encouraged. Chief among these were: Online learning, supported by partners availing their materials for use by our learners, offline learning materials, also availed initially through partner support, radio programming (inclusive of the packaging of these lessons for off air replay), television lessons (mainly as a response to the needs of learners with hearing impairment), self-study materials, work-books and interactive modules.
"As part of efforts to combat the loss of learning as well as accelerate learning, the ministry adopted blended learning, and catch-up strategies that utilise both face-to-face and independent/distance learning. It also came up with compressed syllabuses upon which the alternative learning strategies are based. The strategies are key to our fight of the threat of an emerging global 'learning poverty' phenomenon, which calls upon us as a national education system to build into our strategic plan a resilience framework that ensures that education continues at all times, anywhere and everywhere.
"To effectively combat this loss of learning through disruptions to the school calendar, we need to leverage on the growing digital opportunities through deliberately pushing connectivity to all learners using the National E-Learning Strategy. It is also imperative for all of us as educational leaders to urgently adopt the digitisation of our programming as a matter of course: we need to learn to work from anywhere and at any time," she said.
She underscored the importance of producing graduates who can employ themselves.
"Our learners, at the point of exit from our system, should exhibit the required skills, and competencies that higher and tertiary education, industry and commerce can further sharpen to produce marketable actual goods, and services as per the Government's strategic thrust. The reviewed strategic plan 2021-2025 should therefore fully take this call for Applied Education into serious consideration, and help us fulfil our move from a purely theoretical knowledge/content based to a competence/skills-based curriculum," she said.
The workshop, which brought together high level Primary and Secondary Education Ministry officials, was expected to produce three documents, the Strategic Plan, Whole of Government, and Performance Management System (WOGPMS), and the Permanent Secretary's Contract.