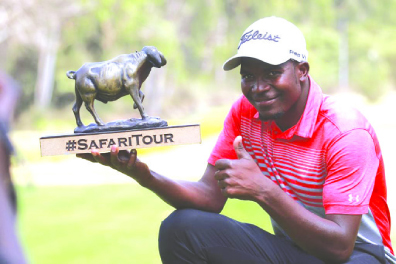 The ManicaPost
Ray Bande
Senior Reporter
ZIMBABWE and Kenya Order of Merit leading golfer, Robson Chinhoi, who traces the infancy of his career to Mutare's Hillside Golf Club where he came as caddie, says he is looking forward to an impressive performance in this year's edition of the Kenya Open as well as the Sunshine Tour.
Chinhoi, who is the leading golfer for the local tour as well as the Kenya Safari Tour and fourth in the Zambia Chevron Tour, enhanced his growing status as one of the rising golfing stars on the continent after cruising to a dominant 10-shot victory in the Uganda Open in October last year.
At that time, the in-form player had already won the Kinshasa and Lubumbashi Open tournaments as he was simply in a class of his own in a star-studded field which featured some of Africa's leading players on the Safari Tour.
In fact, the victory in the Uganda Pro-Open was the second after the heroics in 2020 during the championship played at Uganda Golf Club in Kampala.
In an interview on his performance last year as well as his ambitions for 2023, Chinhoi said: "I am feeling confident and I am ready to compete and expecting positive results.
"I am focusing on trying to keep the ball in play and play to my strength, be confident, be patient.
"And I am sure with all that, my results will be positive. I am looking forward to playing in the Kenya Open which is to be played during the first week of March this year. I have few invites in South Africa before the Kenya Open and expecting to participate in the Sunshine Tour 2023 -2024 Season."
The soft spoken golfer is satisfied with his performance in the just-ended year.
"My performance in 2022 was awesome. I was struggling, but I was able to adjust quickly," he said.
Back home, Chinhoi participated in the last year's National Aids Council competition where he came second.
In the PGA championships, he, once again, settled for second position.