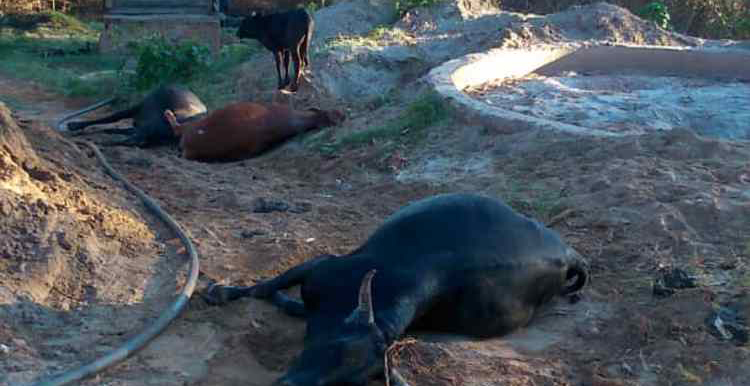 The ManicaPost
Ray Bande Senior Reporter
AN animal health and environmental disaster is looming in Penhalonga where four cattle recently died after consuming water contaminated with highly toxic gold refining cyanide.Gold milling activities at Penhalonga Valley Investments have drawn the ire of residents who are faced with the danger of the deadly chemical.
The Manica Post visited the site located on sloppy landscape early this week and discovered heaps of residue soils from gold refining process that uses cyanide.
The milling plant processes about 280 tonnes of ore per month. As soil residue mixed with cyanide is dumped on sloppy terrain, water flows downhill into Mutare River and wilting wetland vegetation characterise the milling plant's vicinity.
A resident in the area, Mrs Sarah Matenhese said apart from the health and environmental risks, they were exposed to noise pollution produced by the milling machinery.
"We are living in danger, and four beasts died recently after drinking water laced with cyanide. We wonder how a milling plant could be placed in the midst of a residential area.
"We are questioning the validity of an EIA report given that the stream that feeds into Mutare River which flows downhill of where gold milling is being done. Wetlands are being destroyed by the milling activities," she said.
Mr John Mtetwa echoed Mrs Mutenhese's sentiments saying their children were now
at risk.
"I am deeply concerned about the danger posed on our children. Surely if kids kick the ball into their ponds and try to retrieve it, disaster emanating from cyanide will plunge the community into mourning.
"The death of the cattle was an eye opener to the danger we are exposed to. Those intercepting water from a tributary that feeds into Mutare River are equally at risk. It might not necessarily take death, but body deformities might occur as a result of drinking or using water contaminated with cyanide," he said.
Penhalonga residents have petitioned EMA querying the validity of the EIA that led to the licencing of the milling plant.
"The EIA certificate needs withdrawing following ongoing environmental degradation, negligence, ecosystem disturbances, obstructing the water way and siltation.
"The licensing focuses only on this inappropriately cited facility, without any mining except a milling activity which brings in obstructing matter from elsewhere into the wetland and water way.
"Could you please seriously consider our request and execute the relevant statutes as clearly prescribe by the EMA Act. Lest, we are forced into a personal civil case, as further unwarranted delay may be signalling criminal abuse of office," reads part of the letter.
Penhalonga Valley Investments proprietor Mr John Chinanzwa said the complaints were misplaced and invalid.
"Our operations are above board. We do not have spillage of cyanide at our plant and therefore for anyone to complain that we are destroying the environment or placing human lives in danger is just unfounded and unfortunate," he said.
"Even when the cattle died at the plant recently, it was not our mistake at all. We believe that a former employee who is aggrieved after we fired him for theft was the architect of all this. We suspect he could be the one who opened our gate for the cattle to stray in our premises and drink water with cyanide
"Those people residing in that area should not have been resettled there.  EMA is aware of our operations and they have no problems with us," he said.
EMA provincial manager Mr Kingston Chitotombe said: "The information we have is that the cattle strayed inside the milling premises and died after consuming water contaminated with cyanide. This must have been a case of negligence on the miners and their security.
"If the fence is not damaged as claimed then how else could the cattle have gained entrance? The carcases were burnt. Cyanide in itself does not pose danger to the surrounding community, it breaks down quickly and needs very high concentrations to be harmful," said Mr Chitotombe.