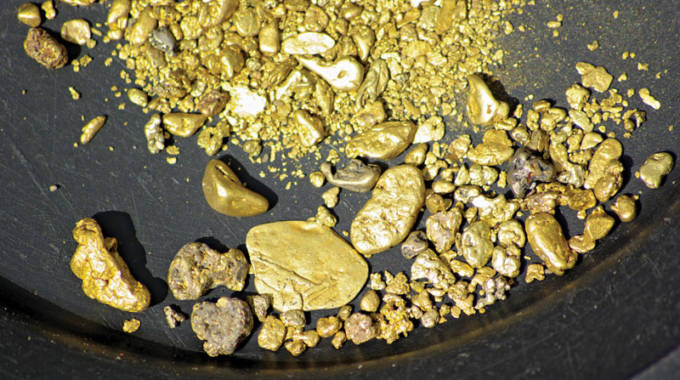 The ManicaPost
Cletus Mushanawani
News Editor
WITH Zimbabwe targeting a US$12 billion mining industry by 2023, concerns have been raised over the alleged leakages of the gold being mined by artisanal miners amid reports that a substantial amount of the precious metal is finding its way from Penhalonga and surrounding areas to the black market each day.
In Manicaland, gold mining activities are rampant in Buhera (Sabi Star Mine), Chimanimani (Tarka Forest), Makoni (Chinyudze), Mutasa (Penhalonga, Premier Estate, Nyamukwara and Nyakaunga Stream) as well as in Nyanga (Chisero, Nyazingwe and Nyamukondoza).
In addition to the alleged gold leakages and degradation of the environment, the aforementioned areas are now havens of criminal activities.
Investigations conducted by The Manica Post over the last fortnight revealed that the number of illegal hammer mills in Penhalonga increased from 129 in November last year to 265 as of April this year.
Cyanidation sites have been set up to process the gold at various locations in violation of Statutory Instrument 258 of 2018 (Environmental Management Control of Alluvial Mining) regulations.
Both the Secretary for Manicaland Provincial Affairs and Devolution, Mr Edgars Seenza, and Provincial Mining Director, Mr Enerst Mugandani, confirmed the illegal mining activities happening in some pockets of the province and said efforts are being made to restore order and ensure that the gold extracted is channelled to the formal market.
Mr Knowledge Hofisi, the judiciary manager for Redwing Mine which owns most of the concessions where illegal mining activities are happening in Penhalonga, was not available for a comment as he was reported to be in back-to-back meetings.
However, a research carried out by the Centre for Research and Development showed that the country is losing a lot of revenue through gold leakages.
Centre for Research and Development director, Mr James Mupumisaid: "The figure of illegal hammer mills has doubled to 265 from 129 when a joint operation was carried out by the police, Environmental Management Agency (EMA), the Mines and Mining Development Ministry and Mutasa Rural District Council late last year.
"We have gathered that gold ore is being smuggled from the Penhalonga concessions to illegal hammer mills dotted around the area. Mostly high ore samples are being smuggled. Out estimate is that at least 2000 bags of gold ore are being smuggled per night.
"Our research shows that three bags of the gold ore fill up a wheelbarrow and one can realise 10 grams of gold from that. If you do the math you will see that about 7kgs of gold is finding its way out of these concessions every night.
''If supply is lower, between 1kg to 3kgs are lost every night," said Mr Mupfumi.
However, both Mr Seenza and Mr Mugandani said it is difficult to quantity the amount of gold being lost through leakages.
"The illegal mining activities taking place across the province are a serious cause for concern.
''However, we do not have actual figures of the gold being lost. What we need as a province is maximum benefits from our vast natural resources," said Mr Seenza.
"Measures are being put in place by the Ministry of Mines and Mining Development to bring sanity to the areas through the identification of companies that will carry out proper mining. These companies will create employment for the locals and contribute significantly to the provincial and national Gross Domestic Product," he said.
Mr Mugandani chipped in: "While quantifying the leakages of gold is difficult, we are doing everything possible to contain the leakages and ensure that sanity prevails in all mining areas.
''We usually carry out joint operations with the police and EMA to flash out all illegal panners. The next operation is on the cards in the immediate future."
When The Manica Post visited Premier Estate and Penhalonga last week on Tuesday, it was business as usual for the artisanal miners.
In Toronto, a farming area opposite Hillcrest College, a number of hammer mills were illegally processing gold ore along a stream that flows into Mutare River.
The same was also happening in Imbeza at some cyanidation sites.
Mud from the processing plant was flowing into Imbeza River, thereby polluting it and affecting aquatic life.
A number of cyanidation plants are also being set up in the area.
Africa University is doing research on the impact of artisanal gold mining activities to the environment, the community and the economy at large.
The university's public affairs director, Mr Stephen Chikozho, said the mining activities are of interest to the institution.
"We are engaged in looking into these critical areas and developing papers that can feed into the national strategic development policy formulation processes to guarantee that as a nation, we reap the most benefit from these natural resources and in so doing, contribute positively to the realisation of Vision 2063.
"A number of our academics have already published papers on these matters and suggested solutions to some of these challenges.
"We are also seized with the usage of harmful chemicals in purifying gold. Research is being done on that area. Our engagements with the gold panning community are being done through Penhalonga Police Station," said Mr Chikozho.