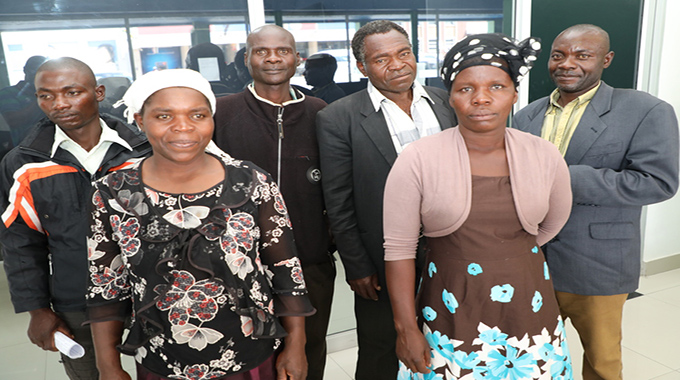 The ManicaPost
Tendai Gukutikwa Post Correspondent
A WITCHRAFT storm ravaging a Mutambara family has spilled into the courts as an aggrieved woman has hauled her husband's relatives before a Mutare magistrate seeking a protection order against her in-laws who she claimed are accusing her of possessing goblins.
The woman accused her in-laws of framing her and her husband by planting three goblins in her house.
Loina Mutikuwe and her husband  Ephraim Bishop Mutikuwe of Murare Village under Chief Mutambara are being fingered by relatives as the ones  behind mysterious happenings and deaths in the family.
Fade up by the incessant insults, name calling and witchcraft allegations, Loina has dragged Tendai Vhakacha, Liana Musatuka, John, Oliver, William, Violet, Munyaradzi, Lewis and Edson Mutikuwe to court seeking a protection order.
She accused the nine of planting three mysterious things in her house.
"They came with their faith healer who I know for sure planted all those things in my house. They then claimed that the goblins belonged to my husband and I. This was after they had harassed us, ordering us to visit traditional healers with them yet we are Christians. We refused so they came with their healer who then planted his goblins. They framed us," said Loina.
She told the court that her children were no longer visiting the rural areas because of their relatives' behaviour.
Ephraim's brother, Edson however said three live goblins had been fished out of his brother's house while the whole neighbourhood watched. He dismissed Loila's claims that the family members and faith healer had planted the goblins behind her back.
He said all this started after 15 people died in the family on different occasions over a short period of time.
"A sack which was in their house vibrated and a cat-like goblin which was breathing was discovered. The other one had also cat furs and a snail carcass and the third one had a tail, all three were breathing and Ephraim did not deny these goblins then. Rather he apologised claiming that he had got them unknowingly that they would finish off the family.
"The faith healer who is a Madzibaba first stripped off his clothes in front of everyone before going into Ephraim's house. Everyone saw him take out the three goblins from the house and everyone saw them get burnt. It was impossible for him to have planted those goblins in that house because we saw him strip.
"Ephraim claimed that he had also acquired some petroleum jelly from his traditional healer and that he had left the jelly in Harare where he had to go and collect. When he left for Harare, he did not come back, rather the next thing we saw were summons for this court," said Edson.
Lewis said the cleansing happened following a directive from Chief Mutambara that their family be cleansed.
The brothers claimed that the goblins were used for, blood sucking, bluetooth sex 'mubobobo' and wealth acquiring.
They claimed that they had gone to Chief Mutambara's for help because Ephraim and his wife refused to consult traditional healers and faith healers as they are Christians. Miss Kuture granted a protection order to Loina Mutikuwe against her nine extended family members.
The family was however advised to seek for counsel at traditional courts and not harass Loina and Ephraim.