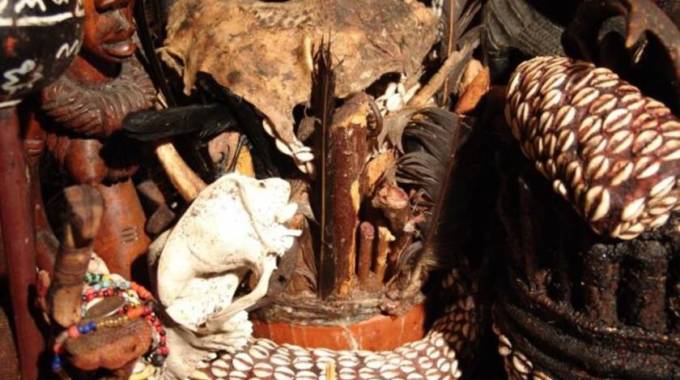 The ManicaPost
Liberty Dube
Post Correspondent
EVERY culture in the world has tales of mischief-making spirits.
A Buhera family is heaving a huge sigh of relief after it was recently delivered from blood sucking goblin that had resulted in the death of nine members within a very short space of time.
In this true to life tragedy whose scripts reads like a horror movie, the Mukamba family from Sungura Village in Buhera had to make do with burying one relative after the other, while their sisters never enjoyed blissful marriages.
Only a single relative (name supplied) reportedly led a comfortable life, 'blessed' with riches.
Things came to a boil recently when one of the Mukamba siblings, Andrew developed a mental health problem, prompting others to join hands to find out what was causing the calamities in the family.
An elder in the family as well as spokesperson, Lloyd Mukamba on Tuesday, said having agonisingly witnessed recurrent deaths, they decided to seek spiritual guidance, and it came after a struggle.
The spiritualists reportedly retrieved the goblin which was in a form of a baboon, and was being housed in a granary (hozi) at the family homestead.
It was revealed that the goblin belonged to a family member.
"The exposing and exterminating of the goblin is a welcome development to the family. We are now a relieved lot," said Lloyd with a beaming smile.
"We had lost hope. We buried nine relatives within a short space of time. All my three sisters never had decent marriages. The same applied to us. We never stayed on a job, while our marriages never lasted.
"We became so worried when one of our siblings, Andrew developed a mental health problem. This prompted us to join hands to find a lasting solution. We approached our father so that we could join hands, and ascertain what really was causing the calamities including Andrew's mental condition. Our father was never forthcoming, and we decided to seek spiritual guidance. The spiritualists visited our homestead, and managed to retrieve the goblin which was in the form of a baboon.
"The spiritualist told us that the baboon would look after our cattle. It always puzzled us that our cattle would never stray into neighbours' fields even left unattended. We were never allowed to set foot in the granary for reasons we never understood," he said.
He added that soon after the exorcising ceremony, they were now noticing significant changes in their lives.
"One of sisters was recently married. Our in-laws were here, and we had a fruitful function, something we never imagined would happen. Andrew has also recovered. As for me, I am over the moon as people are now engaging me for menial jobs," said Lloyd.
Commenting on the issue, Mutare preacher, Apostle Joe Daniels said: "You cannot separate the spiritual from the natural. The natural is an offspring of the spiritual, or it is a baby from the spiritual. God is spirit, and Him being the spirit, He created the natural as a spirit. Everything that is natural, it is designed in the spirit."
"All calamities come from the spiritual world. Consulting a specialist in the spiritual realm was critical for this Buhera family, and the fact that the goblin was successfully exterminated their misfortunes could be over.
"However, it critical for the family to make sure that the alleged goblin owner surrenders all paraphernalia even after the destruction of the goblin. There are some circumstances where severe calamities, and mysterious deaths reoccur decades later," he said.