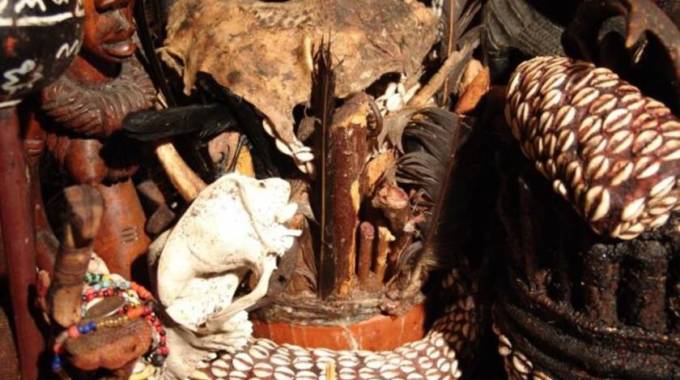 The ManicaPost
Liberty Dube
Weekender Correspondent
A MENACING goblin has been causing sleepless nights to a Nyanga family, and demanding sex, and eight beasts as appeasement, The Weekender has learnt.
For the past three months, the Nyamusa family in Chief Hata's area was enduring torrid times to contain the wrath of a menacing goblin which was manifesting through their 15-year-old daughter (name withheld).
The troubled Nyamusa family was last week on Friday forced to engage the services of Nyanga-based exorcist, Sekuru Shingirai Mukotsanjera to deliver the teenager who is doing Form Four at a Harare school.
Besides tormenting the teenager, the family also suffered incessant deaths and misfortunes.
The Nyamusa family told The Weekender that the girl would often fall into a trance, and exhibited a strange behaviour for hours before being possessed and tabling the goblin's demands.
This sad development has disturbed her studies as she is preparing to sit for her Ordinary Level examinations this year.
The goblin allegedly belongs to the Nyamusas' relative and businessman, Joseph Nyamusa Kamutate who cast (kurasirira) the goblin's spirit on the teenager through a Nyanga traditional healer, Edgegot Matiashe.
Kamutate was not readily available for a comment at the time of going to print as his availed contact was not reachable.
The traditional healer recently admitted to have supplied the goblin, and wealth-enhancing charms to Kamutate after being cornered by the Nyamusas to exorcise and cleanse the family.
Matiashe demanded eight beasts for his services and the family forcibly took Kamutate to settle the payments.
Matiashe sold some of the beasts, but Kamutate later filed stock theft charges against the sangoma resulting in his subsequent arrest. Matiashe was later released.
According to Manicaland provincial police spokesperson, Assistant Inspector Wiseman Chinyoka, Matiashe admitted to have supplied Kamutate with the goblin sometime in 1996.
"He demanded eight beasts for his services which included repossessing the goblin, and cleansing the whole homestead," he said.
All hell broke loose after Matiashe's arrest as the goblin went on an offensive, and inflicted a lot of misfortunes to the family like divorces, loss of employment, and weird dreams.
The teenager would occasionally fall into trances, and would spend days without eating or drinking anything.
Through the advice of Chief Hata, the Nyamusa family engaged Sekuru Mukotsanjera to exorcise the spirit.
The tense and emotionally-filled exorcism ceremony was attended by the Nyamusa family as well as Chief Hata.
During the exorcism ceremony, the goblin manifested through the teenager, and said: "I want my wife. Where is she? I want to be with my wife and go with her. I was taken from Sithole (Matiashe).
"I want a wife I was given by Josefa (Joseph). Don't ask me stupid questions, otherwise I will descend on you as well (referring to Mukotsanjera). My name is Paradzai. I want war. I want violence. No one from the Nyamusa family will enjoy peace. All their marriages will fail, while they will also lose their jobs. None will prosper. Give me eight beasts, and my wife. I want to be intimate with her."
After the rigorous exorcism session which took more than two hours, the teenager regained her senses.
"I am now leaving this girl. I am going to torment Joseph and his family. I will start with his oldest daughter. Their marriages will crumble in a few weeks," claimed the goblin.
Sekuru Mukotsanjera said: "After Kamutate confessed to be the hand behind the misfortunes, he paid the beasts to Matiashe, and everything normalised. The girl went back to school. Tables, however, turned when Kamutate filed a police report against Matiashe, saying he surrendered his beasts to him under duress.
"When Kamutate repossessed the beasts, everything went haywire. The spirit manifested again, and started causing problems such as divorces, loss of employment, and weird dreams. It also affected their sexual lives. The girl could fall into a trance for even two days, and she would spend those days without eating or drinking anything.
"The goblin is bitter, and wants to be returned to its owner. The ceremony we conducted was meant to send back the goblin to at least one of Joseph's sons or daughters so that it stops tormenting this family. From now onwards, the family will be at peace because it was very unfair for the spirit, and its owner to torment innocent people including this child who knew nothing about everything."
In an sideline interview, Chief Hata, said it was refreshing that the storm was over.
"This has been a complicated issue for the past three months, but I am happy that everything looks okay now. I played a critical role in making sure that this issue goes to bed. I was surprised why the police failed to recognise my court by proceeding to arrest some members of the Nyamusa family as well as the sangoma for stock theft, yet Kamutete voluntarily surrendered the beasts to the sangoma.
"My court gathered that Joseph acquired the goblin from Matiashe. Among other vows (mhiko) he made was he would die if he publicly admits that he indeed acquired the goblin," he said.
The girl's mother, who requested anonymity, said her daughter was no longer attending school.
"She would occasionally fall into a trance. She was forced to drop out of school in Harare because the authorities would send her back because of her strange behaviour. She would fall into a trance, and start shouting and crying. We tried engaging prophets over the issue, but nothing materialised. We had lost hope.
"She would sometimes spend two days without eating or having a proper sleep. After approaching several people, we approached Sekuru Mukotsanjera who presided over this cleansing ceremony. We are hopeful that the spirit won't torment my daughter and the rest of the family again."