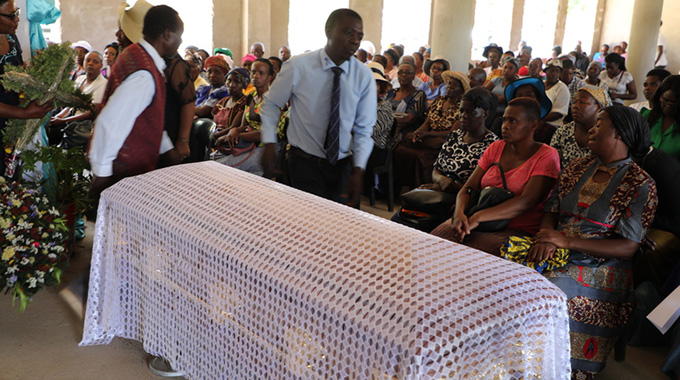 The ManicaPost
Jabulani Mangezi, Diamond FM Sation Manager
M, is just a letter, as innocuous as any in the 26 letter English alphabet, unremarkable, unless perhaps you add another M.
MM as — Morris Mtisi styled himself, was a remarkable man, a man of letters, words, written or spoken, he had a fervent passion for language.
Teacher and mentor, he belonged to a bygone age, but fitted seamlessly into an industry where, on average, everybody else was invariably young enough to be his child or even grandchild.
MM was a prolific writer who managed the unparalleled feat of publishing two novels, in two languages, Shona and English, at the same time.
He was so full of energy, apart from writing, he tutored countless high school learners in the English language.
He also found time to pursue charitable cause, launching "Girls of Substance" an organisation that he intended to use as a platform to empower and advocate for the rights of the girl child.
This was launched at St Augustine's High School by Defence Minister Cde Oppah Muchinguri-Kashiri, who was standing in for the First Lady, Amai Auxillia Mnangagwa.
Teacher that he was, every Thursday evening he would open his show "Head to Head with MM", with the old number from Crosby, Stills and Nash "Teach the Children Well", before his customary "Greeeeeetings dear listener . . ."
And ooh he taught, his show was unconventional, it was a lecture. But for all that he was a keen learner, full of new ideas.
The latest idea he shared was on how he wanted to get in touch with Senegalese and Liverpool star Sadio Mane, to, in his words "tap into his passion and perhaps get locals who have done well to also invest in education, health and other facilities in their native locals".
Having worked and communed with him, one learnt not to doubt his capacity to live to secure an audience with Sadio, or anybody for that matter.
MM lived for his passion, day in day out he was on his desk, doing what he loved.
His column in The Manica Post was a true labour of love, every line well constructed, every syllable well contrived, every argument well thought out.
And so it was that on December 19, 2019, 19:52, eight minutes before going On Air for his "Head to Head with MM" programme, Morris Mtisi was taken ill.
As fate would have it, there was a medical doctor who was on the premises. He indicated that MM had suffered a mild stroke and needed to be hospitalised.
He was rushed to hospital and was put on treatment.
Unfortunately, MM never recovered and on the night of December 31, 2019, he succumbed to the effects of a stroke.
And on radio the words of his favourite song play on "Teach the Children Well . . . " Ours now, the duty to mourn, to bid farewell, to a teacher, columnist, radio host, author and philanthropist — MM, The Radio Teacher!
Go well Morris Mtisi, the children you taught will forever testify that you taught them well.
Rest in Peace!