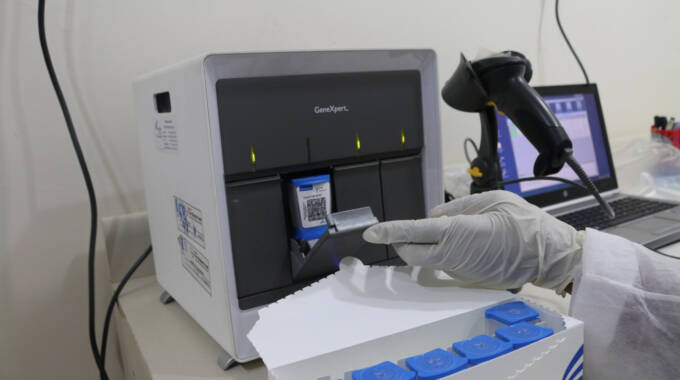 The ManicaPost
Tendai Gukutikwa
Post Reporter
THE Japanese government recently donated an advanced GeneXpert machine to Nyanga District Hospital in a move that will promote the decentralisation of virus diagnostics and tests.
In an interview, Nyanga District Medical Officer, Dr Majoni John Muungani said the machine is a fourth of its kind in the country and a first of its kind in Manicaland.
He said the machine will make the people of Nyanga more resilient to future disease outbreaks.
The donation compliments Government's efforts in spearheading National Development Strategy (NDS1).
Dr Muungani said the donation of the machine has resulted in the decentralisation of certain virus diagnostics and tests.
Previously, the hospital had to send samples to Victoria Chitepo Provincial Hospital for diagnosis and tests.
"The machine is one of the best and recent technologies, and it has already started to ease our work as medical personnel. Previously, we would send our samples to Mutare or Old Mutare Mission Hospital, but now we can do it in-house.
"The machine helps in virus detection, including HIV diagnostics, drug resistant tuberculosis, human papilomavirus, and other such things. We are very grateful to the kind gesture from the Japanese Government," he said.
Dr Muungani said the laboratory staff at the hospital were trained last week on Thursday on how to effectively operate and maintain the state-of-the-art machine.
The trained staff are two laboratory scientists, two microscopists and four laboratory technicians.
Japanese Ambassador to Zimbabwe, Ambassador Satoshi Tanaka handed over the machine which was donated by his government through the United Nations Office for Project Services (UNOPS).
While handing over the machine to Government, Ambassador Tanaka applauded UNOPS for attaching high importance in training the Nyanga District Hospital's laboratory staff.
UNOPS country manager, Ms Aminath Nawal said her organisation will soon be delivering two ambulances from the Japanese government to the people of Nyanga.
"With generous support from the people of Japan, UNOPS is privileged to be delivering the project in Manicaland.
"Under this project, UNOPS will procure and deliver two ambulances and a GeneXpert machine. Today, we are here to witness the handing over of the GeneXpert PCR machine to the Ministry of Health and Child Care.
"In January, the two fully equipped ambulances that have been procured under this same project will be handed over to the Ministry of Health and Child Care," said Ms Nawal.