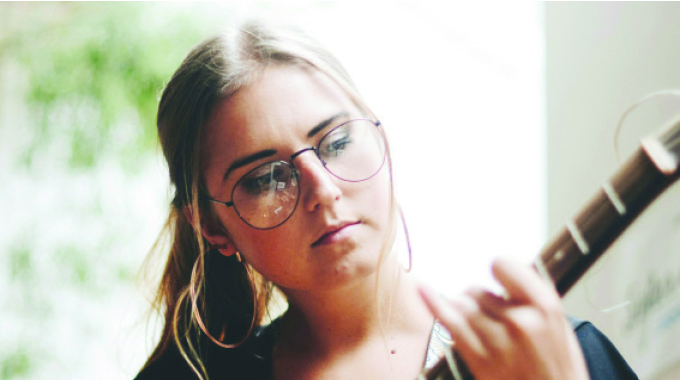 The ManicaPost
Ray Bande Senior Reporter
ACOUSTIC soul singer and songwriter, Gemma Griffiths, will take to social media site Youtube today (Thursday) to launch a new travel series whose first destination is Chimanimani. 
Gemma, whose Italian name means a gem or precious stone, shook not only Zimbabwe, but the whole of Southern Africa with her collaboration with Winky D on "MuGarden".
On her latest travel series, Gemma spoke glowingly of Chimanimani.
"Chimanimani is honestly one of the most extraordinary ranges of mountains I have ever visited. This place is sacred, vast and mind-blowingly beautiful. 
"The Mbira Trail is a part of the Big Five Trails, a group of incredible hiking trails in Nyanga, Vumba and Chimanimani, as well as from the lowest point of Zimbabwe to the highest and back.
"The Mbira Trail is named so because whenever it is walked the guide carries a mbira or a mbira player is invited as part of the group — promoting the breath-taking local music and culture. We were joined by Alec Muchayi and the Ngangu Band, who played and sang as we walked, and their music kept us going over the steep climbs. 
"The five day trail takes you to some of the most exquisite scenes within this sacred mountain range, summiting Peza, Terry's cave, and extraordinary fresh water lakes and waterfalls throughout.
"We walked and watched in awe as the scenery changed and evolved throughout the hike, hearing birds, watching sunrises and the vast open sky filled with stars each night.
"These mountains are extremely important to our beautiful Zimbabwe. They are water towers, providing precious drinking water for thousands of people and animals downstream all the way to Mozambique.
"Ninety endemic plants are found here and it is one of the very last strongholds of the Blue Swallow. The mountains are immensely beautiful and important, and that is why we start here," she said.
Gemma, an environmental ambassador, said conservation of Zimbabwe's incredible places must be a priority.
"Zimbabwe is one of the most incredible places, with some world class landscapes. Travelling has always been a massive passion for me, and I have been lucky enough to see some amazing things. Conservation is an incredibly vital effort I have always believed in, and it has really taken a hit during Covid-19.
"If we are not talking of this, we are in real danger of losing so many of our incredible landmarks and wildlife areas. I believe a big step in conservation is awareness and conversations, and so I decided to start a travel series, where myself and friends go to visit some of the country's incredible places, and possibly abroad.
"I also really want to celebrate Zimbabwe and the places we have on our doorstep, and to encourage Zimbabweans and foreigners to celebrate and visit these places too!
"Can you imagine if we prioritised our holidays to visit our local wonders, and support our tourism and conservation efforts? We have the power to grow and protect this beautiful country, and experience amazing wonders along the way," she said.
In the travel series, Gemma was accompanied by fellow artistes.
"I went with some amazing friends and we had such a great time. Nutty O and I had just finished writing the Song 263 (also featuring Asaph), and to write a song celebrating our Zimbabweaness, then to witness Chimanimani, made us both so proud of our home.
"We got to drink water from wild streams, jump off rocks into fresh water pools, swim with waterfalls, watch the sunrise, and learn from the guides who walked with us. We climbed to the top of Peza mountain and saw Mozambique stretch out on one side, and Zimbabwe on the other.
"Nutty O, an epic mind, good friend and amazing musician was so great to have around. He brings energy to the team, and knows a lot about the wilderness. Dinkie (Chi) is an amazing friend and blogger, and was full of laughter and good vibes throughout the trip.
"Marc Neilson, the director of most of my music videos, including '263', 'Titungamire' and 'Ndinewe', filmed and documented the journey, and climbed the mountain at the same time!
"Zash, a wonderful friend and photographer, took photos as we went. Taf, an awesome filmmaker, joined as well. The guides, team and band made up a large part of our group and our experience. We sang, learnt and chatted the whole way up the mountain," she said.
Apparently, travel is a theme that runs through in most of Gemma's productions.
"I'd say it (travel) has turned into my routine. I have been so determined to experience as much of this amazing continent as I can, and I have been so lucky to be able to do so. I am not close to settling down in one place just yet!
"I have been between home and across the continent for a good while now, and have been blessed with amazing memories, friends and inspiration. I write music constantly as I travel. It is such an inspiring thing to witness an amazing place and let it affect you. I believe you learn so much when you travel, and I am always ready to learn some more," said Gemma.
Her new EP titled 'Pamwe', which was written and recorded during a road trip, is out now on all streaming platforms.
The Covid-19 pandemic layoff has been a major setback for the arts industry but Gemma has explored other avenues to reach out to her audience. 
"It (Covid-19-lockdown) was definitely a big shift as live performance went quiet, but I changed my focus to writing, recording and creating. Online shows allowed us to continue playing.
"I wrote and recorded 'Pamwe' whilst driving on a trip of almost two years, 24000 km and 10 countries across Africa. I had a recording studio in the car and my instruments, and just drove.
"Pamwe is such a fun body of music — I dreamt it to be for road trips! It is part of a wider project that is coming soon," she said.