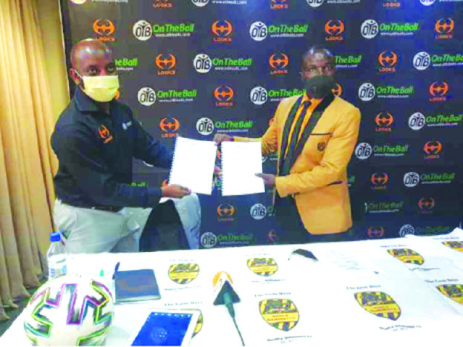 The ManicaPost
Ray Bande
Senior Reporter
MUTARE Premiership outfit, Manica Diamonds, has signed a three-year deal with renowned sportswear manufacturer, On The Ball which will be providing their training, travelling and match day gear.
The deal, which is worth US$100 000 per season, will see Manica Diamonds joining Dynamos, Highlanders and Simba Bhora who area already being supplied with kits by On The Ball through the company's Looks Brand.
Speaking during the official deal signing ceremony at a local hotel last Saturday, Manica Diamonds sponsor, Zimbabwe Consolidated Diamond Company (ZCDC)'s chief executive, Mark Mabhudhu, challenged the team to produce good results on the field of play given that the sponsor is fulfilling his obligations.
"It is an exciting moment for Manica Diamonds FC. As the chief sponsor, ZCDC would like to ride on that excitement. At work we aspire to become a world class diamond producer and in the same breadth we want Manica Diamonds FC to become a world class football club.
"We will not expect anything other than winning for Manica Diamonds. This is my first season with the team and I am not a loser. Winning is the only word I know especially in sport. We want to make a difference to people's lives in Manicaland. We want to see a game with a difference, a game that emphasises the product we produce — the diamond," he said.
Speaking during the same function, Manica Diamonds' chairman, Masimba Chihowa, said: "It is our desire to improve from the fifth position we last occupied in our debut season in 2019 to position one or two. I know that a well kitted team will be very confident. We have been hunting for a proper partner for a long time and finally we are happy that we have On The Ball on board.
"That confidence will make players able to express themselves on the field of play. I am also happy that you have seen business opportunities here with Manica Diamonds. I want to assure you that we are going to guard jealously the Looks brand."
On The Ball representative, Peter Chiveso said: "I am proud to announce the signing of a three-year partnership deal with Manica Diamonds FC.
"The deal is valued at $100 000 per season.
"The deal includes the supplying of training, travelling and match day gear. It also includes provision of replicas.
"The journey that has culminated into the signing of this deal has been smooth and professional.
"The shared vision between On The Ball and Manica Diamonds is to be world class.
"I am happy to welcome the Gem Boys to what has become a big boys club.
"We have, in the past 12 months, been doing business with Dynamos, Highlanders and Simba Bhora," he said.
The creative designing is now underway with fans and key stakeholders giving input through Manica Diamonds' social media platforms that will culminate into the actual production of the fabrics.
The process will take at least 15 weeks.