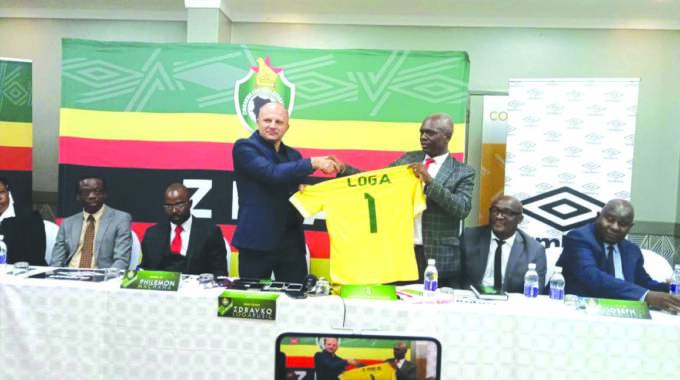 The ManicaPost
Moffat Mungazi
Post Reporter
SINCE his assumption of duty at the helm of Zimbabwe's national football team, expatriate coach, Zdravko "Loga" Logarusic's reign has thus far been one fraught with consternation among the local followers of the game.
The senior men's soccer has hardly pulled their weight under his tutelage and appear to be losing their way into the woods more with each passing assignment.
And with the dust yet to settle following the Warriors' ungracious elimination from the ongoing COSAFA Cup competition, questions continue to swell pertaining to the gaffer's suitability for the role he is occupying.
Going by recent performances and results, the Zimbabwe multitude is wailing over the new lows their favourite team has plunged to and is now wallowing in.
Clearly, the Warriors have become weary. This is not the way and the boys are making a mockery of their battle name.
From grace to grass
At two successive tournaments — the African Nations Championship (CHAN) held in January this year and COSAFA Cup — the Warriors have huffed and puffed with precious little to show for their exertions, if one is to put it euphemistically.
Said bluntly, Loga and his charges' showing has simply been shambolic.
To put it into perspective, at CHAN the team conspired to embarrass and became the first group of Warriors to be eliminated from a tournament finals without any points.
To compound that misery, the squad suffered the ignominy of being knocked out of the COSAFA Cup at the first hurdle — a tournament we have dominated over the past years and enjoy unrivalled success as record winners.
In both competitions we were meek pushovers that just made up numbers.
Sadly, we just showed up but did not compete.
If those performances were our best shots, then they were not good enough.
Expensive experiment
Loga is said to be earning a princely pay packet of around US$7 000 a month and that is quite handsome given that previous Zimbabwe-born coaches like Norman Mapeza, Kallisto Pasuwa and Charles Mhlauri claim that Zifa still owe them outstanding dues from their respective engagements.
How and why our association still belittles — and perhaps criminally underrate our own indigenous tacticians who, interestingly, have delivered — still boggles sane minds and only Zifa can explain.
That Joey "Mafero" Antipas was on course for AFCON and CHAN qualification when Loga was hired remains a puzzle.
That the jettisoned Antipas' reign — who was not even retained as an assistant to ensure continuity — had earned a good return of points better than his successor's in fewer games, should be chastening for the association.
But do Zifa ever learn from their previous mistakes given how things turned sour between them and another expatriate trainer —Valinhos?
Men who do not learn suffer and tragedy awaits them.
Grim reality of the damning numbers
That the Warriors have won just one match in a 12 attempts under the Croatian coach is no hyperbole.
A single victory, four draws and seven defeats is hardly inspiring.
At a success rate of just eight percent, this is just dismal by any standards. It has become unacceptably pathetic.
To state that at COSAFA we surrendered a 17-match unbeaten run in regulation time at the tourney which had spanned half-a-decade-years would be to cruelly rub it in.
Not mentioning that we are out of running for a record-extending seventh title without a proper fight.
Without taking anything away from our opponents, if we not only fail to progress but finish at the foot of the table comprising the likes of Mozambique, Malawi and Namibia, then the word failure would definitely require a new definition.
Talk about undoing what others had built over time!
A single victory in 11 attempts, four stalemates and six defeats is hardly inspiring.
For assessment's sake, has Loga added any value to the national team cause?
Chief clown in the circus
Zimbabwe' national game appears to have turned into a circus and one of the chief clowns in that inexplicable theatrical is Loga himself, who has for one-and-a-half years since touching down in Harare masqueraded as a football coach.
That he finds comfort in his charges' mediocrity borders on insanity and that he derives satisfaction from underachievement is the height of absurdity.
Where the gaffer, the ostensible mentor was "still happy with the things I saw for most of the game.
Most of the guys are young players and this is good lesson for them", his skipper at the tourney Ovidy Karuru "was not happy to win the man-of-the-match without winning the game because we came here to win the games not to draw" which left him "disappointed" because their mission was to conquer.
How can our platoon — never mind they are called the Warriors — be superintended by a timid commander like Loga?
Never one to run out of excuses, chief among them the lengthy lay-off of our domestic league and endless assessment of players, he wants us to believe that we are on the right track and will come right because we are learning as we progress.
But who said we cannot excel while serving the apprenticeship?
Do we necessarily have to lower the bar or perform below par in the name of learning?
Need we remind him that time and tide wait for no man?
Is it not illustrative of a clueless man when Nyasha Dube is called up from his overseas base to have only an eight-minute run in four games at the tournament, even the inconsequential clash against Senegal?
Was the chance to run the rule over the players otherwise considered fringe not spurned here?
And the fans speak out
From the fans perspective, things are falling apart for Warriors.
Noah Mangayira had no kind words for the leadership at Zifa and the team's trainer.
"These people in charge of our national game have badly let us down. They continue folding their hands and just watch while things deteriorate.
"Both the association and the coach should be charged for complicity. Something is just not right and we cannot continue like this. Something has to give before we suffer further embarrassment.
"Remember the 2026 World Cup qualifiers are on the horizon and with this state of chaos our football is in, I am fearing for the worst.
"We need a clear game plan and change of tactics if we are to salvage our national game. As fans, we deserve better and are demanding it right now," said Mangayira.
"The Warriors are worrying us," he added.
That the daggers are out for Zdravko Logarusic is not surprising at all and whatever is the remainder of his tenure is certain to be one of long knives.