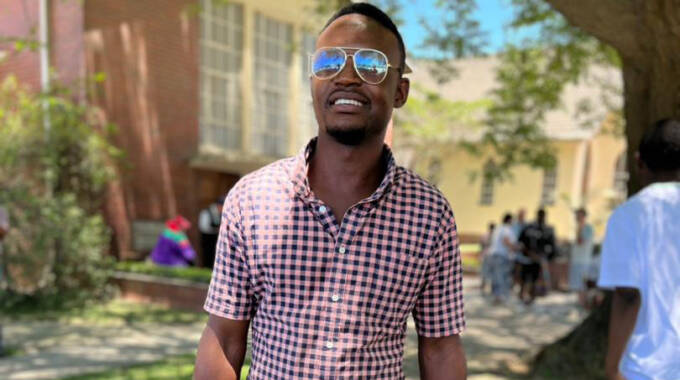 The ManicaPost
Tendai Gukutikwa
Post Reporter
JUBILANCE Makiwa (26) had a bright future ahead of him as a law student at the University of Zimbabwe.
However, his curiosity for marijuana and whisky which began when he was in high school soon turned into a dangerous addiction that threatened to ruin his life and career.
He became so dependent on alcohol and drugs, such that he had to abscond lectures.
A bright student who had passed with 15 points at Advanced Level and enrolled for Law studies ended up being a college drop-out.
"I had lost my purpose of living because I was living for alcohol. I violated many relationships, including that of my family, lecturers and college mates at university because of my addiction. I do not wish that on anyone. I ended up creating fundamentally fake relationships so that I could get the next fix from them.
"My friend and I discouraged other students from attending lecturers. We would tell them that real exciting life was in the bottle and not in Law. We used to think that education was a waste of time and drinking was the real thing.
"We would argue that there was no point in studying. We were wrong and we learnt the hard way," Makiwa said as he shared his story with The Manica Post early this week.
He said together with his friend, they were never sober.
He dismally failed during the second year of his university studies and had to defer.
From then on, he went on a job hunting mission and luck was not on his side as he ended up getting employed by an alcohol company as a truck assistant.
"It was very unfortunate that an addict like me secured employment at an alcohol company. I would drink alcohol straight from the tank. I thought I was in heaven.
"I was lucky because the breathalyser had been removed as it was during the Covid-19 era. They would not know whether I was drunk or not.
"I ended up stealing alcohol and that is how I was fired. From there, I became a broke drunkard who had no source of income," he said.
This forced him to be a chain smoker as he could only afford buying cigarettes.
"I got to the extent of waking up with my whole body aching. My chest and stomach were always painful and I ended up failing to swallow any food because the illicit brews were taking a toll on my health.
"At one time, I was very hungry and forced myself to eat. Swallowing the food was very painful and I would cry," said Makiwa.
Makiwa said he tried to stop taking the dangerous substances on three different occasions, but failed.
He also tried to enlist the services of white garment prophets, but nothing changed.
"At one time, I visited a prophet who told me that evil spirits were behind my addiction. He prepared a concoction that was meant to exorcise the evil spirits and stop me from drinking. I vomited so much after consuming it, but as soon as I left the shrine, my insatiable thirst for alcohol was back. Infact, I lit a cigarette as I left the shrine," he said.
As a result, Makiwa reached out to his parents and siblings, looking for help so that he could permanently quit alcohol.
"One of my worst memories of my days as an addict is when I came home back after three days. Noone knew about my whereabouts. My mother was crying, and when she set her eyes on me, she wept uncontrollably. She asked me why I was destroying my life.
"She said she had not slept for three nights. This made me realise that I had turned into an animal, yet there were people who loved me so much and were being affected by my addiction. I decided to reach out to them for help.
"My mother was delighted. She had previously tried her level best to help me recover, but I was not forthcoming. I loved my alcohol so much and could not stop. Eventually, I called it quits. I did this for my family," he said.
However, Makiwa said his road to recovery was not a stroll in the park.
He was admitted at Psychotherapy Care and Counselling Services' Waneni Rehabilitation Centre in Mutare for the 90 days intense recovery programme.
"The cravings would haunt me, especially when I became emotional during my intensive recovery programme. However, the skills that we were taught at Waneni made it easy for me to overcome those cravings.
"It was hard, but I soldiered on. Another challenge was the relapse of another inmate who was re-admitted for a restart of the whole process. This touched me so much that I wondered if I would make it after my recovery," he said.
Makiwa praised the Waneni team, saying they helped him fight his demons.
"The Waneni team is the best. They made me feel at home and were a family. I was so motivated as I managed to offload everything because in addiction, people have a lot bottled up inside them.
"What I wanted was to be the best version of myself and they made me realise that. I also started picturing myself without drinking by reframing my thoughts and creating a space to weigh the advantages and disadvantages of every action. This motivated me and helped me to stick to my goals of becoming a lawyer," he said.
Makiwa is now back at the University of Zimbabwe for his Law studies.
"My life has changed in many ways. Even if you see my old pictures, you will laugh. I am now back in school and practicing self-care. I am also doing refreshing activities to take my mind away from any thoughts of taking alcohol. My relationships with my parents and friends have also been mended. I am now a new and recovered person," he said.
Makiwa encouraged those struggling with addiction to seek help immediately.
"If you are still trapped in addiction, you need to understand that addiction is a disease and you need help. Don't wait until you get sick because you might not notice it. You will never be sober once you are addicted. Look at me now, I am studying for my degree and soon I will be a lawyer," he said.
In an interview, Dr Mazvita Machinga, a psychotherapist and mental health consultant, also shared her insights on the issue of drug and substance abuse rehabilitation.
Dr Machinga said addiction is usually caused by a combination of factors that are social and psychological in nature.
"Some people may have a genetic predisposition to addiction, while others may experience trauma, stress, depression or anxiety that lead them to seek relief in drugs or alcohol.
"Additionally, the environment and culture in which a person lives can influence their exposure and access to substances, as well as their attitudes and beliefs about them," she said.
DrMachinga emphasized that drug and substance abuse is not a moral failure or a personal weakness, but a complex and chronic condition that requires professional help and support.
"Addiction is a complex and chronic condition that affects the brain and body. It is caused by various factors such as genetics, environment, trauma, stress and mental health issues.
"Prevention is better than cure, and people should avoid using harmful substances or engaging in behaviours that can trigger addiction," she said.
Dr Machinga also advised people to seek professional help if they notice signs of addiction in themselves or others.
These include cravings, loss of control, tolerance, neglect of responsibilities and social isolation.
She emphasised that recovery is possible with the right treatment and support, and that people who are recovering from addiction need compassion, empathy, and encouragement from their family, friends and community.
Makiwa's story comes at a time when Government is working tirelessly to speed up high impact initiatives in the fight against the drugs and dangerous substance abuse menace.
Some of the initiatives include increasing the number of rehabilitation centres, strengthening the law enforcement agencies, raising awareness and education among the youth, and collaborating with international partners to curb the supply and demand of illicit substances.
Government hopes that these initiatives will help reduce the harm caused by drugs and dangerous substance abuse and create a safer and healthier society for everyone.
Need assistance in dealing with drug abuse? Call for assistance on toll-free number 0714647002