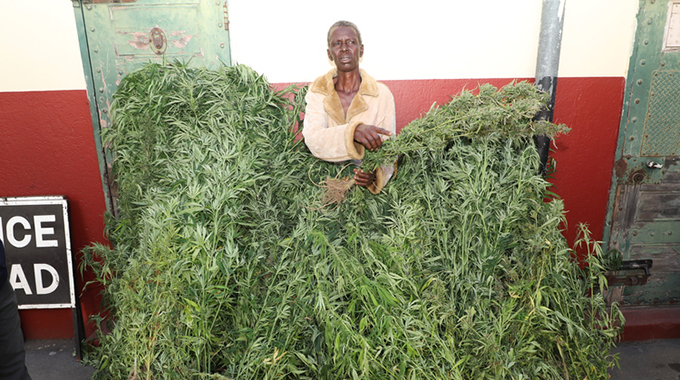 The ManicaPost
Luthando Mapepa Chipinge Correspondent
POLICE in Chipinge last week arrested four people found in possession of 132kgs of dagga.Chipinge district police spokesperson, Assistant Inspector Memory Chirambadare confirmed the quartet's arrest following a clampdown on drug traffickers.
The south eastern border town is being used as transit route by drug peddlers from Mozambique.
"On October 9, a team of police officers was on patrol targeting illegal drug traffickers. Operatives from police intelligence were deployed at Chechehche, Manzvire and Rimbi to fish out drug traffickers at bus stops along the route," she said.
Asst Insp Chirambadare said other police officers mounted a roadblock at Middle Sabi turn-off along the Tanganda-Ngundu Road targeting long distance haulage trucks and buses which are being used to transport mbanje and other illicit drugs.
"At around 11am on October 9 police officers deployed at Rimbi spotted Kedius Nyamitambo (51), of Chisuku village, under Chief Gore, in Honde Valley with three carrier bags and a satchel, waiting for a bus. He was approached and searched and it was discovered that the bags contained dagga. He was then arrested," she said.
Around 11pm police officers at Manzvire spotted Loveness Mtetwa (27), of 481 Middle Lands Park, Msasa, Harare with a bag.
"She boarded an Inter Africa bus registration number ADC 4512 and the team alerted those manning a road block at Middle Sabi. On arrival at the roadblock at around 2am, a search was conducted in the bus leading to the recovery of bag containing dagga and arrest of the suspect."
"On October 10 around 3am another Inter Africa bus reg number AEG 5911 approached the same roadblock and a search was conducted leading to the recovery of three bags and a sack with dagga. Police arrested two suspects – Oncemore Gapare (32) and Shadreck Mtetwa (30), of Guta village, under Chief Musikavanhu," she said.
The recovered dagga weighed 132kg.