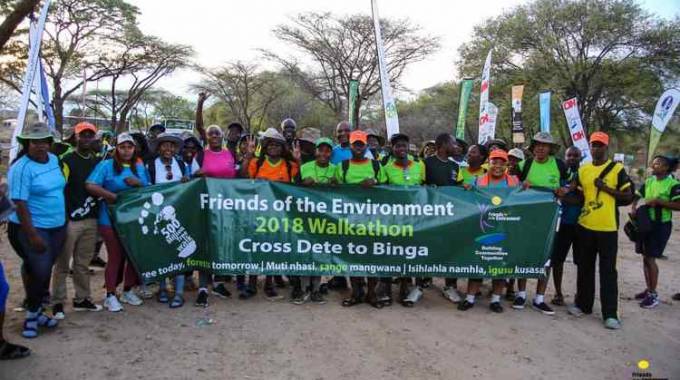 The ManicaPost
Samuel Kadungure Senior Reporter
ENVIRONMENTAL injustice hinging on negative human interference with nature left the Chimanimani and Chipinge ecosystems fragile and highly vulnerable to the furious Cyclone Idai that killed more than 300 people and left a trail of displacements and destruction along its path. The scope of human misdemeanors must be scrutinised to allow appropriate corrective actions to prevent future devastating impacts on human life, infrastructure, national economy and local livelihoods.
The associated economic and humanitarian costs are enormous as loss of homes, health facilities, schools, roads, bridges, farming land and livelihoods exacerbate poverty, erode food security and ruin the victims' lives.
While attention is on how survivors rebuild and re-establish their lives and livelihoods, it is an inescapable fact that most will turn to the environment for short-term income and natural resources such as firewood, sand and other materials needed for rebuilding and energy.
Fundamental decisions, action plans and more and urgent investment in ecosystem are required to reclaim the damaged environment.
Nyaradzo Group chief executive officer (CEO) Mr Phillip Mataranyika said they have adopted the rehabilitation of Chimanimani and Chipinge as one of their key result areas for 2019.
He said Nyaradzo, through the Friends of The Environment (FOTE), has come up with a comprehensive package to rehabilitate the environment that experienced massive erosion resulting in gullies and siltation of rivers, large scale uprooting of trees, washing away of vegetation, grazing pastures, destruction of flora and fauna coupled with loss of biodiversity with adverse effects on endangered species, most of which were washed away in the furious floods.
"One of the most effective ways that scientists recommend is planting more trees, which is what FOTE is not only encouraging, but doing physically. There are several avenues that we can explore to protect the environment, among them effective forest conservation and management, urban and infrastructure planning and strict enforcement of the Environmental Conservation Act; control of agricultural production areas, preservation of wetlands and effective water management.
"On implementation of reforestation and gulley reclamation, we propose the use of drone technology to broadcast seed balls that germinate and become trees with the falling of the rains. This can be especially effective in places like mountains as it may not yet be safe to venture there walking," said Mr Mataranyika.
"We are working with our partners to mobilise seedlings from our existing nurseries for planting in the affected communities. We already have a technical team on the ground. For long term success of the initiatives, there is need for education and awareness to the survivors of Cyclone Idai. Our plans will be implemented through the use of workshops on critical issues such as global warming, the importance of tree planting and disaster management.
"To support our activities, we are considering among other options and in consultation with our partners, to have the 2019 FOTE walkathon from Mutare to Chipinge or Chimanimani to raise awareness for the affected communities, before, during and after the walkathon. FOTE will lead from the front, conscientising and planting trees with the communities and traditional leadership.
"We will also establish two tree seedling nurseries in Chimanimani this year and the initiatives have commenced. The communities will be involved immediately for buy-in and ownership of the interventions. Later on there could be introduction of income generating projects that complement tree planting initiatives such as bee keeping, which is a cost-effective venture since the wax from the processed honey can also be used for making candles and floor polish," said Mr Mataranyika.
He said people were resorting to cutting down trees for household fuel-wood requirements and tobacco curing.
"To curb this rampant destruction of trees there is need to introduce and promote use of alternatives to fuel-wood such as biogas, liquefied petroleum gas and fuel saving wood-stoves and use of viable alternatives to wood for curing tobacco such as bamboo charcoal. Through our nurseries nationwide, we are establishing indigenous bamboo seedlings at a large scale and will distribute them in the affected areas. The bamboo plants are effective in curbing soil erosion and are also good timber products and sources of material for handicraft industries," he said.
Mr Mataranyika said there was need to introduce and promote viable income generating alternatives to tobacco farming such as fruit trees, Macadamia nuts, bananas as well as small livestock and other off-farm activities.
These will need to be scaled up to discourage more smallholder farmers from growing tobacco.
"Traditional leaders and EMA need to be capacitated so that they can effectively enforce laws that prohibit the wanton cutting down of trees in communal areas. Community volunteers could also be trained and supported to play this critical role.
Community and individual household wood-lots will need to be established as experienced in Makoni District. There is urgent need for the communities to have access to alternative sources of energy such as solar and electricity. Electrification of the affected districts is therefore critical and should be fast-tracked," he said.
FOTE will target schools in affected communities, as at a young age the students are keen and eager to learn how they can positively impact their environment.
"We will be visiting schools in affected areas, raising awareness, planting trees and establishing tree seedling nurseries. As the more permanent plans for reconstruction solidify we are keen to see where we can plug in this and other initiatives," he said, adding that FOTE will continue working on the three pillars of their reforestation programme which are awareness, tree seedling nursery establishment and tree planting on their way to achieving the 500 million tree target by 2026.
EMA provincial manager Mr Kingstone Chitotombe called on people in affected areas to be more nature friendly.
"Chimanimani has a fragile ecosystem and people need to positively interfere with the ecosystem. Some human activities and interferences are harmful to the environment, for instance, deforestation, stream bank cultivation, land use change, illegal mining, veld fires and uninformed settlements on undesignated places," said Mr Chitotombe.
He said initiatives by FOTE will to ensure Chimanimani retains its previous state after being devastated by Cyclone Idai.
"It is not the end of Chimanimani's glory and scenic beauty, but people should consider planting more trees which is an ecological support system for flora and fauna," he said.
People in Chimanimani and Chipinge were also urged to settle on habitable and safe areas and desist from targeting rich productive areas like floodplains that might endanger their lives if a similar disaster strikes again.