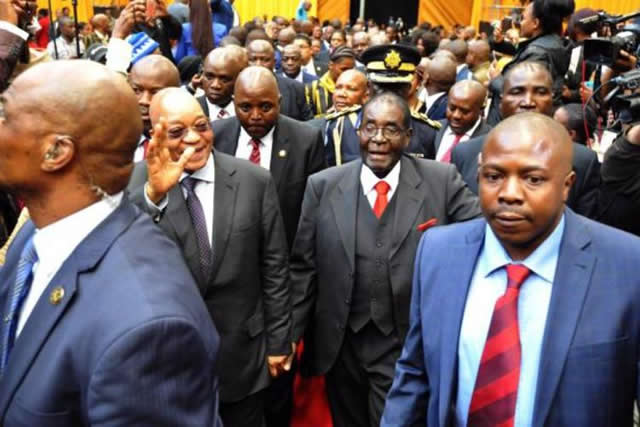 The ManicaPost
Cletus Mushanawani recently at Fort Hare University, South Africa
ZIMBWABWEANS always leave a mark everywhere they go. They have held high posts across the world and carry their duties with distinctions.
Last week, President Mugabe was in South Africa to attend the historic Fort Hare University centenary celebrations at its Alice campus.
While the situation at the university was tense with students rioting against the university's administration, Zimbabwe's ambassadors at the university, the students on the Presidential Scholarship had no time for that as they know what they wanted at the university.
While their counterparts were picketed outside the main hall denouncing the university's leadership, Zimbabwean students were among the guests who were following proceedings and joining other South Africans in giving President Mugabe a standing ovation during his address.
The students had time to meet President Mugabe separately from the main event and had a rare opportunity for a photo session with the world's most educated leader.
President Mugabe is a man who walks his talk and education has been proved to hold the keys to life.
President Mugabe holds seven academic degrees from South Africa's Fort Hare University, University of South Africa (UNISA) and University of London.
Six of President Mugabe's university degrees were actually earned while he was doing distance learning and of the sic, he got two of them while in prison. The seven hard-earned degrees cover a broad range of disciplines including education, economics, administration and law.
With President Mugabe's rich academic history, education always takes centre stage in his addresses.
During his address, President Mugabe proudly announced to the world that Zimbabwe was ranked by the United Nations Educational, Scientific and Cultural Organisation (UNESCO) as the most literate country in Africa.
This is a result of the policy in education which Government adopted since Day One of independence in April 1980. The country has made great strides from primary to tertiary levels of education.
From a single university in 1980 to 14 universities now, the country has churned out thousands of graduates who all have a role to play in the economic development of the country.
"We adopted our education for all policy from Day One of our independence. This has had a good influence on how Zimbabweans behave everywhere they go. Our levels of literacy are ranked high and that is the reason why UNESCO judged us as the best country with the highest literacy race in Africa. Our students are excelling well at A-Level and we cannot all accommodate them at our university, a reason why we came up with various scholarships for them to study abroad.
"Parents believe that sending children to school will see them obtaining degrees and this puts pressure on the Government to provide answers to that. Every province now has a State university, something which we have been working on during the past five years," he said.
After being briefed that most of the students enrolling at Fort Hare University were graduating with distinctions, President Mugabe was full of praise for their achievements.
"I want to congratulate you for leaving a mark here. Your performance between academic and conduct makes me feel very proud of you. This distinguishes you from other nationals. Students must always work hard and contribute to the university's success.
"When we sponsor students, we have expectations that upon conclusion of their courses they will make contributions to the socio-economic system of the country. Some find it attractive to remain here. This is well and good if you want to gain experience but eventually we expect you back home to perform your role. At the end of it all, the experience you would have gained is desperately needed back home," said President Mugabe.
He said African universities like Fort Hare should churn out products that truly represent what the elders sought to make the continent totally free.
"We want universities to produce students who become leaders who are courageous to ensure equality of everyone. Equality for all is not political, but economically equality. Equality is not when you have land and myself have nothing, you have big businesses and myself being viewed as a labourer and worker looking for employment. This is not equality and should go.
"I know that young people are becoming impatient and will make this go," he said.
President Mugabe said Fort Hare University was a cradle of anti-colonial ideology as well as a source of African intellectualism. I was academically born here. It is here where I was transformed. It is here where I truly discovered my African identity," he said.
Zimbabwe has remained strong ties with Fort Hare University through the Presidential Scholarship Fund established in 1995 to fund students from less privileged backgrounds to study.
From 1995 to 2016, a total of 3 010 students have successfully completed their studies at the university, with the majority of them contributing significantly to Zimbabwe's economic growth.
President Mugabe said it was his desire to see the programme continue despite the dwindling numbers as it was being viewed that it was cheaper to have students enrol at local universities.
"Although we have reduced the number of students being enrolled here, we will maintain the scholarship fund as tribute to what Fort Hare has done to Africa. It has special education that motivates students. It has true Africanism history and that is the history that we want and that we have become part of it. We are gratitude for the support we received from the South African government in the enrolment of Zimbabwean students here. This is a testimony of the special relationship between two friendly countries cemented by the common history we share," he said.
Like a true father, President Mugabe had parting words of advice to all students; "You should keep up the reputation and should work hard to get distinctions. When you are on a scholarship you are on a mission to prove that you are the best. You should continue with the good work and raise our flag high."