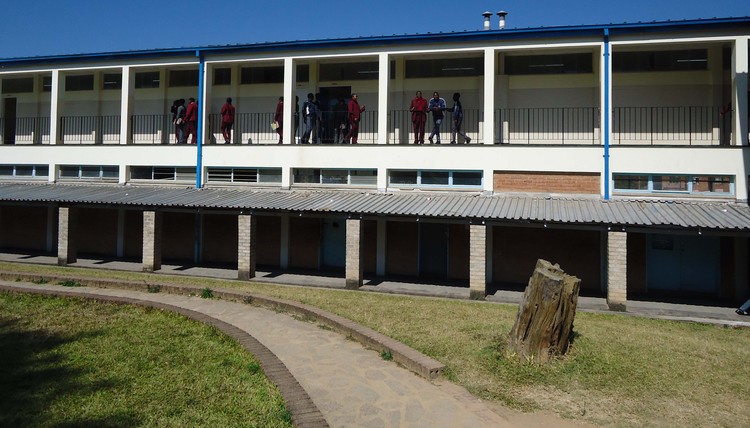 The ManicaPost
Morris Mtisi Post Correspondent
SAINT Augustine's-Tsambe was once upon a time the beacon of academic excellence in both pre-independent and partly post-independent Zimbabwe. This great school used to be the Harvard or Oxford of this beautiful country producing doctors and professors in various fields of learning, great engineers, lawyers and politicians of remarkable repute.
Then gradually standards tumbled with the passage of time until today Tsambe is a sad shadow of its past. Today the famous Santa stands perched on the 'sacred' hill flanked by a gentle ever-flowing Tsambe at the bottom. It faintly shines like a candle in the wind. At one point the blowing wind almost put out the candle and threatened to bring upon the academic oasis and fountain of Anglican church-pride a lasting darkness.
The wise always say, 'The darkest hour is always just before dawn' and it was George Mujajati who wrote, 'The Sun Will rise Again (Tomorrow!)'
The proud former students of this great school refused and continue to refuse to see Tsambe turn into a ruin in their lifetime. Listen to the words of one of the pedigree products of this great school; one Moses Mukoyi, headmaster of sister school St Faith's High School in Rusape and current vice chairperson of the SANTA Board of Trustees. He was a student at Tsambe, taught at Tsambe and headed the schools at some point:
"People see me from an administrative perspective yet I was dormitory bound for 6 years at Tsambe. A member of Gaul House, I remember proudly wearing my green house tie. I was always one of the tiniest boys in class but as for brains, the mismatch was conspicuous….check the school records! Isn't it wonderful that the Santa Alumni are going back to their roots? After all, school days are the best of times. A nostalgic retreat down memory lane must trigger a forward momentum to sustain the legacy of excellence associated with the great school. We won't need to tell the world that we went through TSAMBE although saying so gives a heightened sense of pride and fulfilment. What we are tells the story. The Restorative initiative is confirmation," Ends Moses Mukoyi.
Restoration initiative! Yes restoring a great school's legacy, restoring the shine and gleam of a great school and restoring the glory and dignity of a celebrated school. Thanks to the former students of the great Tsambe!
The year 2017 was the first full year of the body of former students of St Augustine's running under the St Augustine's Tsambe Alumni (SANTA). This followed a consultative process that ran since 2016 with the aim of amalgamating a number of formations of former students of St Augustine's High School.
The process saw a number of formations, amongst them, Friends of Tsambe, St Augustine's Old Students Association (SAOSA) and Tsambe Old Students Association (TOSA) amalgamating into SANTA.
During 2017 SANTA embarked on a number of efforts, some of which bore fruits within the same year.
The main projects covered were:
The donation of a heavy duty printer and photocopier sourced from a partner through Moses Mukoyi, one of the trustees. Together with this major donation, a number of library books were donated to the school and some administration stationery donated to the teachers.
Fundraising for the Form 3 Block from the general body of former students culminated into the strongest support when SANTA worked with the CLASS OF 1977 on a golf event which saw a number of renowned corporate entities donating towards this cause.
The Golf Day held on 22 September was a huge success.
The first phase of the F3 Block renovation was started in October 2017 and has since been completed and handed back to the school.
The classes now boast new floor tiles, new ceiling and white school boards.
The days of chalk dust, potholes on the floors and falling ceiling board are gone.
What is enviably striking about the united body of former students who are bringing about this improved change in the school is their position to engage and relate with the school authorities coherently, with a weightier voice and pooled financial resource.
This is certainly the way Ministry of Education expects to see alumni engage with their former schools countrywide.
St Augustine's former students have hugely succeeded in establishing themselves into a properly structured and governed organisation to outlive individual members and are positioned to partner the school on a sustainable basis over the long term.
The SANTA management committee chairman, Mr Samuel Matsekete, lucky and privileged to have been a student taught by Mr Mukoyi and this reporter at Tsambe, is not only managing alumni business at St Augustine's High School professionally but also with a glorious vision of a great school that can be restored back to its former glory and beyond.
'As SANTA, we continue to explore opportunities to work with the organisation with aligned interests in other areas that the school requires support," said Matsekete in his 31 December 2017 chairman's report.
"Sincere gratitude goes to all former students that continue to support the efforts of SANTA…..We also thank the school headmaster and staff who continue to be very supportive and appreciative of the work SANTA is doing…and looking ahead in sync with the school authorities, The Rotanda and Great Hall areas are agreed to be the next anchor projects to be focused on, and as was done with the F3 Block, these will be face-lifted in manageable stages.
This reporter, an alumni teacher at this great school (1985-91) has also finally broken through. With the cooperation of the school responsible authorities and good-will partners he is enjoying full support to embark on the long awaited Tendai Pfepferere-Father Prosser Institutional Memorial project at Tsambe.
The project shall see the shooting of a double feature film about how this brave and selfless freedom fighter gave his life to save the lives of students on the fateful night of 5 August 1979 at the school foyer and an Arts Skills Development Academy to benefit Tsambe and the Anglican community around and beyond St Augustine's.
Details of this revived mega project will be made public as soon as all protocol has been observed and all formalities between stakeholders have been made.
Long live St Augustine's! Long live Former Students and Teachers! Long live current body of students and teachers! Long live Tsambe! It was Henry Ford who said, "Failure is simply the opportunity to begin again, this time more intelligently."
Together we can make this great school great again and even greater if we are in it together!
The headmaster of St Augustine's High School, Reverend Sydney Chirombe and the Diocesan Secretary of Education, Mr Mandiringa, want to say, "Thank you' to all former students and teachers and good-will supporters of the Tsambe Restorative Initiative. "Without you, we cannot overcome the burden of Restoration!"