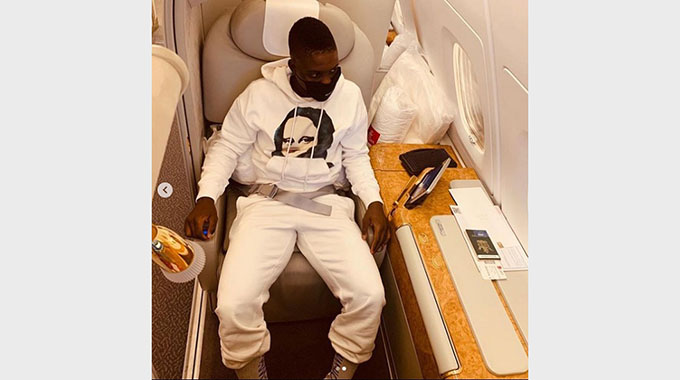 The ManicaPost
Moffat Mungazi Sports Correspondent
ZIMBABWE international midfielder, Marvellous Nakamba, has been tipped to make a huge impact at his English Premiership club Aston Villa after helping them survive relegation last term.
While this was the Birmingham-based side's return to the top-tier league since their demotion at the end of the 2015-16 campaign, the Warriors star was enjoying his debut outing in that division.
Yet just like his team, the Bantu Rovers juniors' product endured a season of mixed fortunes – one that can best be described as a rollercoaster ride punctuated by high and low points.
Stung by their underwhelming top-flight league voyage, the Villans dipped into the market again this season for six new acquisitions to bolster their squad. They were also one of the busiest sides on that front last season, with a dozen arrivals landing at Villa Park.
Despite that transfer business, local fans are backing the 26-year-old powerhouse to compete for and hold down a regular Claret and Blue first team shirt.
He will now wear jersey Number 19 following usurpation of the No.11 strip by incoming club-record £28million signing, Ollie Watkins.
With the new campaign only a month old, Nakamba started in his team's 3-1 triumph's over Burton Albion to advance to the EFL Carabao Cup third round, while he made the match day squad as Villa kicked off their campaign at home to Sheffield United a fortnight ago.
Encouraged by the positive signs the Hwange-born player exhibited during his break-out season in the popular league, an avid follower of the game, Painas Muzika of Sakubva, is not writing off the footballer.
"Given that this was only his debut season in the English Premiership, I think he acquitted himself very well. Remember this is a highly competitive league, different from the Belgian, Dutch and French game where he had previously seen duty. This was a new challenge with its own peculiar demands and it was never going to be easy for him. "With the Covid-19 pandemic forcing a break in action, it interrupted his development. He started well and looked set to establish himself as a key player before coronavirus set in. However, it was a different ball game altogether upon resumption. That hiccup during the campaign affected some teams and players' form. However, my fingers are crossed that Nakamba proves his worth this season," said Muzika. Gabriel Mwarozva attributes the difficult and unpredictable nature of the competition to Nakamba's perceived struggles.
Reasoned the fan who hails from Chipangayi: "I am not surprised that he did not immediately hit the ground running because this is a highly demanding league. It is very difficult and taxing.
"Anyone in doubt and querying this assertion simply has to look at how Pep Guardiola went empty-handed in his first season in charge at Etihad. Jurgen Klopp also somewhat struggled for four seasons with Liverpool before eventually coming right. We are talking about two of the world's sharpest football minds who also had unconvincing starts in this league," said Chipangayi.
He also pointed out how fortunes fluctuate in the English game.
"When you look at how the club punched above their weight in the Carabao Cup but struggled throughout the championship race you get a clearer picture. In two different competitions, they experienced the highs and lows that come with the English game."
For Sakubva-born Leonard Dhanza, who is based in Mozambique, Nakamba's supposed shortcomings are a true reflection of a struggling squad. He reckons that if there were any flaws, they flowed throughout the entire team.
"Despite spending lavishly during the off-season, the club did not impress as it came second to Manchester United. Very few in that squad flourished and made a mark like Captain Jack Graelish. Whene 12 new signings are brought in, there is bound to be hits and misses among those. "Injury to key players like Tom Heaton and Wesley also ravaged the squad. These cruel blows left the team performing below par. It forced Coach Dean Smith to shuffle his pack in search of positive results. You can imagine what impact this had on the team," Dhanza explained.
He put the club's insufficiencies into context. Tellingly, of the three teams promoted, only Sheffield United pulled their weight – finishing a respectable ninth. Norwich City, firmly rooted at the foot of the table for virtually the entirety of the term, unsurprisingly went down; while Villa stayed up by the barest of margins – just one point above safety on the final day of the competition.
Overall, Aston Villa managed to collect only 0.92 points per game as they finished 17th on 35 points from nine wins, eight draws and 21 losses over 38 games. Averaging 1.08 goals per game, they scored 41 and conceded 67 with a goal difference of minus 26 throughout the season.
At home they picked 24 points from seven wins, three draws and nine defeats, while on the road they managed 11 points from two victories, five draws and 12 losses.
Edward Nyamukapa in Dora argues that a lot was expected from Nakamba and this saw the Zimbabwean international trying too hard and putting himself under pressure.
"The spotlight was always going to fall on those new arrivals brought in to ostensibly add value to the team. The club obviously wanted to recoup its investment. I believe that the boy tried to justify his £11million price tag, a relatively handsome sum among the summer signings.
"Second, Nakamba is following in the footsteps of compatriots Benjani Mwaruwari, Peter Ndlovu and Bruce Grobbelaar – all three Warriors legends. This was a litmus test for him," said Nyamukapa, adding that without a proper pre-season, the odds were stacked against Nakamba.
"He started his Premiership pilgrimage on the wrong footing as he was short of match fitness after only participating in Zimbabwe's opening match at the 2019 Africa Cup of Nations finals and missing the rest through injury.
"The delay in announcing his Villa deal deprived him of a full pre-season, which saw him sit out the club's first games. Along the way, Nakamba would return to his European base from the Warriors' 2021 Afcon qualifiers against Botswana and Zambia to be relegated to the bench. This helps in explaining how unsettled his season was," said Nyamukapa.
Crunching the figures, Shelton Matambo of Zimta Park is convinced that Nakamba's numbers paint the picture of a player who has what it takes to make it. "During the 2019-2020 campaign, Nakamba was among the players who prominently featured for the team. This proves how important he was to the team and how much the manager relied on him. Of the 29 league games he played, he started 19 and completed 1 836 minutes on the pitch.
"He also played in all of Aston Villa's five domestic cup games and had 434 minutes. Considering his role as a defensive midfielder, the midfield dynamo picked only seven yellow cards in the domestic league. This shows how smart his play is.
"To his credit, Nakamba came out tops in man-of-the-match polls on several occasions. He can come right and deliver. In this game, form is temporary while class is permanent. Nakamba exudes the latter," gloated Matambo.