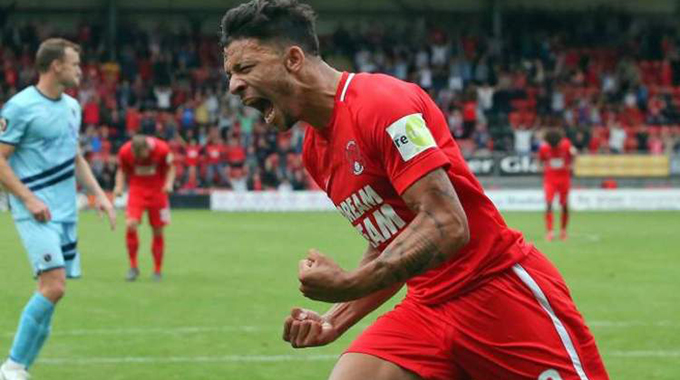 The ManicaPost
Ray Bande Senior Reporter
WARRIORS team manager Wellington Mpandare believes that playing in a foreign league is not enough to earn a player a place in the national team set up but individual performance, game time and quality of football in the league matter most.
The Warriors technical department is now finalising the list of players they will need for the final group stage match against Congo at home next month.
Zimbabwe wasted a golden opportunity to qualify for next year's Africa Cup of Nations finals with a game to spare after succumbing to a disappointing 1-0 defeat to Liberia in their penultimate qualifying match in Monrovia.
The Warriors, who needed just a point from the match to confirm their place at next year's continental showpiece, looked to be playing for just that as they lacked the determination and cutting edge which has characterised their campaign so far.
The result saw the Warriors remaining at the top of Group G on eight points, but they now have the Lone Stars just one point behind them in second place and will still qualify with a draw in their last match at home against Congo.
All four teams still have a shot at qualifying for the 2019 AFCON, with the group set to be decided with the final round of matches in March.
However, as the nation waits for the final group game, the debate now centres around the issue of players that will be selected for the crucial assignment next month.
There was heated debate after the penultimate group game that the Warriors lost away in Liberia as fans and analysts heaped the blame on some of the players that featured in that game including former captain Willard Katsande who was making a return to the Warriors fold after a he initially had chosen to retire from international football.
Thus team manager Mpandare believes that playing in a foreign league is not enough to earn a player a place in the national team set up but individual performance, game time and quality of the league matter most. Part of that process includes monitoring players' performance at their respective clubs.
"It is a difficult task given that some players in foreign countries are in places that do not attract consistent media attention yet at times they are playing very well. However, the bottom line is that playing in a foreign league is not enough to earn a player a place in the national team set up but individual performance, game time and quality of the league matter most," he said.
The Warriors team manager, who spoke about different foreign based players that the technical team is interested in calling up for national duty, said former Harare City dribbling wizard Silas Songani may not be able to be part of the team that will face Congo.
"I cannot really say the door is closed for Silas Songani but we called him for the four nations tournament in Zambia only to discover that the guy was not having game time at his club. I believe it is still the challenge that he is facing while on loan at the moment. Remember this also has something to do with one's performance as well as the quality of football in the league that the player is playing. This is why we are still interested in calling up Macouley Bonne. We have been calling him for quite some time now and when he responds to our call we will surely include him in our plans.
"There is also St John's Tristan Nydam now at Ispiwich on loan. We are monitoring his performance with the view of including him in our plan but the issue of game time could be a challenge for him.
"We are also knocking on Andy Rinemhota's door hoping to secure his services for the Warriors. We are trying to engage him and we sincerely hope that we will make a breakthrough," said Mpandare.
He added that the issue of positions is also a big factor that should be considered when selecting players for national duty.
"We have some positions that have stiff competition among players. We can talk of Songani but one must also consider the fact that we have quite a number of players who play in the same position who have not performed badly, the likes of Khama Billiat, Talent Chawapihwa and Leeroy Mavhunga. Therefore, these are some of the issues that have to be considered before people talk about their choices of players for the national team," he said.
At only 22 years old, Leyton Orient's Macauley Bonne has shown a lot of promise and has plenty of time yet for a meteoric Jamie Vardy-like rise from non-league football.
Bonne, a prolific striker is loved by his club's supporters. He has also performed better than ever since arriving at Leyton from Colchester United in 2017. In only his first season at Leyton saw him score an enviable total of 25 goals in 52 matches.
That was the first time in his career that he went into double figure scoring in a single season.
By November last year, he had already scored an impressive 13 goals in 18 matches, in what looks to be something of a statement of intent from a hungry young player.
Reading star Andy Rinomhota is reportedly willing to pursue his international career with Zimbabwe.
The 21-year-old was born in England to a Zimbabwean father and British mother and is one of the several England-born Zimbabweans whom Warriors coach Sunday Chidzambwa wants to be part of the national team.
There were fears that the rising star would choose his country of birth over Zimbabwe, considering the rave views that he has been attracting since graduating into the first team of the Championship side in December.