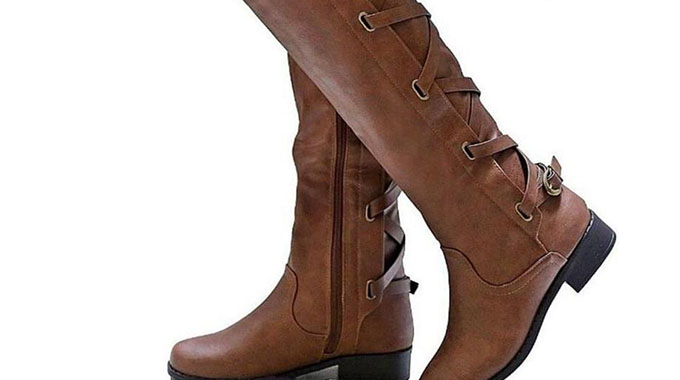 The ManicaPost
Flats are one of the best shoes — I can't imagine comfier and more stylish shoes. Most offices allow wearing flats, so we strongly recommend you to try it as flats can be a cool addition to any type of outfit. Looks with trousers, shorts and skirts are amazing with flats — no matter what length you choose.
Go for nude, black or blush flats if there's a strict dress code at your office, or go for bold or patterned flats to accentuate your look. If it's summer, there are comfy flat peep toes, and if it's fall or winter, then flat shoes or a pair of booties is right what you need.
Wearing flat shoes in winter can be a comfortable and stylish option, especially if you are on your feet most of the day. You can also try wearing socks or tights with the flats to keep your feet warm and wear different types of flats so you look stylish and put together during the winter months.
For many women, life is a constant struggle of wanting your feet to look stylish without having to deal with the blisters caused by most heels. Fortunately, whoever claimed "pain is beauty" just didn't know how to style flats. There are countless ways to dress up your flats to look equally as professional, chic, and playful as your favourite stilettos. From ballet slippers to loafers and mules, the styling options for flats are truly endless and worth exploring.
At the 2015 British Fashion Awards, Poppy Delevingne proved a red-carpet look doesn't have to include painful stilettos. Delevingne completed her feminine pink ensemble with pointed-toe slip-on flats. We love that she let them do the talking by wearing an ankle-length gown. The next time you dress formally, take a page from Delevingne's book and don't shy away from flats.
If you're worried flats are too casual for everyday wear, a sparkly pair. This shimmering footwear option is a great alternative to heels, as they're equally as eye-catching, feminine, and classy. For best results, wear your sparkly flats with tights to make them a bit more formal.
Whoever said women need to wear heels in the workplace clearly never had to deal with the incessant blisters, aches, and pedicure touch-ups. Let's move on from societal standards and fight for our right to wear flats once and for all. As this fashionista proves, they can look just as sleek and professional as standard black heels.
Flat mules are the fashion world's latest obsession, and we have to say, we're so relieved. This footwear hybrid combines the best aspects of all great shoes. They have a pointy-toe like your favourite heels, they're comfortable like slippers, and as easy to slip on and off as flip-flops. Yet these casual elements somehow come together in flat mules to be extremely versatile and even elegant.
Let's not forget that loafers count as flats. Instead of wearing your standard black or tan leather loafers, find a pair that adds a bit of personality to your look.
Sneakers are no longer exclusively confined to weekend walks and errand runs. Today, you can wear a pair of stylish sneaks to work without ever batting an eye. Follow Sila Gueven's example by pairing a full women's suit with white sneakers for a look that screams boss-woman.
When it comes to wearing flats, it's all about striking an appropriate balance. For example, if you want to wear them to work, you can't also don shorts and a T-shirt.
To dress up your slip-ons, simply throw on a tweed coat or blazer. This combination of serious and laid-back makes for an excellent, polished look.
This is perhaps our favourite of all ways to style flats. Simply wear your favourite pair of flat combat or ankle boots and pair them with an overly girly dress.
Think of ruffles, frill, pleats, and chiffon. It'll send the message you have a sentimental heart but a rough side, too. — Online.