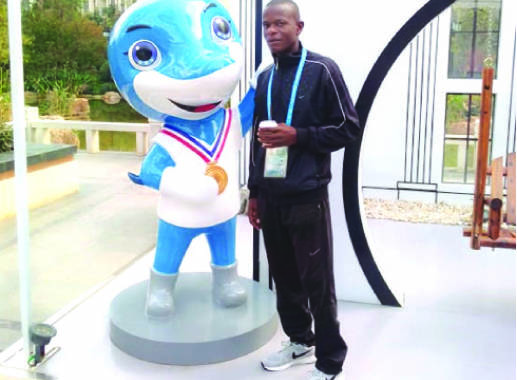 The ManicaPost
Ray Bande
Senior Reporter
39-YEAR-OLD battle hardened long distance runner, Millen Mathende, who is now under the Black Rhinos stable after a lengthy attachment to Mutare-Harlem, feels like he still has five more years to compete at the highest level.
Born and raised in Dangamvura, Mathende was last in action during the World Military Games in Wuhan, China in 2019 where he ended in an impressive ninth position.
Sadly for Mathende, he will have to watch from the sidelines as fellow long distance runners return to action in the Binga Kasambabezi Marathon set for end of this month.
He is nursing an injury sustained last week on Thursday during a routine training session.
Mathende said: "I should be back on the track any time soon. I was injured last week on Thursday during training, but I think any time soon I will be fine. It is a minor setback, but the cost will be my incapacity to partake in the Binga Kasambabezi Marathon."
Before joining Rhinos, Mathende was part of the Mutare-Harlem project, a yesteryear pride of the eastern border city which was a thriving city-to-city sporting development initiative twining Mutare in Zimbabwe and Harlem in the Netherlands.
Mathende rose to stardom in local long distance competitions over the years, and more importantly after his participation in numerous international and regional contests including the Cape Town Marathon, as well as the 2017 London World Championship, both of which can easily be taken as the height of his luminous career.
Just like many other athletes around the globe, the former Mutare-Harlem athlete has not been spared by the inactivity experienced during the lengthy Covid-19 layoff.
"Yes, the two years have drawn me back big time. All the preparations I had done prior to the lockdown measures as well as general fitness have gone to waste. I am now trying to get my fitness levels back, but it will not be an easy task," said the former Nyamauru High School pupil.
He feels he can still go for another five years competing at the highest level.
"If things normalise, I have no doubt that I can take another five years.
I am still in good shape and fit to achieve that. That, however, only depends on how things go. It depends on the availability of sponsors and competitions. No one knew we would have Covid-19 when it happened, so if all goes back to normal, I can go for five more seasons," he said.