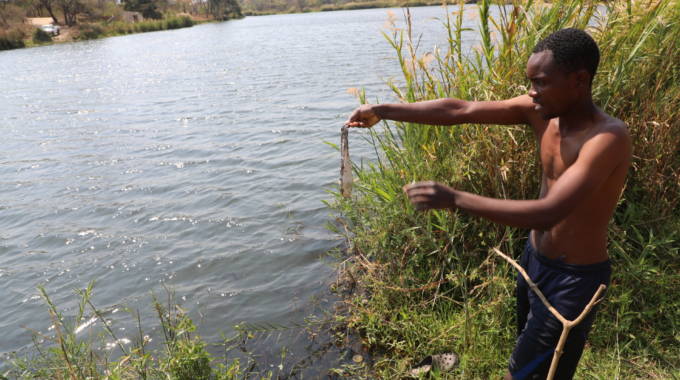 The ManicaPost
Abel Zhakata
Senior Reporter
THE Environment Management Agency is investigating the recent poisoning of fish at Fern Valley Dam in Mutare by suspected fish mongers, creating a serious ecological disaster in the process.
Millions of fish and other marine creatures were killed, dealing a heavy blow on recreational options the dam was offering to residents of the eastern border city who visit to do sport fishing.
EMA Manicaland provincial manager Mr Kingston Chitotombe said the poisoning was serious.
"A report was received from Mutare City Council on September 6 on the pollution of Fern Valley Dam by an unknown substance, leading to the death of fish. We did an inspection together with City of Mutare on the same day.
"We found rice pellets on the shore of the dam and we suspect that fishermen poisoned the fish. A water sample was collected at the shoreline site where the dead fish were observed. A soil sample was also collected to investigate the soil sediment for chemical traces," said Mr Chitotombe.
He said the dam, which belongs to Mutare City Council, is currently unmanned and this has given fish mongers a chance to carry out their illegal activities.
"The local authority used to charge for spot fishing. Litter around the area and car tracks show that the area is now being used as a picnic spot."
Mr Chitotombe said the collected water and soil samples were sent to the laboratory for full chemical and biological analysis, while the Veterinary Services Department took some of the dead fish for post mortem analysis.
"We have since advised council to alert the community not to use the water from the dam as well as eat fish sourced from there."
When The Manica Post visited the dam this week, dead fish were seen floating, while an obnoxious stench engulfed the whole area.
Interviewed residents said fish mongers are employing dirty tactics to harvest more fish.
"This dam is a good recreational spot which should be safeguarded. Council must bring back security guards and make people pay to enter and do sport fishing. A lot of pollution is going on here. People are coming to host their parties and throw bottles and litter into the dam," said Mrs Tracy Muyepo who lives nearby.