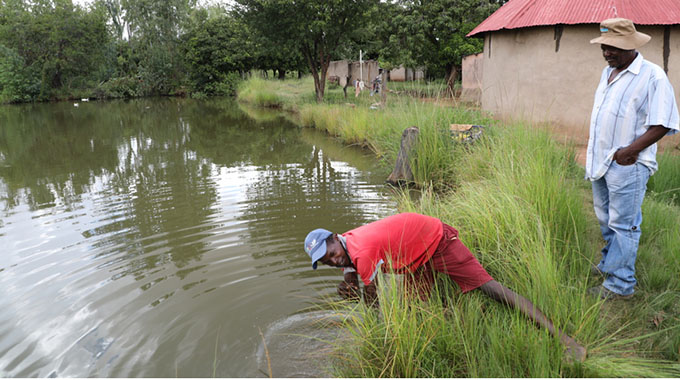 The ManicaPost
Rumbidzayi Zinyuke
Small-scale farmers in Buhera have taken up fish farming to supplement their incomes from agricultural activities being carried out in Murambinda Irrigation Scheme deawing water from Marowanyati Dam.
Although only a few farmers have ventured into fish farming, there are plans by Government to promote aquaculture around the nearly complete water reservoir.
The dam, which is now 96 percent complete, started supplying water to Murambinda Irrigation Scheme last year.
There are plans to put 1 249 hecatres of land around the dam under irrigation.
For Allister Muridzi (32), the supply of water to the scheme provided him and his family an opportunity to diversify into fish farming.
After inheriting two fish ponds from his late father in 2006, business was low because water supply to the scheme was erratic.
However, owing to the heavy Cyclone Idai-induced rains in March last year, dam levels rose significantly, giving the farmers a constant supply of water.
Muridzi has been doing the fish project as a hobby for years while focusing on his 0,5ha plot in the scheme.
But he has since realised that there is a lot of money to be made from fish farming.
"When people have finished using water from the irrigation scheme, I take it and channel it to the 40x50m pond and when it is full, we open a channel and let the water flow to the smaller 20x30m fish pond further down.We have not been really serious about this project because we used to focus on the fields mainly. But I realised that I could make more money with it. For now, I only have breams and catfish and I sometimes get up to 4 000 fish in a month," he said.
Last year, Muridzi used proceeds from the fish ponds to buy three pigs, and a piggery project was born. He now has 18 pigs, which he hopes to continue to grow.
"Last year I started with only three pigs but now we have 18 of them. We take the manure from the pigs and feed it to the fish so the two projects support each other," he said.
The going has not been easy for Muridzi, due to the harsh economic environment, he has not been able to buy feed for his fish and this has seriously affected production.
He hopes to one day remove all the fish in the ponds and start his project afresh with commercial breeds that mature in a shorter time.
"The breed I have currently takes six months for us to harvest but I would want to clear the ponds, remove all the water and start afresh. There are breeds that we can buy which mature within three months. If we can have those, then we will be able to triple our income from the two ponds," said Muridzi.
And since not many people are into fish farming yet, Muridzi has a ready market at Murambinda Growth Point.
Once the project grows, his market might even stretch beyond the confines of the growth point.
"Not many people are doing fish farming for now, so there is a ready market for my produce. I sell my fish at the growth point and people come and buy from here. This is a win-win situation for me and my customers since I do not have any transport costs and they get their fish fresh from the source," he added.
Muridzi encouraged other youths not to sit around waiting for handouts from Government and NGOs as this will only lead to failure in life.
"Yes, things are difficult now, but we cannot afford to sit and wait for them to get better. We need to start working now so that when the economy gets back on track, we do not have to start from scratch, we already have something going," he said.
"Fish farming is not very difficult. I work with my relatives here at home, I do not need to hire any workers, so my costs are minimal. The only cost I have is feed, which we have now substituted with our own home-made feed made from maize. But if we do this properly, I can afford to buy a car within a year while supporting my family and other ventures from the proceeds."