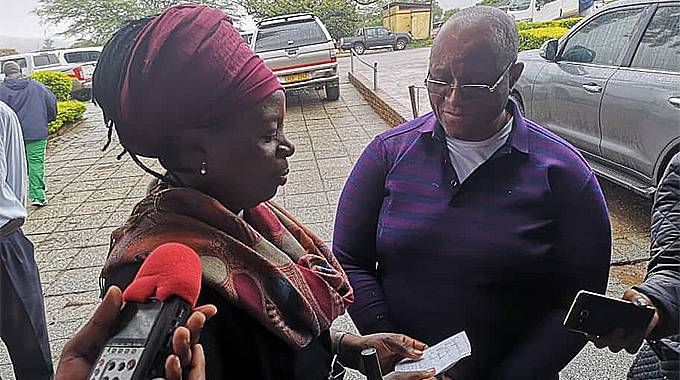 The ManicaPost
Samuel Kadungure, Senior Reporter
FIRST Lady Amai Auxillia Mnangagwa has donated a truckload of foodstuffs and blankets to victims of Cyclone Idai in Manicaland as local companies followed suit with road equipment to open diversionary routes for supplies and rescue missions to reach the affected communities.
The First Lady's donation, made through the Angels of Hope Foundation, was handed over to the Minister of Public Service, Labour and Social Welfare Dr Sekai Nzenza by the Zanu PF provincial chairman Cde Mike Madiro at the Government Complex in Mutare this morning.
The consignment included cooking oil, sugar, salt and blankets, among others.
"As the mother of the nation, Amai has been running around to mobilise foodstuffs and blankets for the victims of Cylone Idai in Manicaland ans as Manicaland we are really grateful," said Cde Madiro.
Local Government Minister Cde July Moyo said the Zimbabwe Diamond Consolidate Company (ZCDC), Green Fuels, Masimba and the Zimbabwe National Army have partnered the Ministry of Transport and Infrastructure Development with bulldozers and other road equipment to open diversionary routes to enable supplies to reach the affected communities.
Cde Moyo said the Wengezi-Chimanimani and Tanganda-Chipinge routes have been cordoned-off to allow rehabilitation works to take place.
"The police and army have cordoned-off these routes to ensure the safety of people and vehicles. We are doing this to protect human life and vehicles from danger, otherwise we would have a worse disaster as people stampede these dangerous area for curiosity's sake," said Cde Moyo.
He said efforts were afoot to collect the two bodies of students from St Charles Luwanga for burial in their respective homes, as per the parents' request.
He said similar efforts were also being made to collect another body of an intern with the Environmental Management Agency (EMA) from Chimanimani for burial in Marange.
More details to follow…