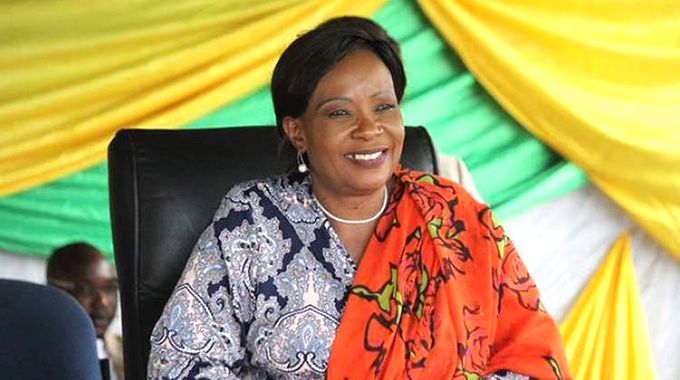 The ManicaPost
Morris Mtisi Post Correspondent
ALL roads lead to St Augustine's High School on June 22, where the First Lady, Amai Auxillia Mnangagwa will be the guest of honour at the official double launch of her Angel of Hope Foundation and Girls of Substance Movement spearheaded by Crossroads Africa Trust (CAT).
The First Lady will be accompanied by Information, Publicity and Broadcasting Services Minister Cde Monica Mutsvangwa, Defence and War Veterans Minister Cde Oppah Muchinguri, Senate President Cde Marble Chinomona and Sport, Arts and Recreation Minister Kirsty Coventry.
Angel of Hope Foundation and Girls of Substance Movement share a common vision of empowering the girlchild and women against exclusion from participation in national development and advocacy for legit women's emancipation.
The Girls of Substance Movement founded by Morris Mtisi and spearheaded by Crossroads Africa Trust focuses on behavioural transformation of students in schools, colleges and universities through participation in character-moulding activities and guided behaviour change processes.
Its founder and executive director, Morris Mtisi, told The Manica Post recently that this launch was a watershed, marking the beginning of a huge project anchored on various visions and missions.
"For decades, our children have been subjected to wrong teachings and beliefs that emphasised children's rights at the expense of growth into responsible adulthood. With the proliferation of high definition gadgets and social platforms, the digital era and connectivity has created children, especially school children that worship narcotic drugs, mbanje, beer, wholesale sex indulgence, vuzu parties and other morally unacceptable forms of joy. The children who are the window of hope, leaders, mothers and fathers of tomorrow are literally studying for the grave and booking places in hell, not heaven. Schools are ironically preparing candidates for hell, not heaven,'' said Mtisi.
"Gone are old traditional values, in comes materialism and easy, loose, short-lived comforts that destroy character. This is a social malady that most Zimbabweans have blatantly ignored, turned a deaf ear to and hope will disappear into thin air. It will not," he added.
"While we celebrate the A's and B's our children easily attain in their examinations today, we do not celebrate the moral decay that has become trendy amongst them. If education continues to prepare for examinations at the expense of serious moral rearmament, its inadequacy continues to be bigger and bigger. This is what the Girls of Substance Movement seeks to arrest before it becomes a behavioural holocaust, which I am sorry to say it is already.
"We cannot do this alone; hence the involvement of the students themselves and high profile mother-figures like the First Lady and her team of political . . .
We have engaged men before. They failed to rise to the occasion. Kana baba varwadziwa kufidha mwana . . . amai havatadzi. Vanosarudza rufu kufira mwana wavo — exactly what is happening here. We thank Amai Mnangagwa's swift response to the cause of girls of substance; not forgetting our own Minister of State for Manicaland Affairs, Honourable Dr Ellen Gwaradzimba. We owe her the success of this great development," Mtisi said.
He also revealed that the St Augustine's Alumni has been invited, company executives and managers, church leaders and church women, bankers, educationists and reputable individuals in different walks of life.
He told The Manica Post that the Heritage Memorial Conference is an important precursor to the building of a high profile state-of-the-art memorial college at St Augustine's in honour of two heroes the history of Tsambe cannot be written without: the late Cde Tendai Pfepferere and the famous CR priest, Father Keble Prosser.
Fr Prosser worked with and for the Tsambe black community all his life at St Augustine's. He loved black people, helped them, suffered with them and sacrificed much for their sake, but most importantly supported and defended their war of liberation with his own life.
Testimonies will come from various speakers who witnessed the brutal murder of Cde Tendai Pfepferere August 5, 1979 and knew Father Prosser very well on June 22, at the Mission School.
The Manica Post and Diamond FM Radio are the occasion's official media partners.