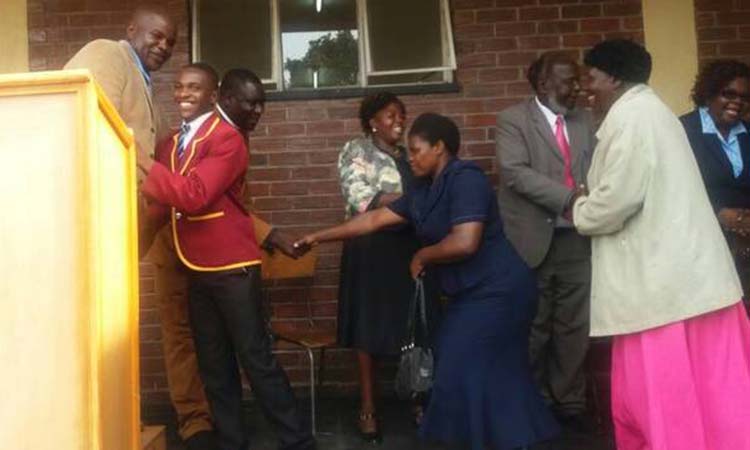 The ManicaPost
Post Reporter
FIRST Class Academy has reaffirmed its growing status as an academic bastion of Mutare after its 2017 Advanced Level results were adjudicated among the top 10 in Manicaland. The academy, which is situated at the heart of the sprawling Sakubva high-density suburb, has continued churning out academic luminaries who have made it in life and are now its ambassadors.
During last year's Zimbabwe Schools Examination Council's November examination, the college produced 240 candidates with six points and above.
Despite its location in a modest environment, the college is among a few institutions in Manicaland to score 100 percent pass marks in two of the most difficult subjects at A-Level, English Literature and Biology. The college's proprietor Mr Stephen Mutsongodza has also been leading from the front as he had a 94 percent pass-rate in Business Studies. In his class, 11 students had As, 39 had Bs and 73 had Cs.
Most A grades were scored in Accounting with 32 students followed by Mathematics which had 18 students with As. As per tradition, the college continued with its starter pack programme where students who score 15 points and above are refunded the whole year school fees to enable them to pay for their first semester at a university of their choice.
This year's beneficiaries were honoured at a function held at the college last Friday and they include, Kudzai Muparanyanga who had 20 points after attaining 4As in Business Studies, Accounting, Economics and Geography; Benniah Chizunza who had 15 points (Business Studies A, Accounting A and Mathematics A), Anesu Paradzai who had 15 pointers in Accounting, Mathematics and Economics, Simbarashe Chatowa who had As in Business Studies, Accounting and Mathematics and Lawrence Nhambirwa who had As in Business Studies, Accounting and Economics.
Mr Mutsongodza said the excellent results showed that the college was on the right trajectory.
"I would like to thank everyone, the administration, teachers, students and parents for making First Class Academy proud. This is a result of everyone's effort because everyone played their part well. We will continue working hard to produce the best results that will put our college on the map.
"The results should also work as a motivator to the current Upper Six class to work hard to surpass the November 2017 pass-rate. We want to wish our brothers and sisters well as they pursue their university education," he said.
Mr Mutsomngodza added: "The starter pack programme is aimed at motivating our students to aim high and be among the best. It is not a scholarship, but a way of saying thank you to our excelling students. This is an internal arrangement and is not open to students from other institutions. We are always receiving phone calls from people enquiring about the scholarship programme, and we want to put the record straight that First Class Academy does not offer university scholarships."
Kudzai Maparanyanga encouraged other students to remain focused in their studies and always aim high.
"You should know what you want in life. To my fellow students, I want to urge you to choose the right friends. Some are there to encourage you, while some are there to see you down. You should always be focused on your future. Give your best shot in everything that you do," he said.
Maparanyanga's mother, Ms Tsitsi Mashume, said her son was a source of pride to her family.
"My son is humble and respectful. He knows how to balance things. As parents, we should be there to encourage our children to work hard. We should also give them time to study hard because the future is in their hands.
"Yes, we have a role to play as parents, but you should have self motivation. You should also have the right friends," she said.
A decade since its establishment, First Class Academy has scored numerous successes, among them the purchase of two school buses, construction of a bridge in Sakubva, construction of a boarding school in Fern Valley which is nearing completion as well as partnering with the Zimbabwe Traffic Safety Council of Zimbabwe to offer learners' driving courses to students aged 16 and above.
The college has also bagged the Education Secretary's Merit Award. Unlike most indigenous college proprietors who cut almost all corners to maximise on profits and convert all sorts of buildings, some suitable for pigsties into classrooms, Mr and Mrs Mutsongodza have gone an extra mile by investing heavily in education by acquiring a stand in the Chinyausunzi area of Sakubva where they developed two-storey buildings for use as classrooms, computer laboratory and examination halls.
The imposing buildings between Chinyausunzi and Old Chisamba areas are eye-catching and cannot be missed from a distance. In line with Government's thrust of promoting Science subjects, the college constructed a state-of-the-art laboratory. Besides the massive investment in buildings, First Class Academy went a step further to build a new bridge that links Chinyausunzi and Chisamba at a cost of more than $20 000.
To ensure safety of the children using the link road to either to Chinyausunzi or Chisamba, the college sponsored the construction of speed humps along the road, with plans already at an advanced stage to assist in the repairing of potholes from the college to Total Service Station near Sakubva Stadium.